♥ G S J ♥________ ★! Garagesalejapan Buy & Sell
04 October 2012 @ 09:45 am
Hi
I added some cheki from vk-bands to my selling-journal
please have a look!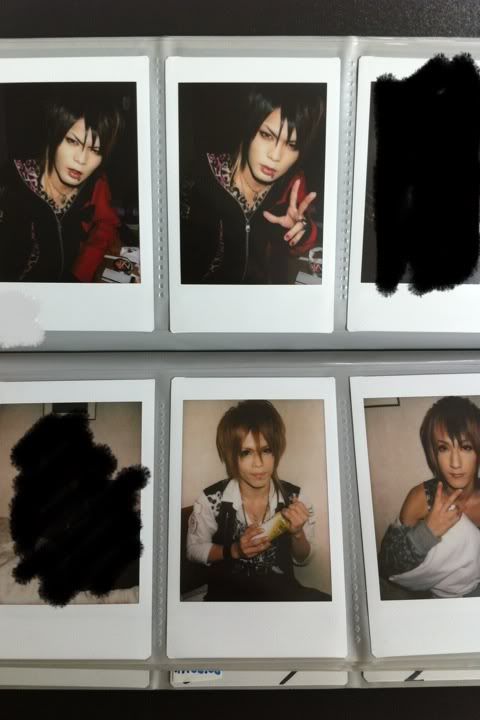 just sell them until monday (>_<)
04 October 2012 @ 12:29 pm
URGENT SALE!

Hey all ♥

Works extremely slow atm, so I am in dire need of money ( > n < )

All of these items were impulse bought while in Japan, and have been sitting in storage, untouched, for quite a while.
I take very good care of my stuff, so everything is in brand new/excellent condition, unless stated otherwise.

NOTE:
♥
Items will be shipped from Australia
♥
♥
I can ship internationally
♥
♥
I can do combined postage
♥
♥
Shipping costs are NOT included. Please inquire first!
♥
♥
Once shipped, I am no longer responsible for any lost/damaged items
♥
♥
I do
NOT
do refunds. Sorry orz
♥
♥
PayPal
payments are prefered. If you are unable to do so, please let me know
♥
♥
PayPal buyers will also need to pay for the fee (3.4%+$0.30)
♥
♥
I am willing to hold items, but I expect

payment within 3 days

-
if asked to be held any longer than this, I will charge a small fee
♥
♥
I am open for any
REASONABLE
offers
♥

My eBay/feedback -> http://myworld.ebay.com.au/unversed-glittermoon

If you have any questions, feel free to ask!

Thankies
( o ω o)-♡
(
Read more...
Collapse
)
04 October 2012 @ 12:47 pm
Hi. I am selling a complete Brand New DVD Set of Death Note. Rare Ryuuku Death Note Bookends. As well as a new in bag, Official Maid Sama plush of the main female character. If anyone is interested please leave me a comment or pm me. Thanks
Death Note Bookends
Current Mood:
cold
04 October 2012 @ 05:33 pm
Must buy all volumes of complete titles. Titles with a * are complete. I am willing to split incomplete series between reasonable volumes. Titles in red are on hold for two days. All mangas are in like-new condition.

Will only accept money order or paypal as payment methods.

International shipping is available. I can ship up to 5 shoujo volumes or 3 yaoi volumes anywhere internationally for $14 or less. Shipping within the US is through media mail. I will ship when payment is received. Please provide your zip code or the country you're ordering from.

Not currently accepting trades. I deleted my ebay account with my original feedback, but I've been selling books online through amazon, though no one has left any feedback so far. Email me at cloudgirl7@gmail.com

Get 1 volume free for every 5 volumes purchased (promotion is for US residents only)

Shoujo/Shounen ($3.50 each volume)
Arcana by So-Young Lee 1-9
Eternity by Park Jin-Ryong 1-5*
Gentlemen's Alliance 1-9 (includes poster in vol. 1)
Hanakimi 1-4
Legal Drug 1-3
Model by So-Young Lee 1-7*
Nabi Prototype
Snow drop 1-12*
Special A 1,2, 3-7, 8, 9
Switch by Naked Ape 1-6
The Devil Within 1-2*
Ultimate Venus 1-3
Vampire Knight 1-2
V.B. Rose 1-5
Shoujo bigger book format ($4.25)
Angel Diary 1-7
Bride of the Water God 1-2
Chocolat by Ji-Sang Shin 1-6 (1-5 original Ice Kunion edition, includes postcards from v. 3 and poster from v.4)
Cynical Orange 1-5
Forest of the Gray City 1-2*
Legend by Soojung Woo 1-3 (includes poster in vol. 3)
04 October 2012 @ 05:43 pm
Hi! My husband and I are moving soon and will have no storage space, so everything's got to go. All prices are entirely open for negotiation. Make offers!
MANY PRICES CUT 9/20!
-I ship from Illinois to any location in the US or internationally (postal laws permitting).
-Smoke free home.
-Fun Yet brand comic bags available FREE with any order!
-PayPal payments only. Trades are also good! I'm looking for certain Japanese books -- please see my post for details.
shipping, payment, and trade information
feedback post
Japanese Language Doujinshi, Manga, and Novels
:
Doujinshi: Shounen Jump anthology Treasure 3; Naruto anthology SHI: Arigatou, Sensei; One Piece anthologies Kaizoku Game 2, Kaizoku Game 3, and Treasure Island 6
Assorted manga: Busou Renkin 1-7, Rurouni Kenshin 1, Dragon Quest 1, Naruto 3, Hoshi no Kirby 5, SD Gundam Eiyuuden 1 (includes card), Slayers 1, Star Wars: A New Hope 1 & 2, Star Wars: The Phantom Menace
Toriyama Akira manga: Toriyama Akira Maru Sakugekijou 1, Kajika, Sand Land, Dr. Slump 1
Pokemon manga: Golden Boys 3
Tengen Toppa Gurren Lagann Comic Anthology 2
Novels: Paseri Densetsu (Legend of Parsley) vol. 1-4 (a grade-school level fantasy novel series); RahXephon novels 4 & 5
Various magazines - FREE with shipping!
CDs
:
Last Exile OST 1
Sweet Junction 1 (radio/talk CD featuring Sugita Tomokazu, Morita Masakazu, and Morikubo Shoutarou)
Silent Hill: Shattered Memories limited OST
04 October 2012 @ 05:47 pm
Hello.
Lots for sale! Please come take a look!
I accept paypal and concealed cash.
No trades please.
ALL REASONABLE OFFERS CONSIDERED!
NEW PAYMENT METHOD
Now accepting US bank transfers via e-mail for applicable banks.
Please check the terms for details!
Current Group Orders
Toranoana / K-Books Group Order (10/01 - 10/28)
Terms of Service
Please read all terms/instructions before commenting. Thank you!
Merchandise/Goods
Katekyo Hitman Reborn
(Last Updated 3/20)
One Piece
(Last Updated 9/14)
Gintama
(Last Updated 9/17)
Magazines + Manga
(Last Updated 12/18)
Hetalia:
Goods
||
Trading Cards
(Last Updated 9/17)
Rilakkuma, Sayonara Zetsubou Sensei, Re-Ment, K-On!, + etc!
(Last Updated 9/17)
Persona 4, Death Note, Sengoku Basara, +etc!
(Last Updated 9/17)
Ao No Exorcist & Durarara!!
(Last Updated 9/17)
Karneval & Are You Alice?
(Last Updated 7/26)
Nitro+Chiral, Togainu no Chi, Kuroshitsuji
(Last Updated 9/17)
D.Gray-Man, Bleach, Yu-Gi-Oh!
(Last Updated 9/17)
Starry Sky
(Last Updated 9/17)
Tiger & Bunny
(Last Updated 9/17)
Naruto & Tales Series
(Last Updated 9/17)
Prince of Tennis, Angel Beats, & Hakuouki
(Last Updated 9/17)
Uta no Prince-Sama
Vocaloid & Black★Rock Shooter
(Last Updated 7/10)
Doujinshi/Fanmade Goods
Reborn!, Gintama, D.Gray-Man, Sengoku Basara, +! :
★
(Last Updated 3/03)
Hetalia Doujinshi :
★
+
★
+
★
(PG 1 Last Updated 7/26)
Hetalia Doujinshi/Fanmade Goods :
★
(Last Updated 7/26)
Tiger & Bunny. Togainu no Chi, Sweet Pool & Durarara!! :
★
(Last Updated 3/28)
My Feedback
Thanks for looking!
04 October 2012 @ 06:37 pm
☆Goods from SWIMMER, Tutuanna, San-x and more at Mint Kismet Commodities - follow us on Blogspot or Tumblr for updates on new products, exclusive sales, and more!☆
We've just restocked with a few new items from SWIMMER - items on new products start at just $5! We also have sale items still available - prices start at only $3!
Click
HERE
to go straight to our available products!
04 October 2012 @ 10:27 pm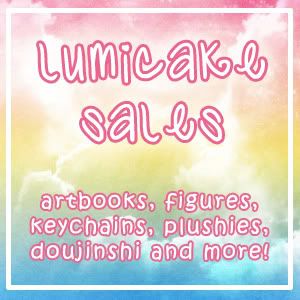 Hello~
I'm currently selling tons of things over at my journal, including lots of figures, English/Japanese manga, artbooks, DVDs, cellphone charms, keychains, COSPA tshirts, cosplay items, a whole bunch of doujinshi, and a lot more assorted items, both used (super cheap!) and new. I've lowered prices big time and added some new items!
There are items from a lot of different series, including TIGER&BUNNY, Evangelion, Fate/Stay Night & Fate/Hollow Ataraxia, Kuroshitsuji, Katekyo Hitman Reborn, Hetalia, Gundam, Ghibli, Saiyuki, Hikaru no Go, Ouran Host Club, Digi Charat, One Piece, Gurren Lagann, Tsubasa Chronicle, The Melancholy of Haruhi Suzumiya, Deathnote, BL series, and tons more.
I'm located in the U.S. but will ship worldwide.
Please come check it out at my sales journal
lumicake_sales
.
Thanks! ♥