♥ G S J ♥________ ★! Garagesalejapan Buy & Sell
10 November 2012 @ 10:39 am
10 November 2012 @ 11:38 am
Selling alot of Fahrenheit items and JE stuffs as stated below:


Pls click the pic for more pictures:
Posters
- Arashi
- Kat-tun (alot)
- Hey Say Jump (alot)
- K8

Glossies
- K8
- Kat-tun
- Arashi

Clippings
- NEWS
- Hey Say Jump
- Kat-tun (alot)
- K8 (alot)
- T&T / Kinki kids / V6
- Johnny Jrs


Mags
- COLOR
- PLAY
- FANS
- Trendy
- I-wkly
- U-wkly
- Teenage
- Teens
- Epop
- YG

Posters
- SHE
- Fei Lun Hai
- 5566 / F4
- Jolin / rainie / angela zhang
- SS501 / FT Island/ Shinee/ Jang Geun Suk/ U-Kiss
- Arashi / NEWS / Kat-tun / K8/ HSJ
Albums
- 5566 / Cyndi / Rainie / SHE / Xin Yue Tuan/ JJ Lin / Stella Huang / Fann / One-fifth
- BoA / Kyoko Fukada / Ai Otsuka / Ayumi
- Kat-tun
Collectibles
- idols cards
- hana kimi calendar n photo holder
- Rainie DMs
- FLH folders
- Mini-photo bklet
and many more.
Pls visit my
lj
or www.entertainment-items.blogspot.com
for pics
Pls email me @ idol_items@rocketmail.com
* Note : Only for Singaporean buyers
10 November 2012 @ 12:54 pm
I've got some of my manga up (all English) on ebay for sale. The auctions will end on Thursday so please give them a look before then. Some titles are Lucky Star, St. Dragon Girl, Land of Silver Rain, and more!
Please visit this link to view the manga sets!
I have other titles for sale that are not up on ebay yet as well.
Thanks!
10 November 2012 @ 02:29 pm
Selling some JRock items :
Many items discounted!! Make offers! :)
♫

autograph's: Kiryu, Royz, Lycaon, the Piass, BugLug, the kiddie, born, SERIAL⇔NUMBER, Lolita23Q, An Cafe, v(neu), SuG, DuelJewel, Versailles, ViViD, D'espairsRay, Rentrer en Soi, Hime Ichigo, v-last, D=out, R-shitei, Ayabie, Vistlip, Sadie, Ruvie

♫

photoset's : Eccentric agent, D, Vistlip, the GazettE

♫

CD

's,DVD's

/

comment CD's: -

/

DaizyStripper, DuelJewel

♫

chekis / tour goods

: Valluna(Diaura)

/

Sadie, Hime Ichigo, The GazettE

♫

magazines

:

Shoxx glitter pop , Shoxx, Zy

♫

magazine clippings

:

Ayabie, KAT-TUN, DBSK, Plastic Tree, Miyavi, MUCC, SiD and other...
☼
guitar pick's
:
ViViD, SuG, Versailles, Miyavi , Alice nine, Janne Da Arc, The GazettE, DELUHI, D, Dir en Grey, Nightmare, VAMPS, LM.C, Vidoll, Kagrra, D'espairsray, SID, Galneryus, Sugizo, Sex machineguns, L'arc en ciel, Buck - Tick
10 November 2012 @ 06:46 pm
Have extra goods for sale:
Hello Kitty Straps:
Black
Purple
Pouch:
Purple x3
2
Orange
Black
Yellow
Blue
Red
Clear Holders:
Hina x3
Yoko x2
Yasu
Subaru
Maru
Onigishi Case:
Hina x3
Yoko
Ohkura
Lights:
Set of 7
Yoko
Yasu
Ohkura
Hina x3
Maru
Subaru

Mirrors
Magnet Sets -> I have 1 set that is all purple, in addition to the regular sets with all 7 colors
Yakisoba flavored Snack
Black Box with Green Apple flavored Hi-Chew
Someone asked me to bid on auctions for them and then backed out after the bids were made, so i have some Arafes goods available:
Poster
Clear file
Hooded Towel
Penlight
Shopping Bag
x2
Pin Badge Sets
Comment here (Screened)/PM for prices and leave an email address for pictures~
10 November 2012 @ 07:13 pm
10 November 2012 @ 08:36 pm


[ c l i c k - h e r e - t o - v i e w ]
_ I ship within the U.S + Canada!
_ I also ship internationally, ask for a quote!
_ I accept paypal + concealed cash!
[ LJ FB: + 8 ]
FOR SALE:
- asian imported fashion clothing, shoes, jewelry, etc.
- sailor moon official amada world seal pull pack cards (near complete set) link here
- sailor moon official collectible irwin figures (set of 4) link here
- sailor moon official collectible pachi figures (complete set) link here
I WANT TO BUY:
- sailor moon japanese pink starry sky orgel star locket
- sailor moon eternal fantasy music box
- sailor moon exclusive foil variant comic issue #11 (picture)
10 November 2012 @ 08:52 pm
Paring down my anime/manga collections for want of money. I'm not going to deal with figurines and doujinshi or anything of the like at the moment, just the actual series.

I would prefer to sell all of these as sets, and ALL PRICES NEGOTIABLE.

Underlined the more popular series.

ANIME:

Death Note DVDs 1-8 (missing 9) - 70$
* If you are interested in the LE figurines that came with the DVDs, please let me know. I still have most of them and would be willing to sell.
Naruto Shippuden Boxed Sets 1-2 - 16$ each.

MANGA sets:

Aoi House volumes 1-2 COMPLETE - 8$
Kieli 1-2 COMPLETE - 10$
Reborn volumes 1-13 - 70$
Utena volumes 1-4 (missing 5, out of print) NAME A PRICE.

MANGA singles (3$ each):

Black Cat 1
Chrono Crusade 1
Cross-break 1
Hellsing 2
Melancholy of Haruhi Suzumaki 1
Pokemon Adventures 1

YAOI/SHOUNEN-AI MANGA:

Dash 1 COMPLETE - 5$
Demon Diary 1-7 COMPLETE OOP - 40$
Gravitation 1-12 COMPLETE OOP - 75$
Sequence ? - 3$

IF there is enough interest, I have several hard-to-find yaoi series that I will consider putting up for sale, such as: Let Dai, Dog Style, and Totally Captivated.

If you are interested in doujinshi, I have quite a bit in: Naruto (most any pairing involving Deidara and/or Sasuke barring NaruSasu), Gundam 00 (mostly serious, with some LockAl and HalAl), and Togainu no Chi (mostly KiriGun or Punisher-related). Any questions, let me know.

In regards to trades: There are very few things I will accept for trades, though I will take Black Butler 8+. Beyond that, that's really it. I am only collecting a few manga anymore and I tend to buy them as they come out.

I take Paypal. Shipping will depend on where you live.
10 November 2012 @ 11:07 pm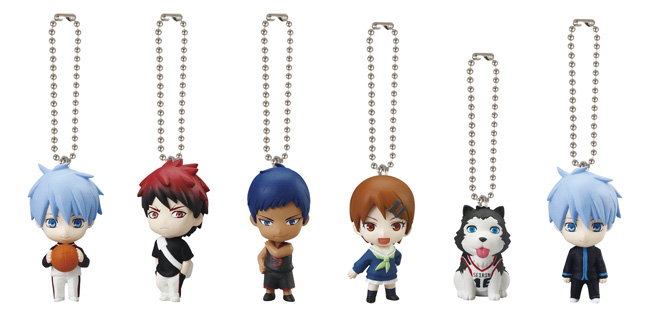 Hi! i'm selling Kuroko and Kagami from the Gashapon keychain series and some other items! :)
click here to go to my sales post
10 November 2012 @ 11:38 pm
splash
's
Ongoing Anime/Manga/Game stuff sale
LJ user for 11 long years, smoke-free personal collector with a laid-back garage sale ~ lots of rare collectibles!
Ex - Uta no Prince-sama, Tiger & Bunny double-sided clear-files:
Anime
: K, Magi, Tsuritama, Inazuma Eleven, Uta no Prince-sama, Inu x Boku SS, Tiger & Bunny, Kimi to Boku, Natsume Yuujinchou, Ao no Exorcist, Code Geass, Durarara!!, K-On!, Digimon, Pokemon, Precure, FMA, Gintama, Gundam, Haruhi, Hakuouki, Kuroshitsuji, Sengoku Basara, Kyou Kara Maou, Ookiku Furikabutte, Hetalia, Ouran, Starry Sky... just to list a few
I'm loaded with rare clear files, pencilboards, posters, and other collectibles!
Magazines
: Selling BRAND NEW Animage!
I also add in freebies with orders!
Shipping from US to anywhere in the world!
All other details in the post.
Please check it out! New items added today!