♥ G S J ♥________ ★! Garagesalejapan Buy & Sell
30 November 2012 @ 09:11 am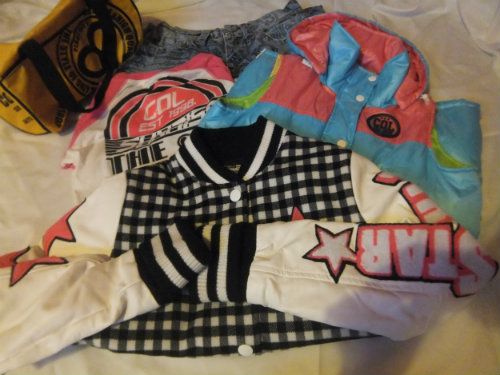 All listed here:
http://www.ebay.co.uk/sch/thebluetoffee/m.html?_nkw=&_armrs=1&_from=&_ipg=&_trksid=p3686
More under cut.
(
Read more...
Collapse
)
30 November 2012 @ 10:29 am
Sales page at
meta_sales
. Just click on the words in front of each section to that specific page. Now have a new sales page at
Metamorcy-sales at ecrater
! Come visit if you're having trouble with livejournal
Newly added doujinshi: 5 Gintama, 2 uta no prince-sama (LEGO), 7 Magi, 2 YugiOh, 1 Hetalia, 5 Naruto (sensei!!), 4 Final Fantasy 13-2, 1 Durarara, 6 KHR,
Doujinshi page 1
: Katekyo hitman reborn, Heart no Kuni no Alice, Gintama, Magi, YuGiOh, Naruto, and Uta no Prince-sama

Doujinshi page 2: Durarara,
Tales of Symphonia, Tales of the Abyss,
Final Fantasy Dissidia and 13-2, Vocaloid,
and Tiger and Bunny
Yaoi Manga
: Sunflower, Love Training, Sunflower vol 1, Original Crush v1, KaShunFu, Kissing - $5 EACH

Manga: Desert Coral vo1, Samurai Deep Kyo, Juvenile Orion complete set, YuGiOh vo1-4, Chrono Crusade V1-2, Immortal Rain v1-5, Black Butler vol 2 -
$3 each
Figurines/dolls/plush
:
Katekyo hitman reborn (Tsunayoshi, Mukuro, Hibari), Bleach - Hollow Ichigo, Gintama autumn/winter set, Kingdom Hearts 2 Riku, 19 inch Love Bunnies, Gloomy Bear couples,
Posters
: Kuroshitsugi, Gintama -Kamui, Vocaloid, Devil May Cry 4, Katekyo hitman reborn from chara pos 2, 3, 5 set, Victoria Frances posters, Kine In Aqua, Gackt and Hyde posters, Echostream posters.
Video Games/DVDS
: Manga Carta, YS: The Ark of Napishtim, Suikoden Tactics, Dark Cloud 2, .hack infection part 1 and .hack quarantine part 4, Patapon, E's Otherwise,
Final Fantasy 7: Advent Children, Peacemarker, Fruit Basket
Others
: different types jewelry, asian clothes, gothic boots, 9 Newtype magazines, and many many more.
I ship from U.S. and will ship international. You're welcome to negotiate for a price that fits your range if bought in bulk. If you see anything that interests you, please don't hesitate to comment. My feedback page is here so you'll know its safe to buy from me. Thanks!

Wishlist - items and doujinshi I'm looking for and willing to purchase or trade for

Individual/Direct Order Service here for Japanese stores for doujinshi, food, etc
30 November 2012 @ 01:42 pm
Jrock Guitar Picks
Aki (SID), Shinji (SID), Hitsugi (Nightmare), Uruha (the GazettE)
Flyers
hide, Luna Sea, Sendai Kamotsu, Mix Speaker's,Inc., the GazettE, D, MeLt, jealkb, DIAURA, DEATHGAZE, Crimson Shiva
Magazines & Photobooks
glare vol. 4
Fool's Mate (Nov 2008)
SHOXX (Feb 2009)
Seventeen (Mar 2010)
OUT of MUSIC (Oct 2010)
Zipper (Jan 2011)
mix Rock Style Magazine vol.1
Document of Bloody Monday
Arashi (Aiba Masaki) Appassionata Reco Book
Merchandise
SID Summer Festa 2010,
w-inds.10th Anniversary
30 November 2012 @ 03:04 pm
~
*
~Sales for extra family Christmas money this year!~
*
~
Final Fantasy
Black Butler/Kuroshitsuji
.Hack
Pokemon
Manga
DVDs
And More!
Click For Pictures and More Info!
30 November 2012 @ 06:40 pm
Selling alot of Fahrenheit items and JE stuffs as stated below:

Pls click the pic for more pictures:
Posters
- Arashi
- Kat-tun (alot)
- Hey Say Jump (alot)
- K8

Glossies
- K8
- Kat-tun
- Arashi

Clippings
- NEWS
- Hey Say Jump
- Kat-tun (alot)
- K8 (alot)
- T&T / Kinki kids / V6
- Johnny Jrs
Mags
- COLOR
- PLAY
- FANS
- Trendy
- I-wkly
- U-wkly
- Teenage
- Teens
- Epop
- YG

Posters
- SHE
- Fei Lun Hai
- 5566 / F4
- Jolin / rainie / angela zhang
- SS501 / FT Island/ Shinee/ Jang Geun Suk/ U-Kiss
- Arashi / NEWS / Kat-tun / K8/ HSJ
Albums
- 5566 / Cyndi / Rainie / SHE / Xin Yue Tuan/ JJ Lin / Stella Huang / Fann / One-fifth
- BoA / Kyoko Fukada / Ai Otsuka / Ayumi
- Kat-tun
Collectibles
- idols cards
- hana kimi calendar n photo holder
- Rainie DMs
- FLH folders
- Mini-photo bklet
and many more.
Pls visit my
lj
or www.entertainment-items.blogspot.com
for pics
Pls email me @ idol_items@rocketmail.com
* Note : Only for Singaporean buyers
30 November 2012 @ 07:32 pm
30 November 2012 @ 08:17 pm
Spring-cleaning sale! I ship worldwide by registered seamail and accept PayPal. Haggling is fine but please don't lowball on me >_<
I have Nakayoshi and LaLa issues; 1 Xbox360 game, UVERworld best-of album, a few shitajiki and a GLOOMY figure for sale!
(
Read more...
Collapse
)
Thanks for looking!
Current Mood:
blah
Current Music: 藤田麻衣子/各駅停車
30 November 2012 @ 11:53 pm
D.Grey-Man Chara Fortune Clearance
Select characters only $1
Also selling:
Chara Fortunes: One Piece, Gintama, Naruto, Linebarrel
Portait of Pirates
Others.