♥ G S J ♥________ ★! Garagesalejapan Buy & Sell
07 December 2012 @ 12:00 am
Hi! i'm clearing out part of my collection! :)
click here for my anime merchandise post
(updated on 02/12)
click here for my hetalia doujinshi sales post
click here for the kawaii stationery sales post
07 December 2012 @ 09:40 am
07 December 2012 @ 12:50 pm

Okay, I am selling a ridiculous amount of stuff under this cut. It ranges from:

Japanese fashion, cosplay, manga, anime, magazines, CDs, shoes, jewelry, figurines, plushies and more!

Prices do not include shipping in most cases, but please let me know if you want more than one item, and I will work something out for you.
(
Here it all is!
Collapse
)
07 December 2012 @ 06:32 pm
Gatsby Moving Rubber hair wax
As seen
here
and all the other nifty youtube tutorial videos.
If interested, please reply at
http://icecream-party.livejournal.com/2887.html?mode=reply
More items (and freebies!) available at
icecream_party
Items priced as low as $1!
Thank you for looking!
07 December 2012 @ 09:57 pm
Hi. Selling rare yaoi manga Mr. Tiger and Mr. Wolf volume 1. It is in like new/new condition. Just bought and read it once. The Full Metal Panic novels complete set, are in like new to new condition. Please leave comment or message if you are interested. thanks
07 December 2012 @ 10:51 pm
PICK Digital Toy Camera by Fuuvi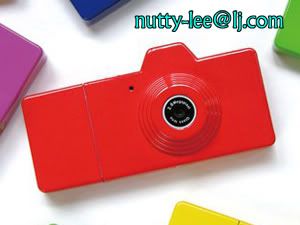 Still looking for a Christmas Present for your special one?
Check out this cool gadget~
~ PICK Digital Toy Camera by Fuuvi ~"PICK Camera"
is a compact digital camera toy by Fuuvi.
A 2 MEGA Pixels Camera with a size of approximatly 7 cm. x 4 cm. x 0.8 cm., it is easy to carry around and have a quick snap shot if you suddenly see something interesting.
It can be connected to the computer via USB, similar to normal flash drive, which driver or software is not required.
You can simply copy & paste for transferring photos to your computer.
It can also be used as flash drive to keep other type of files.
Note:
* Micro-SD is needed for the memory (which support up to 16 GB).
* Micro-SD is not included.
Please follow the link to original sale post at my LJ ~
[sale] PICK Digital Toy Camera by Fuuvi
PS. Thanks for the space~