♥ G S J ♥________ ★! Garagesalejapan Buy & Sell
15 December 2012 @ 10:38 am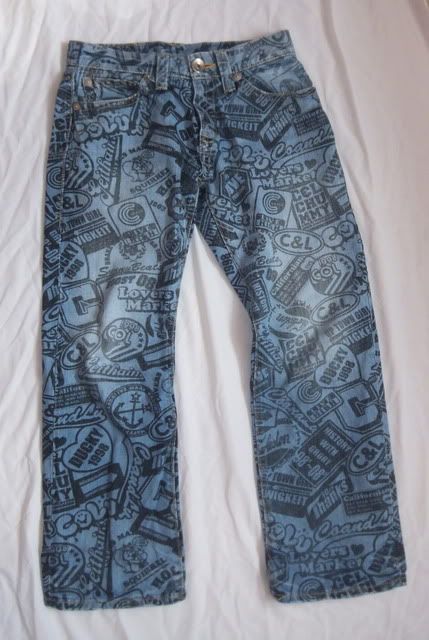 Cocolulu jeans £0.98 start (no bids yet)
Less than 24 hours left.
http://www.ebay.co.uk/itm/281036245857?ssPageName=STRK:MESELX:IT&_trksid=p3984.m1555.l2649
15 December 2012 @ 01:31 pm
I received this shirt back at AM2 in Anaheim back in July of 2011. I work for Cure Magazine as a freelance photographer and am friends with some of the designers and higher-ups at h.NAOTO so while stopping by my booth to say "hi" to them and Gashicon, they gave me this Sixh. shirt for free. I don't really wear any clothing from h.NAOTO or any of their other brand because it's just not my style. This shirt is brand new never worn and is a size MEDIUM. The tag reads Sixh. USA because h.NAOTO now has retail store(s) in the USA. Once I received this shirt it pretty much sat in my closet.
Asking $35 shipped within the US.
15 December 2012 @ 04:15 pm
I'm looking to sell a lot of my Jpop goods, from
CDs to DVDs and merch
. Feel free to send me offers. Also check out my journal for other goods for sale.
Also having an auction
here
on CAG. It includes a bunch of anime goods. Ends tonight (12/15)!
15 December 2012 @ 06:17 pm
We're back with preorders and a sale for ready stock goods this X'mas! Order now before we go on our holiday break from 26th December 2012 ~ 6th January 2013!
Preorders
Batch #2 for Yamada Ryosuke's Mystery Virgin is open!
Participate in batch #1 for Johnny's Calendars to take advantage of the special price!
Hey! Say! JUMP Wai Wai Jumping 3 is now available!
All ready stock items are now 10% off and also open for negotiations!
15 December 2012 @ 09:06 pm
A lot of these items won't be available for sale again, so take the chance to purchase them now before it's too late! :) Please check them out at my LJ, thanks!
http://itztofu.livejournal.com/2800.html
15 December 2012 @ 09:32 pm
New items added! There's still time to get those last minute Christmas gifts!Anime
: New Twelve Kingdoms and Death Note! All DVD's $5 or LESS!
Manga
: New Naruto, One Piece and more! Tons of other titles like Ouran Highschool Host Club, Bleach, Death Note,Vampire Knight and MORE!
Yaoi
: Challengers, Crimson Spell & MORE! Most other yaoi titles only $2!
Plus video games, post cards, shitajiki, merchandise and MORE!