June 22nd, 2013 - ♥ G S J ♥________ ★! Garagesalejapan Buy & Sell — LiveJournal
Gintama, One Piece, Bleach and Natsume Yuujincho - straps, figures!
Stuff to know :
I live in Singapore, but shipping shouldn't be too expensive.
Shipping can be combined for items.
Trackable mail is a +2USD.
I will give u a shipping estimate once you tell me what you want! :)
(
All items under cut!
Collapse
)
I'm open to trades & negotiations, feel free to haggle if the price is reasonable. Shipping is free within the USA.
I do ship internationally,
feel free to ask for a shipping quote.
Pictures are available upon request. I accept Paypal and do charge fees. If you have any additional questions, feel free to ask. Thank you. ♥
Books
Cafe Kichijouji De Illustrations Artbook (Has slight tear on the back of the dust jacket) $20
Newtype Japan (09/2010) FREE WITH ANY $20 PURCHASE; PLEASE INQUIRE ABOUT IT; USA ONLY SINCE IT'S HEAVY TO SHIP INTERNATIONALLY
CD's
L'Arc~en~Ciel KISS Album (Korea Tour Edition) $12
Doujinshi
Dynasty Warriors (Shin Sangoku Musou) Lu Bu/Zhang Liao
月華 by ASH $25
Dynasty Warriors (Shin Sangoku Musou) - Sima Zhao/Zhuge Dan School Liner by Flowerman $25
Final Fantasy VII - Sephiroth/Cloud; Reno/Cloud; Remnants/Cloud Kiki Archives Reunion Reprint by Kiki $50
Fullmetal Alchemist - Roy + Hughes centric
閃光 by GD Mechano $15
Gankutsuou - Fernand/The Count + Albert

堕天の刻印 by DUO BRAND $9
Lord Of The Rings - Aragorn/Frodo

私を抱いて、そしてキスして。

by Geiger Counter $15
Lord of the Rings - Aragorn/Frodo
秘密はいかにして愛撫されたか
by Geiger Counter
$15
One Piece - Doflamingo/Crocodile & Coby
言ってはいけない
by Arayashiki $25
One Piece - Shanks/Mihawk (Shota)
少年進化論
by Remote Control $35
Tiger & Bunny - Barnaby/Kotetsu REC (Tawainese Language)
by Silly Love Song $18
Tiger & Bunny - Dark Kotetsu/Kotetsu 3 Laws - Part I -
(Tawainese Language)
by Silly Love Song $15
Warriors Orochi (Musou Orochi)
- Sakon Shima/Zhuge Dan 御祝 by Flowerman $25
Misc
Final Fantasy XIII Mini Clear Poster (Snow) $10
Hetalia Stick Posters (Anime Italy, Anime Germany, Manga Italy) $12 each
Hetalia Trading Mascot Metal Charm Germany $10
HEROX Engine Sentai Go-Onger Sousuke $5
OR FREE WITH ANY $15 PURCHASE
Guilty Crown Official Promo Poster (64 cm. x 49 cm.) by Redjuice $12
Fullmetal Alchemist: Brotherhood Movie Double Sided B5 Clearfile $8 OR FREE WITH ANY $20 PURCHASE
K-On! Double Sided A4 Clearfile $8
Tiger & Bunny Deformeister Petit Off Shot Figures: Kotetsu ($12), Antonio ($10), & Keith ($10)
Video Games (Games are complete)
Dissidia 012 [duodecim] Final Fantasy (PSP) $15
Final Fantasy VII: Crisis Core (PSP) $12
Metal Gear Solid: Peacewalker (PSP) $12
Paper Mario: Sticker Star (N3DS) $20
Check out
my sales post
for the items I have for sale!
I will be adding items from different series periodically, so please check back often. :)
SERIES:
* Karneval / Mikanagi Touya
* Uragiri wa Boku no Namae wo Shittsuteiru / Hotaru Odagiri
MORE TO COME!!
MY FEEDBACK:
Ebay
I accept
Paypal
&
money orders
.
I only ship within the US.
IF YOU WILL BE USING PAYPAL, PLEASE NOTE THAT I WILL BE CHARGING THE 2.9%+$.30 PAYPAL FEE.

THIS IS TO PROTECT YOU, THE BUYER, SO THAT YOU MAY BE ABLE TO FILE A REPORT IN CASE ANY PROBLEMS ARISE. I HEAR THAT A LOT OF SCAMMING GOES ON AND I DON'T WANT TO BE ONE OF THOSE PEOPLE. SO, FOR THE BUYER'S OWN SAFETY, I WILL BE USING PAYPAL'S FEES.
For those who want to pay using a money order but don't know how,
here's a helpful link.
Also, this will be my first time selling something online, so if you are a potential buyer and have any experience selling, please help me through.
I accept Paypal and Concealed Cash (buyer's risk). PP fees will be added to the total. Shipping only to the US. Sorry. ): If you don't like the price, please feel free to offer. (: Thanks for looking!
*New* Final Fantasy 7 UMD Case
*New* LaLa Monthly Magazines
*New* Shojo Beat Magazines
*New* 1 Reborn! Doujinshi (Reborn x Collonello, Reborn x Lambo)
*New* Naruto Posterzine
Ouran High School Host Club Part 1
Vampire Knight 2, 10
Bleach 1, 3, 19, 20, 26
Bleach 33-36 (Japanese)
Lies and Kisses - Masara Minase (Yaoi)
Ring Finger 1-3 Novels (Yaoi)
Captive Hearts 1-2
The Devil Within 2
Soul Eater 1
Kuroshitsuji (Black Butler) 1
Wanted 1
Angel Sanctuary 1-2 (Very Yellowed)
xXxholic 1
Millennium Snow 1
Alichino 1-3
MeruPuri
La Corda D'Oro 1
Shaolin Sisters 1
Saiunkoku Monogatari Emaki Artbook
Wishlist
Devil's Infirmary
In These Words
A Fallen Saint's Kiss
Beast & Feast
Finder 3&6
Just show me what English yaoi manga you have~
Feedback post here! All positive! :D
x-posted @
anime4sale
,
manga_trade
, &
shopanime
~
(
Pictures Under Cut
Collapse
)
Lots of Jrock magazines for sale! Most are priced $5 and under! Also selling T-shirts from X Japan and Versailles, and a hide Plushie.
Check everything out
here
!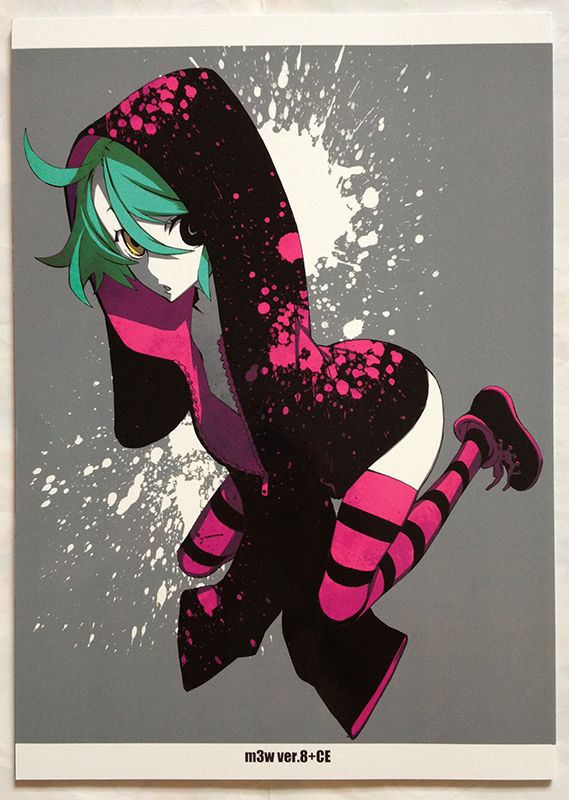 Hello! i'm selling some art books, doujinshis and anime merchandise! :)
some of the prices has been lowered as well!
(
click for more info
Collapse
)