♥ G S J ♥________ ★! Garagesalejapan Buy & Sell
19 August 2013 @ 10:00 am
19 August 2013 @ 11:07 am
Selling some JRock items :

♫

autograph's: Mejibray, Kiryu, Royz, Vistlip, Versailles (Kamijo special set), ViViD, Velbet, SuG, an Cafe, Sadie, R-shitei, the Piass, BugLug, the kiddie, born, Versailles, v-last, Ayabie, Ruvie

♫

photoset's : D=out

♫

CD

's,DVD's

/

comment CD's: ScReW

/

Eccentric agent

♫

chekis / tour goods

:

Valluna(Diaura)

/

-

♫

magazines

:

Shoxx glitter pop , Shoxx, Zy

♫

magazine clippings

: Ayabie, KAT-TUN, DBSK, Plastic Tree, Miyavi, MUCC, SiD and other...
☼
guitar pick's : ViViD, SuG, Versailles, Miyavi , Alice nine, Janne Da Arc, The GazettE, DELUHI, D, Dir en Grey, Nightmare, VAMPS, LM.C, Vidoll, Kagrra, D'espairsray, SID, Galneryus, Sugizo, Sex machineguns, L'arc en ciel, Buck - Tick
Wanted : Autographs from (on cards) : Called≠Plan, memento mori ( メメント・モリ ), Diement, Megamasso, dali, zoro, Luzmelt, Xodiack, Virgenow, Tu[ism], pan-d-ra, Glacier (グレイシア), poitrine, NEXX
19 August 2013 @ 11:10 am
19 August 2013 @ 12:12 pm
A few more pieces added and still available!
(
Split Pink & Mint Jacket, Rilakkuma Wallet, Hello Kitty Headband, Korilakkuma Glasses Stand Holder, Secret Shop Socks, +EGL Sales link
Collapse
)
19 August 2013 @ 02:54 pm
Do you want to buy video game and anime merchandise? Come shop for awesome goods such as artbooks, furoku (Japan giveaways), doujinshi, cards, stationery, and toys.
NEW ITEMS ADDED!
-Doujinshi: Persona 2 Innocent Sin/Eternal Punishment (Avant Garden by Chimaki Kuori/Amairo-Senpuu), Resident Evil 4 (B-Sting), Devil May Cry 3 (Errorwork)
-Official and doujinshi anime and video game illustration art books: Metal Gear Solid 2, Fate/Zero,
Valkyrie Profile 1, El Shaddai Ascension of the Metatron, Ouran
High School Host Club, Final Fantasy
-Trading cards, postcards, stationery: Kuroshitsuji, Sailor Moon, Togainu no Chi, Card Captor Sakura, Uta no Prince-sama, Vampire Princess Miyu manga (Narumi Kakinouchi)
-Figures: CLAMP in 3-D Land (Chobits Freya, X/1999 Fuma, Card Captor Sakura Syaoran), Final Fantasy Trading Arts Mini (Balthier, Fran)
-Posters: Kuroshitsuji, Fate/Zero Blu-ray
-Persona 4 Animation Visual Sheet cel board Naoto Shirogane & Yu Narukami
-Devil May Cry 3 soundtrack
-Sailor Moon Stars handkerchief
-Kingdom Hearts promo keychain
-Vagrant Story promo leather book
-Carnival Phantasm Tsukihime Pic-Lil phone rubber straps
-Kuroshitsuji Sebastian Nendoroid Good Smile figure
-Kuroshitsuji Sebastian Petit Prop Plus 2 teacher figure
Welcome...
19 August 2013 @ 03:29 pm
19 August 2013 @ 04:04 pm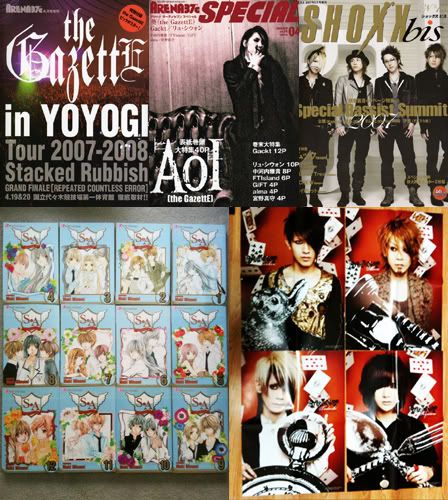 UPDATES!
- [2013.08.19] Added CDs/DVDs: Alice Nine, An Cafe, ayabie, Crystal Kay, GACKT, KANJANI8, KAT-TUN, L'Arc~en~Ciel, ORANGE RANGE, Rentrer En Soi,
- [2012.xx.xx] Added CDs: the GazettE, Alice Nine, Versailles, Nightmare
CDs, DVDs, PSP items
CDs:
Alice Nine, An Cafe, ayabie, Crystal Kay, GACKT, KANJANI8, KAT-TUN, Nightmare, ORANGE RANGE, Rentrer En Soi, the GazettE, Versallies
DVDs:
DNAngel, Fruits Basket, Fushigi Yuugi, Ultra Maniac, Revolutionary Girl Utena, L'Arc~en~Ciel
PSP items:
Bleach, Initial D
Japanese Magazines
Jrock:
Arena37ºC, Cure, Fool's Mate, Neo Genesis, Pati ► Pati, Shock Wave, Shoxx, Shoxx Bis, What's in?!, Visual Rocker's Bible
Other:
Gyao
Manga/Manga Magazine
Manga:
Fall in Love like a Comic, Fushigi Yuugi Genbu Kaiden, Inuyasha, PUNCH!, S·A (Special A), Shaman King, Shounen Jump, Ultra Maniac, Yurara, King of Hell, Bleach
Manga Magazine:
Shounen Jump (RAW), Jump Square (RAW)
Miscellaneous
Magazines:
Poporo, Youth Magazine
Other:
Kazuya Kamenashi Complete Photo Album, Naruto Headband, Monkey Coin purse, Hello Kitty
Posters & Wallscrolls
Posters:
Absolute Boyfriend, An Cafe, heidi., Plastic Tree, the GazettE, Vampire Knights, w-inds., Zoro, F.T. Island, Yuya Matsushita, Miyavi, Dir en Grey, Supernova/Choshinsung/Choshinsei , Nightmare, AAA, SID, UVERworld
Wallscrolls:
Fruits Basket
Moving to College so I would love to get these off my hands, ASAP~
19 August 2013 @ 10:51 pm
HELLO EVERYONE! I've restocked my shop with a lot of kawaii items for back to school. :3
What's in the picture is only half the things I have for sale! At my shop, theres
absolutely nothing over $5
, and with every purchase over $10, you get a
freebie bag of goodies
AND if you're a returning customer, an
additional free gift or $1 off
.

Come check out my shop at http://tooyama-chan.livejournal.com/

Thanks for looking!!