PICK Digital Toy Camera by Fuuvi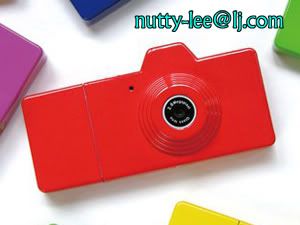 It's going to be Christmas soon~ Have you made a present shopping list?
Don't forget to check out this cool gadget~
~ PICK Digital Toy Camera by Fuuvi ~"PICK Camera"
is a compact digital camera toy by Fuuvi.
A 2 MEGA Pixels Camera with a size of approximatly 7 cm. x 4 cm. x 0.8 cm., it is easy to carry around and have a quick snap shot if you suddenly see something interesting.
It can be connected to the computer via USB, similar to normal flash drive, which driver or software is not required.
You can simply copy & paste for transferring photos to your computer.
It can also be used as flash drive to keep other type of files.
Note:
* Micro-SD is needed for the memory (which support up to 16 GB).
* Micro-SD is not included.
~ SPEC ~
- JPEG picture file with size of 1280x1024 pixels
- AVI movie file with size of 720x480 pixels / 30 fps
- Resolution 2 MEGA pixels
- Lens : F2.8 f=3.2mm ISO:100
- Battery charge through USB with computer or any USB adapter
- Support Micro-SD up to 16 GB (not included in the package)
Price:
64.99 USD
Follow the link below for sample photos taking from this camera and more detail at my original sale post~
[sale] PICK Digital Toy Camera by Fuuvi
PS. Thanks for the space~