Selling a Nittle Graper messenger bag! About 14"x14".
Never used, $20 [+shipping]. Paypal or concealed cash.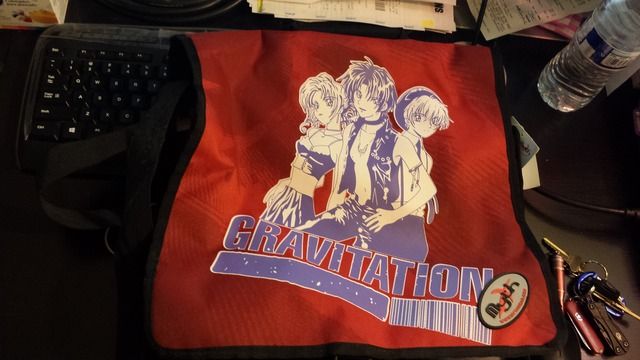 Hi!~

I'm selling HUNDREDS(!) of items I've
purchased in Japan
. I've lived in Japan for 7 years and there's far too much stuff now.
40%
of the items are even
new and unopened
.
Added a few new items!
:D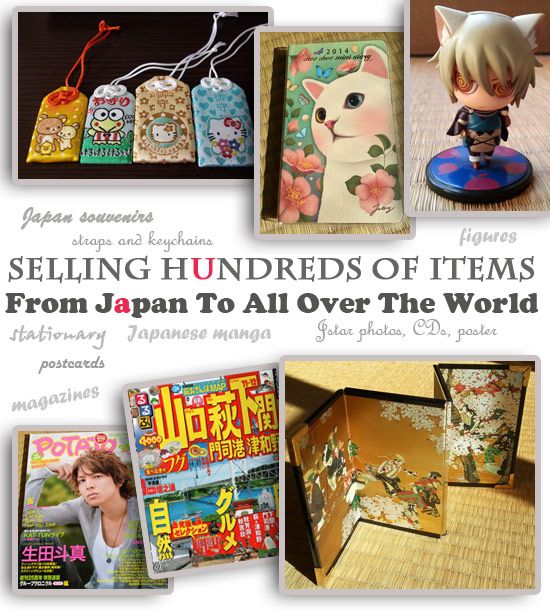 *Click banner to get to the sales entries.

What I'm selling?



Japanese Artbooks and Manga


Doujinshi


Anime merchandising


Pinky St. Dolls


Japanese books


Japanese souvenirs (key chains, temple and shrine lucky charms etc.)


Japanese stationary


Johnny's and Jstars photos, photo books, posters, magazines


German manga and German anime magazines (AnimaniA, Manga sZene, ...)


I'm open to reasonable negotiations. Shipping is free within the USA.
I do ship internationally,
feel free to ask for a shipping quote.
Pictures are available upon request. I accept Paypal.

Feel free to ask

any additional questions. Thank you! ♥

FEEDBACK
http://iheartken-chan.livejournal.com/610.html
BOOKS
Cafe Kichijouji De Illustrations Artbook (Has slight tear on the back of the dust jacket) $20
Guilt Pleasure Maybe Someday Shinohara Back Story Illustrated Novel $12
Guilt Pleasure Cruel To Be Kind Illustrated Novel $10
Kyo Kara Maoh! Temari Matsumoto Illustrations Artbook $30
DOUJINSHI
Code Geass - Mob/Suzaku; Gino/Suzaku 械 by Double Slash $17
Dynasty Warriors (Shin Sangoku Musou) Lu Bu/Zhang Liao
月華 by ASH $25
Naruto - Asuma/Kakashi
Bed Time Eyes
by GD Mechano
$12
One Piece - Doflamingo/Crocodile & Coby
言ってはいけない
by Arayashiki $25
One Piece - Doflamingo/Crocodile Time Long Past (Chinese Language) by Lovely Hollow $35
Pokemon - Kudari (Emett)/Nobori (Ingo)
夏新刊
by Waya $30
Sengoku Basara - Kojuuro/Masamune Millefeuille by Ciao, baby $20
Sengoku Basara - Kojuuro/Masamune
再七 (Sai 7) Reprint
by Ciao, baby $35
Star Wars - Anakin/Obi-Wan Birth by FAKE STARS $40
Tiger & Bunny - Barnaby/Kotetsu REC (Chinese Language)
by Silly Love Song $18
Tiger & Bunny - Dark Kotetsu/Kotetsu 3 Laws
(Chinese Language)
by Silly Love Song $15
Warriors Orochi (Musou Orochi)
- Sakon Shima/Zhuge Dan 御祝 by Flowerman $25
MISC
Ace Attorney Dual Destinies Buttons (Set of 5 can badges) $12
The Avengers Deco Masking Tape by Silver $10
Durarara!! Group Poster from Yen Press $8 OR FREE WITH ANY $15 PURCHASE
Epik High Remapping The Human Soul $16
Final Fantasy Rubber Trading Straps [Ace, Tifa] $15 EACH
Final Fantasy XIII Mini Clear Poster [Snow] (Displayed; excellent condition) $8 OR FREE WITH ANY $15 PURCHASE
Hakuoki Toshizo Hijikata One Coin Grande Figure (Black-hair)
(Displayed; excellent condition; no box or card) $14
Hetalia Kotobukiya Rubber Strap: Germany (Brand new; no box) $10
Guilty Crown Official Promo Poster (64 cm. x 49 cm.) by Redjuice $10
OR FREE WITH ANY $15 PURCHASE
Kingdom Hearts 1.5 Limited Edition [PS3] $30
Kingdom Hearts 3D Limited Edition 3DS Clear Case $35
Metal Gear Solid Legacy Collection Artbook & Outer Slipcase only (NO GAME)
$15
Tiger & Bunny Deformeister Petit Off Shot Figures: Antonio (Displayed; excellent condition) $10