Hi! A couple of things I currently have a group order open for Tora/K-books that is going to end in a couple of days if not tonight so if you'd like to order something from those stores check it out!
The store links for Hetalia, just click on the names:
Toranoana
K-books
Other series that are not Hetalia are also welcome as long as they are sold at those stores.
Payment 1(Books + Commission fee):
1)
Cost of doujinshi
2)
200 yen per book between 1-20 pages -
*
if you order more than 10 books commission will drop to a flat 175 yen per book
250 yen per book between 21-100 pages
350 yen per book between 101-200 pages
450 yen per book between 201-300 pages
650 yen per book between 301-400 pages
401+ pages order by order case
MORE INFO HERE(CLICK ME)
As for my regular sales post it's been a while, but I REALLY need this stuff gone so super cheap prices for the most part! Also lots of FREEBIE chances/free shojo beat magazines etc. Please take a look if interested(not all items in the picture are for sale, but a lot of items that ARE for sale are not in the picture as well so please check out the post since I didn't have time to take a new one!)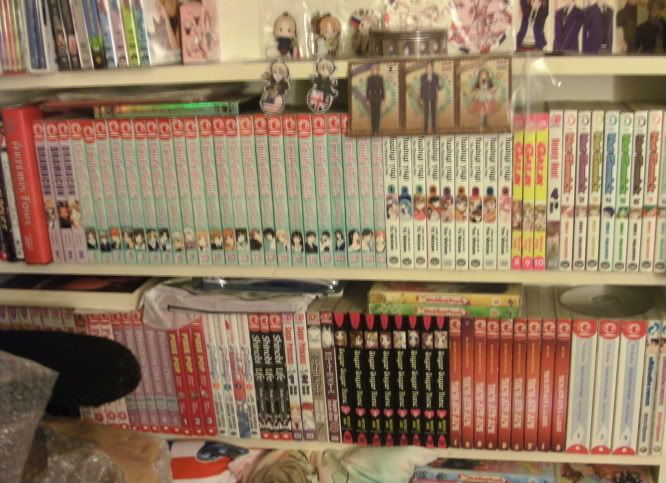 ITEMS FOR SALE INCLUDE:
SAILOR MOON
ALICE IN THE COUNTRY OF HEARTS
HONEY HUNT
BLACK BIRD
TOKYO MEW MEW
CARDCAPTORS(RARE!)
ETC.!
MANGA/ANIME STUFF IS LOCATED HERE(CLICK ME)
For my Doujinshi Sales post(Hetalia only) I've reduced the prices on a couple of my items especially the England pillow so please come take a look if interested. The free books section(19 items!) is now hopefully easier to see. Pairings Include:
USUK, UK/US, Gen doujinshi, SpainxRomanoxSpain, AmericaxRussia, AmericaxJapan, FrancexUK, EnglandxJapan, WorldxJapan, PrussiaxAustria, PrussiaxRomano, GermanyxItaly, PrussiaxGermanyxPrussia, EgyptxUS, NorwayxIceland, FrancexSeychelles, lots of random pairs etc.
DOUJINSHI SALES PART 1 HERE @
alex_sales
DOUJINSHI SALES PART 2 HERE @
alex_sales
My Wishlist is located
HERE
My Feedback is located
HERE