hey everyone!
i'm super pressed for money, so PAYPAL ONLY, please.
i payment BY FRIDAY AT THE LATEST.
so PLEASE PLEASE only respond if you have the funds either today or tomorrow, or friday morning at the latest.


-for any more questions, feel free to comment or email me at oichen@yahoo.com
-If you doubt my reliability, I have a positive feedback rating at garagesalejapan (scroll down the page to see my feedback)

THANK YOU.
======================================================
Baby Blue Metamorphose Dress



front (bow is removable)



back (bow in the back is also removable)



detail of the lace at the bottom of the dress

This dress is opened fronted and is COMPLETELY NEW WITH TAGS.
The dress has many small vertical blue stripes running down it.
It is a beautiful color, and the quality is superb.
The only reason why I'm selling it is because it doesn't really fit my style (I don't look good in pastels, either.)

Measurements:
under bust: 30 in. - max 32 in.
waist: around 26 in. - 28 in.
hips: free
length: 37 in.

Since this is completely brand new with tags, I think asking for $120 is reasonable.
I WILL INCLUDE FREE SHIPPING IF YOU BUY IT AT $120, NO MATTER WHERE IN THE WORLD YOU ARE.

i'm so desparate i'm even willing to sell it as low as $100 right now, but YOU HAVE TO BE ABLE TO PAY.

======================================================



BLACK EGA STYLE VELVETY BLAZER.
NEW WITH TAGS.





front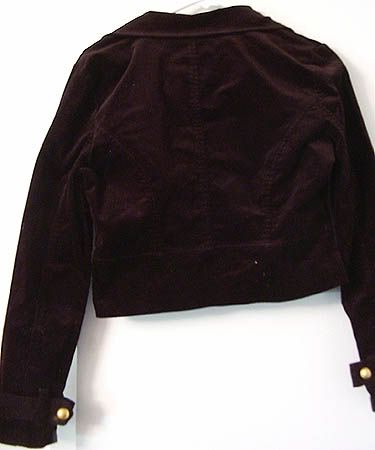 back

-gold buttons
-nice material
-very nice basic piece for an EGA outfit or just to wear with a nice skirt.

Measurements:
Bust: 39 inches
Waist 31 inches:
Shoulders: 16 inches
Sleeve Length: 23.5 inches


I am asking for $20, or best offer.
buy it at $20 and get FREE SHIPPING.