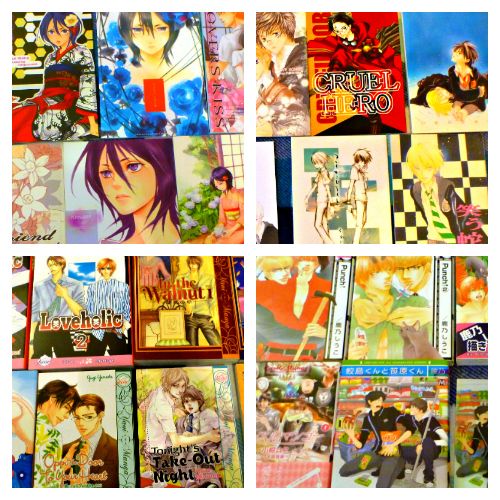 Doujinshi
Kuroshitsuji; Dragonball Z; Final Fantasy 8; Code Geass; Bleach; Toward the Terra; Inazuma Eleven; Gundam Seed; Saiyuki; Sengoku Basara; Dynasty Warriors; Harry Potter; KPOP (DBSK); Golden Days; Mangaka Doujin; Shiki; Tiger & Bunny; Katekyo Hitman Reborn; Ao no Exorcist; Bleach; AnoHana; Toki wo Kakeru Shoujo; Macross Frontier; One Piece

Yaoi Manga (ALL BOOKS $5.00 OR LESS)
English: Only the Ring Finger Knows, Our Everlasting 1-2, Rin 1-3, Our Kingdom 1-5, Yellow 1-4, La Esperanca 1-7, Hybrid Child, In the Walnut 1-2, Clan of the Nakagamis 1-2, Love Control 2, Love Holic 1-2, Tonight's Take Out Night, Clear Skies 1-2, Prince Charming 1-3, and more!
Japanese: Castle Mango 1, Samejima-kun to Sasahara-kun, Punch ↑ 1-4, Hakumokuren ga Saita nara 1, Warui Yatsu Demo Ii, Kiss Ariki 1, Teirui Makura Kami-sama no Ude no Naka, and more!

++ Anime, Freebies, Jpop
Please check out
okiba!
Thank you!