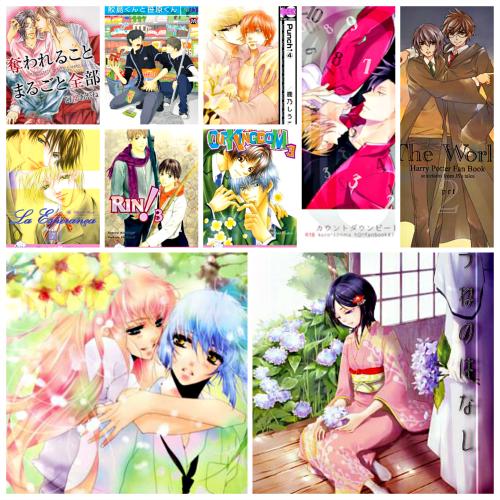 Doujinshi for sale. All books are in great condition unless stated otherwise.

YAOI:
Haikyuu!! - Kuroo/Kenma x 15 (100k, ALEGRE., Waltz, SPEARMINT KIDS, +plus, degree, geese!, spinner); Oikawa/Iwaizumi x 2 (aqua star, みりん観光王国)
Kuroshitsuji - Sebastian/Ciel x 5 (Aria Doll/HIMETSUKA Shina)
Dragon Ball Z - Goku/Vegeta x 4 (Dokuganyru, GATE)
Golden Days - Jin/Mitsuya x 2 (Cocoon)
Harry Potter - James/Snape x 1 (prt)

HET:
Bleach - Ichigo/Rukia x 3 (Kaguya)
Macross Frontier - Alto/Sheryl x 7 (ELEPHAN, TENNEN, FeiLand)
Ano Hana - Yukiatsu + Tsuruko x 1 (二足歩行)
Toki wo Kakeru Shoujo - Chiaki/Makoto x 1 (anthology various)

Also, I have doujinshi for free. I only ask that you pay shipping costs from me to you, as well as cover paypal fees. I am moving to Japan fairly soon, and I'd hate to have to throw the books away. More details can be found at the post here.

Also, selling YAOI MANGA.

English
Same Cell Organism
Kissing
Our Everlasting 1-2
Only the Ring Finger Knows
Rin 1-3
Il gatto sul 1-2
Little Butterfly 1
Love Recipe 1
+AND MORE

Japanese
Punch ↑ 1-4
Castle Mango 1
Samejima-kun to Sasahara-kun (extra mini clearfile)
Fetish
Renai Kidou
Seinen wa Ai o Kou
Hakumokuren ga Saita nara 1
+AND MORE

Please check it out. Thank you!