Selling a few things! Pease contact me if interested in any item(s) ~ yukisas@gmail.com ~ I have 100% positive feedback on ebay under the id vintage.heart. Shipping will be $1.50 - 2.50, possibly more if you live outside US. I accept paypal and money orders. Please feel free to ask any questions! Thanks!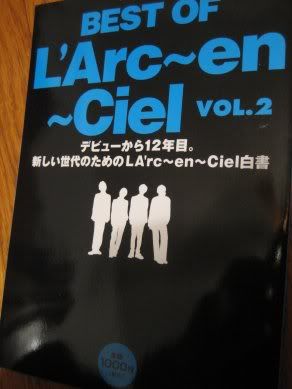 L'arc~en~Ciel BEST OF photobook - $20
- 100 color pages full of photos, interviews and information about each L'arc member. Lots of cute photos and even fun informational bits like each member's clothing detail and cigarette preferences ;)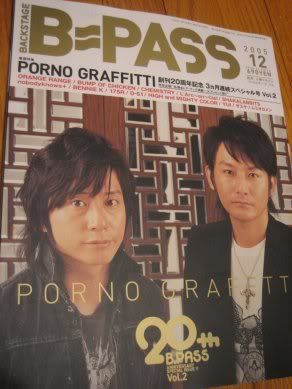 B-PASS jrock magazine (Vol. 2 12/05) - $5 - 166pgs, color
featured artists: L'arc~en~Ciel, Porni Graffiti, ORANGE RANGE, Bump of Chicken, CHEMISTRY, SHAKALABBITS, nobodyknows+, BENNIE K, 175R, HIGH and MIGHT COLOR, YUI, Sasuke, Remioromen plus a lot more..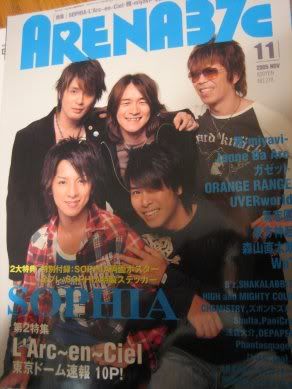 Arena 37c Jrock magazine (November No.278) - $6 - 148pgs, color
featured artists: L'arc~en~Ciel, Miyavi, Sophia, Janne de Arc, Gazette, Orange Range, Dong Bang Shi Ki, KISHIDAN, UVERworld, B'z, Shakalabbits, HIGH and MIGHTY COLOR, Shulla, CHEMISTRY, PaniCrew, Phantasmagoria, Hinata, ZUBOND ZUBON, 3B LAB, WAT, Kra, plus a lot more..

Thanks for looking! :)