[Hard Yaoi Doujinshi] Final Fantasy VII : Unhappy Mania


Series: Final Fantasy 7
Title: Unhappy Mania - Vincent Love Love Book
Artist/ Circle: No Chance Spirits
Published: Summer 1999
Pages: 38
Pairing: : Sephiroth x Vincent, Zack x Vincent, Cid x Vincent, Cloud x Vincent

Content: Everybody loves Vincent, as the title and listing of pairings implies. Lots of cute art, and competition for... umm... Vincent's heart? A series of 3 or four short ministories. 18 and up only!

[Hard Yaoi Doujinshi] Final Fantasy VII : Unhappy Mania



[Doujinshi] Final Fantasy VII : Calvary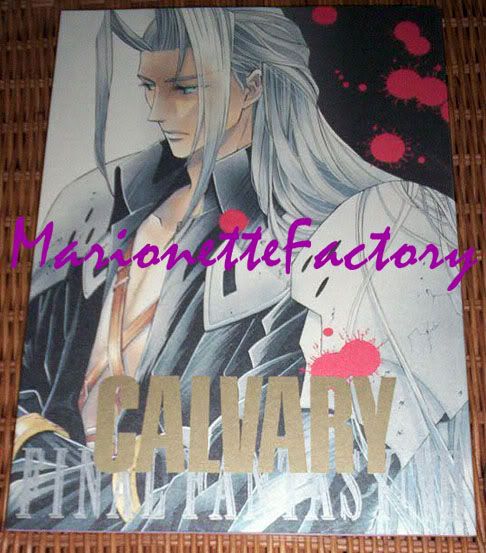 Series: Final Fantasy 7
Title: CALVARY
Artist/ Circle: Anonymus
Published: Summer 1997
Pages: 34 (A4)
Pairing: : Sephiroth x Cloud

Content: Cloud meets Sephiroth for the first time as a trainee with Shinra. He follows Sephiroth and Zack on a mission to fight a dragon and then on to Nibelhiem, where the story of Final Fantasy VII began to unfurl.

[Doujinshi] [Doujinshi] Final Fantasy VII : Calvary



[Doujinshi] Final Fantasy VII Advent Children : Again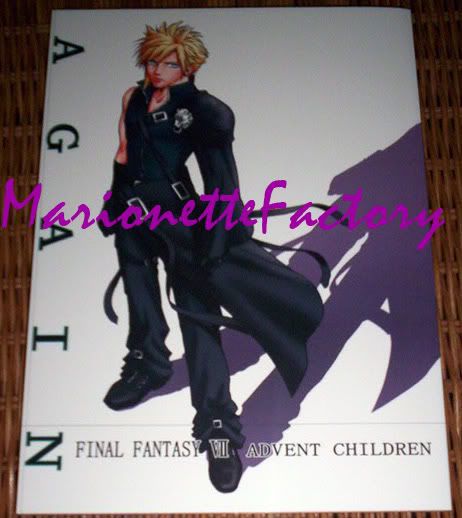 Series: Final Fantasy VII Advent Children
Title: AGAIN
Artist/ Circle: Jinno Tenko/ Studio Capricorn
Published: Winter 2005
Pages: 30

Content: This doujinshi has 2 stories – one parody/gag, the other a bit more serious. In the first, Yuffie hijacks Vincent's cell phone, and Cloud has a huge misunderstanding of his promise to Tifa when he goes to attempt rescuing the children kidnapped from Midgar. In the latter, more serious story, Kadaj, Loz, and Yazoo unknowingly wreak havoc in their search for their mother and "something". Top quality art and an excellent story make for the perfect gift for any Final Fantasy fan.

[Hard Yaoi Doujinshi] Final Fantasy VII Advent Children : Again



[Doujinshi] Final Fantasy VII Advent Children : Sinner's High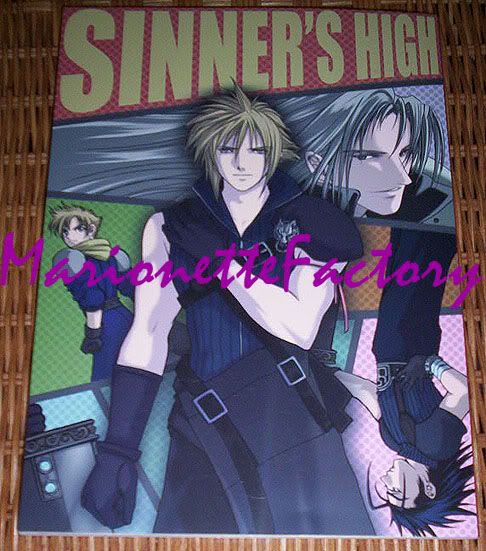 Series: Final Fantasy 7 Advent Children
Title: Sinner's High
Artist/ Circle: Ayashii Party Attack / Omaru Pharmacy
Published: Winter 2005
Pages: 50
Pairing: : Sephiroth x Cloud

Content: A HILARIOUS parody! "Mother" is here – Jenova cohabitates with her 4 children: Sephiroth, Kadaj, Yazoo, and Loz (Cloud drops in once in a while). You really don't have to ponder much longer why they're all out of their minds. In a brief (and surprisingly sane) intermission, Cloud has a dramatic flashback. There are 2 short novel sections as well.

This would make a great gift for any FF7 fan!

[Doujinshi] Final Fantasy VII Advent Children : Sinner's High



[Yaoi Doujinshi] Final Fantasy Crossover 7/AC ~ 10 : Maniac Junkey 13



Series: Final Fantasy 7-10 (crossover)
Title: Maniac Junkey 13
Artist/ Circle: 2capsulezone
Published: Summer 2005
Pages: 34

Content: A hilarious crossover gag/parody doujinshi! There's a pinch of yaoi implications in this one, but for the most part, it's just your favorite Final Fantasy leads in the most dramatic setting of all -- high school. Top quality art and an amusing story make for the perfect gift for any Final Fantasy fan (one who's got a sense of humor, anyway!)

[Yaoi Doujinshi] Final Fantasy Crossover 7/AC ~ 10 : Maniac Junkey 13



[Hard Yaoi Doujinshi] FullMetal Alchemist : Mahiru no TORIKUSUTAA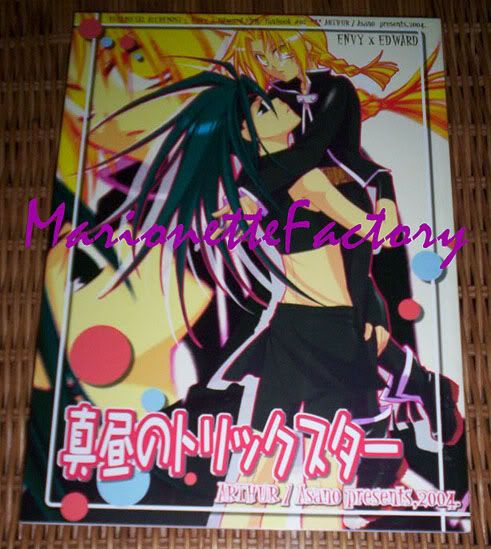 Series: FullMetal Alchemist
Title: 真昼のトリックスター mahiru no TORIKKUSUTAA (Midday Trickster)
Artist: Asano
Circle: ARTHUR
Published: Summer 2004
Pages: 34
Pairing: Envy x Edward Elric

Content: Contains some graphic yaoi (male/male relationships!) Please don't bid if this offends you! 18 and up only!

Two Envy x Ed stories. In the first, Envy visits Ed in the middle of the night, bringing him face to face with something from his dreams (or nightmares?). There are 2 two-page comics, one featuring Roy and Riza, and another with Envy and Lust. Then, the second story starts, in which a disguised Envy interrupts Ed's studies.

[Hard Yaoi Doujinshi] FullMetal Alchemist : Mahiru no TORIKUSUTAA


These auctions will all be ending April 30th, 2006 @ 6:00 pm PST.
Thanks for looking!