I am in need of some money, so I am looking to sell these quickly. All prices are in US dollars.
*Prices include shipping in the US and Canada
Magazines
SHOXX vol.149
feat. Miyavi, Nightmare, SID, Gazette, D, D'espairsRay & more
Price: SOLD
Condition: Some wear on the cover, the inside is fine, without poster
ARENA37c vol.27 SPECIAL
feat. Gazette
Price: I'm going to take bids on this, I'd like it to start at $15.
Condition: New, without poster
Manga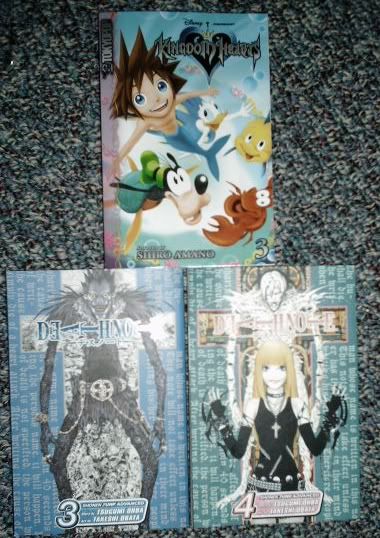 KINGDOM HEARTS vol.3 ($5)
DEATH NOTE vol. 3 & 4 ($7 each; $12 together)
Anime
Vampire Princess Miyu SET
6 disks, played few times, all run fine.
Price: $80
+I'll include the OST along with it free.
Payment: I accept PayPal and well-concealed cash in US or CDN dollars.
Shipping: I live in Canada and can only ship to Canada and the US, sorry. ^^;
Current Mood:
hopeful
Current Music: キリト - カンナビス