Selling quite a few items. CDs, some plushies, and some video games. Feedback at my journal.

I accept well-concealed cash, checks, and money orders. I am willing to ship internationally, if you can provide payment.

Please e-mail me directly at elisabess [at] gmail [dot] com if you are interested in any items.


CD List:

Dir en grey
Drain Away single (poem scratched away to show the actual lyrics)
Kasumi single
Ain't Afriad to Die Single
Jealous single
Missa mini-album
Gauze (2nd press)
Macabre (2nd press)

Pierrot
Pandora's Box
Private Enemy

L'arc en Ciel
Tierra

Luna Sea
Mother

Malice Mizer
Gardenia single
Beast of Blood single
Garnet single
memoire mini-album
Merveilles

hide
BEST Psycommunity (case has a crack, but otherwise everything's fine)

X Japan
Dahlia

Mirage
Rain

Due le Quartz
Jisastsu Ganbou


Okay. Pricing for the CDs. The deal is I need to get ride of them. Badly. So If you see one you like, just tell me how much you're willing to pay for it, and I'll probably give it to you. Shipping for one CD is $3, two or more is $5. If you want multiple CDs, I'm willing to give you a bunch for pretty cheap - I want to see these go.

If you'd like any CDs, please e-mail me with your offers - it makes it much easier for me to keep track of who asked first. Thanks!







Cute little hide plushie. $10, plus $5 for shipping.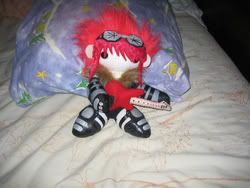 This is a very, very nice handmade myaku-style Die plushie. No, I didn't make it myself. I won it on ebay years ago, but now I would like him to go to a new home. The material is mostly felt, with very nice fluffy red hair. $25, $5 for shipping.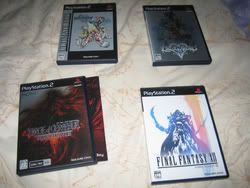 Kingdom Hearts Final Mix (Ultimate Hits edition)
Kingdom Hearts 2
Dirge of Cerberus
Final Fantasy XII

All are in very good condition. Please remember, these are region 2 Japanese video games. In order to play them you need a Japanese PS2, or a modded North American one.


Thanks for looking!