Yep, still me. Yep, still selling things. But! I've added newer, better-er things!
-Huge Demonia platform boots! (Perfect for J-Rock or other cosplay, EGL/EGA, hipsters, everyone!)
-Clear files!
-Hana to Yume and Ribon magazines!
-Newtype USA!

The Desperate For Cash Sale Continueth!

Of course, I'll also take Paypal and personal checks, but you'll have to wait until the payment clears before I ship! Shipping prices are, of course, negotiable.


***************************************************************************
*KEY*: J= Original Japanese, C= Chinese Licensed Edition, E=English, B=Bilingual Edition; N=New or Like New, VG=Very Good, G=Good.

PRICES ARE ALL NEGOTIABLE. I'm pretty nice. Promise. Just leave a comment here, on my LJ, or email me if you have any questions.
***************************************************************************
PLEASE OFFER ME IF THERE IS SOMETHING YOU'D LIKE WITHOUT A SET PRICE.

***************************************************************************
***MANGA***
MUST GO! You may pick any 2 for $5.99.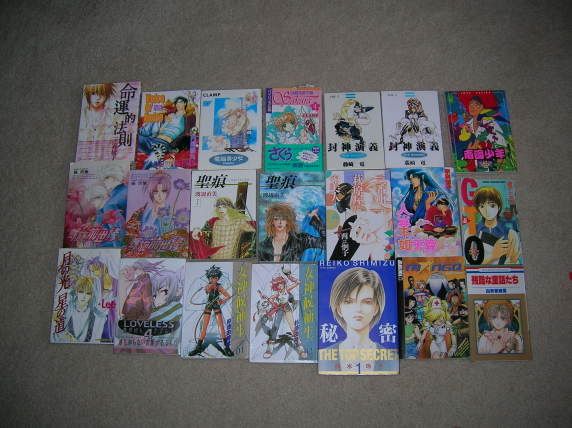 Listed from top left to bottom right:
ROW ONE-
=Unmei no Housoku/Laws of Fate(C)(N) by ICHINOSE Ayako [BL, R]
=Voice or Noise Volume 2 (C)(N) by ENJIN Yamimaru [BL, PG-13]
=Chobits Volume 1 (C)(N) by CLAMP [Seinen/Shounen, PG-15]
=Cardcaptor Sakura Volume 4 (B)(G) by CLAMP [Mahou-shoujo, PG]
=Houshin Engi Volumes 1&2 (C)(VG) by FUJISAKI Ryuu [Fantasy, PG-13]
=Nirai Kanai (C)(N) by PUNIKO *Discount! $2.99 only!* [BL, PG-13]
ROW TWO-
=Rasen no Kakera Volumes 5&6(C)(G)by TACHIBANA Kaimu [Shoujo/BL, PG]
= -Impression- Volumes 1&2 (C)(N) by WATANABE Naomi [Shoujo/Drama, PG-15]
=Sanbanchou Hagiwaraya no Bijin Volume 1 (J)(N) by NISHI Keiko [Shoujo, PG-15]
=Aladdin and a Magic Teapot (C)(N) by SOU Michiko [Shoujo/Fantasy, PG]
=GTO (Great Teacher Onizuka) Volume 9 (J)(G) by FUJISAWA Tohru [Shounen/Humor, PG-13]
ROW THREE-
=Tsuki no hikari, Hoshi no michi (C)(N) by LEE [BL, PG-13]
=Loveless Volume 4 (J)(N) by KOUGA Yun [Shoujo/Mystery/BL, PG-13]
=The Candidate For Goddess Volumes 1&2 (C)(N) by SUGISAKI Yukiru[Scifi, Shoujo, PG-13]
=Himitsu Volume 1 (J)(N) by SHIMIZU Reiko [Shoujo/mystery, PG-15]
=The Rising Stars of Manga Volume 1 (E)(G) by Various Artists [Various oneshots, PG]
=Zankoku na Douwatachi/Cruel Fairytales (J)(N) by YUKI Kaori [Horror/shoujo, R]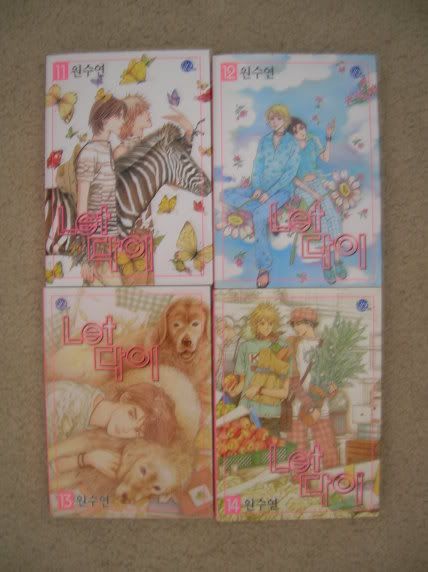 =Let DIE volumes 11-14 (Korean)(VG) by WON Sooyeun. Very stylishly drawn Korean boys' love manga, replete with social commentary, angst, silliness...and all in original Korean! All four volumes are yours for $10.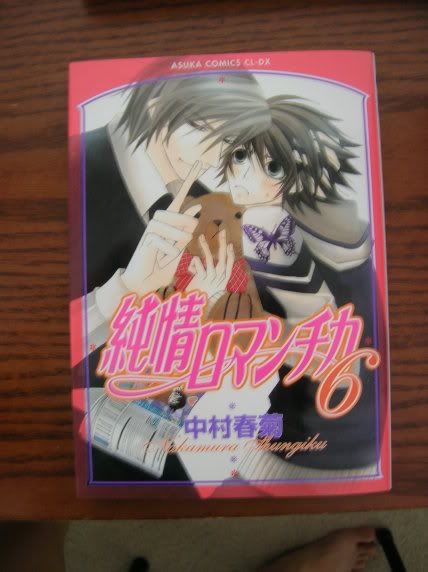 =Junjyou Romantica volume 6(J)(N) by NAKAMURA Shungiku. Just picked it up last week when passing through Narita, continuing the story of our hapless sillyhead Misaki and his teddy-bear loving "Usagi-san". Yours for $4.99. (Ignore my foot...)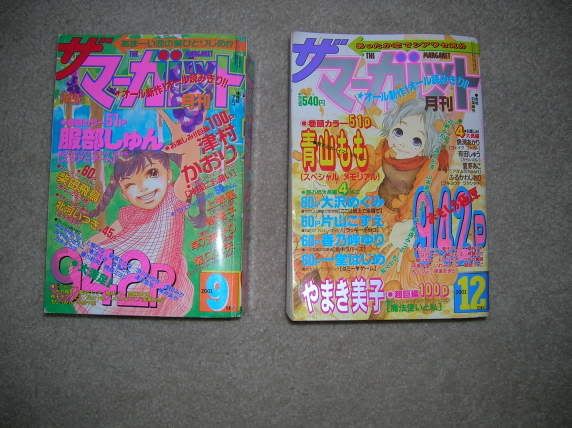 =THE MARGARET 2001 September (J)(G) Includes short manga from HATTORI Shan, TSUMURA Kaori, MINAMI Aira, et cetera. THE Classic Shoujo Telephone-book Magazine! :3
=THE MARGARET 2001 December (J)(G) Includes short manga from AOYAMA Momo, NATSUME Ako,YAMAKI Yoshiko, et cetera. THE Classic Shoujo Telephone-book Magazine! :3 Great for learning Japanese, too, because of the frequent furigana.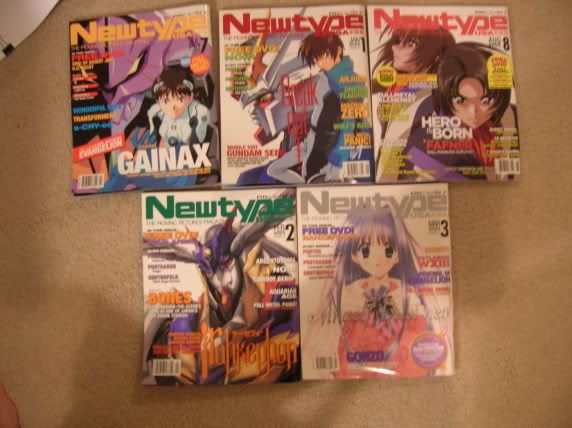 =Newtype USA (E)(G) batch, including January-March and July 2003, and August 2005. (Please ignore my scabrous-looking feet...I assure you that they are actually quite lovable in actuality :3)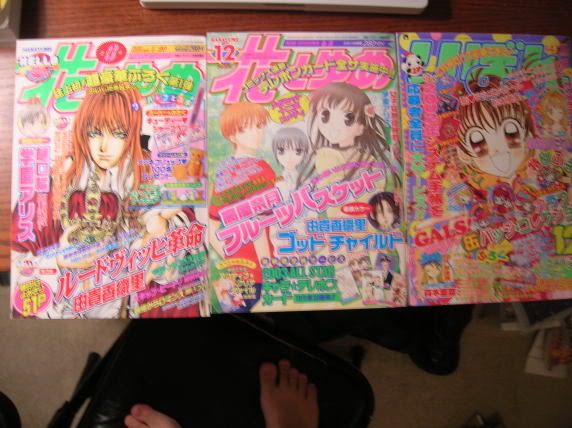 =RIBON December 2001 (J)(G), including works like GALS!, Good Morning Call, Penguin Brothers, and Atashi wa BAMBI (among others!). Wholeshome shoujo goodness.
=HANA TO YUME December 2003, April 2004 (J)(VG-N). December features Fruits Basket, God Child, Gakuen Alice, Hitsuji no Namida, and more. April has Ludwig Kakumei, Gakuen Alice, Chou Shinrigenjou Nouriyoujya, and others. Excellent, diverse artists.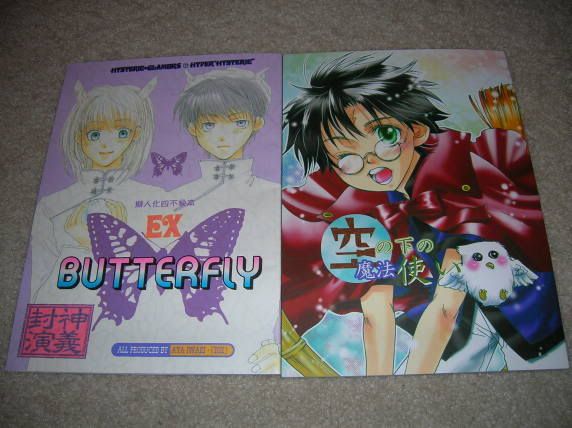 =Harry Potter Doujinshi: "Sora no kuda no mahoushiki" by SMILECAT (J)(N) Adorable art + gag storyline + Snape turned into a cat [?!]=Awesomeness. About 35 pages.
=Houshin Engi Doujinshi: "EX Butterfly" by AYA IWAKI. [ZOZ] (J)(N)Cute and silly 35-page story in which Suupuushan goes into human form! Very mild gag BL, great art.


***CLOTHES, SHOES***
Both of these are from a smoke-free home, and are nice and clean!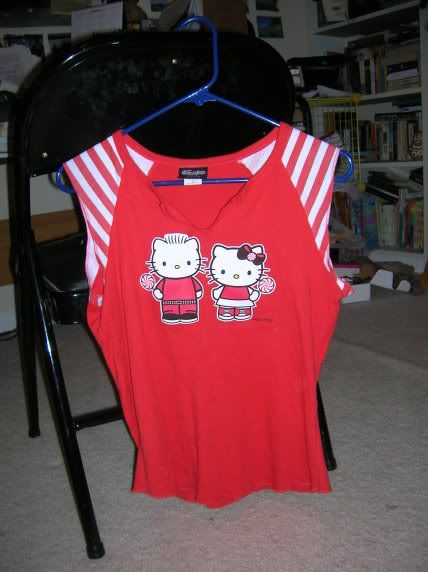 =Rare Hello Kitty "The White Stripes" t-shirt, size L.(VG)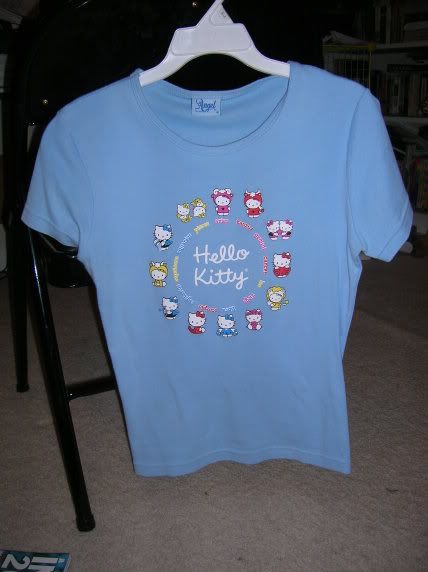 =Another rarity, Hello Kitty Horoscope t-shirt, size L.(N)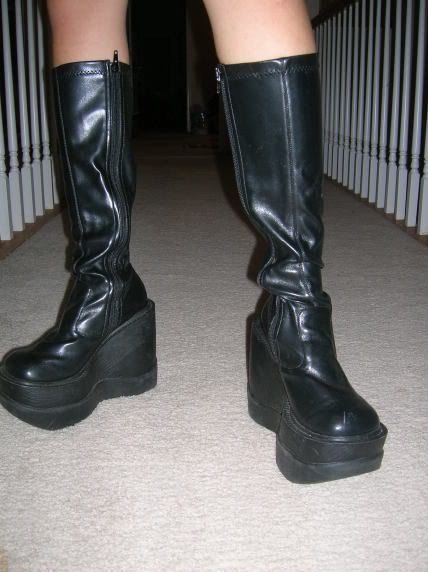 =Demonia überplatform high boots! (VG) Worn twice, and lovingly! Awesome size 7 platforms with soft tops that come to your mid-calves! Quite comfortable for such intense height--and yes, it certainly gives you height. UP FOR BIDDING--that is, whoever can offer the highest price by my deadline gets the shoes. Deadline: August 6th, Sunday, at midnight. Starting price: $40 (w/o S&H).


***ARTBOOKS & PHOTOBOOK***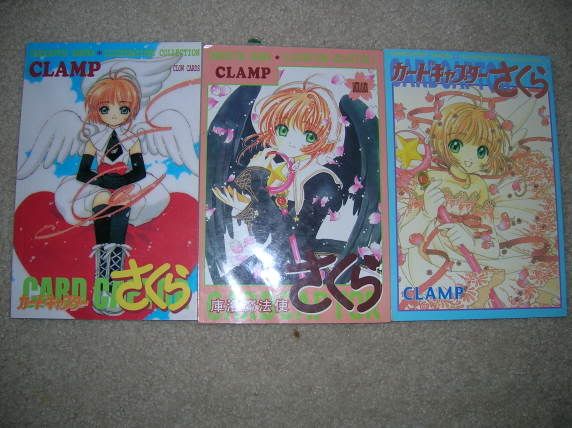 =Cardcaptor Sakura Artbook 3-Volume Collection (VG). Softcover editions of CLAMP's trademark gorgeous illustrations!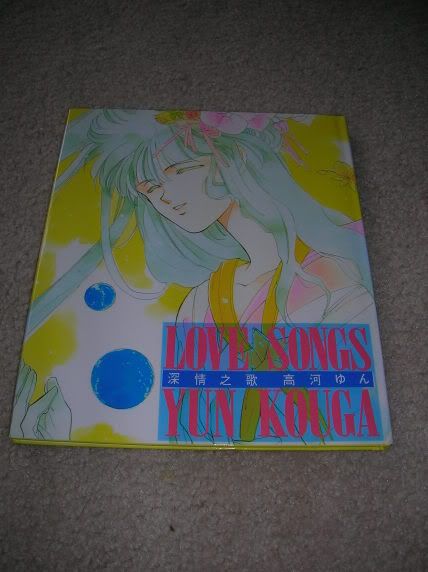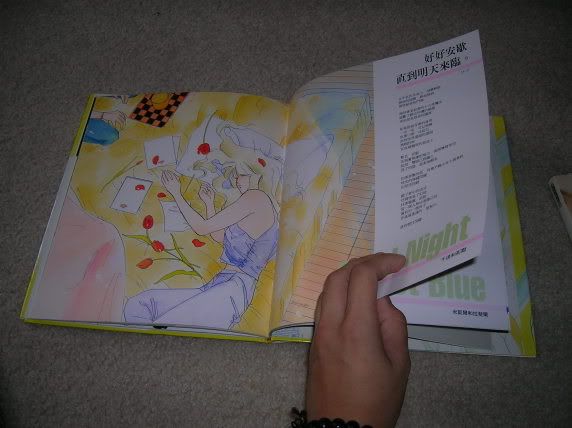 =LOVE SONGS by KOUGA Yun (C)(N). A rare and lovely little artbook in hardcover. Picked up from a quaint little store in Hong Kong. Filled with illustrations and a couple of short b&w manga for Earthian. Gorgeous and very hard to find (published in 1989!), get it while you can![Person who asked, are you still interested?]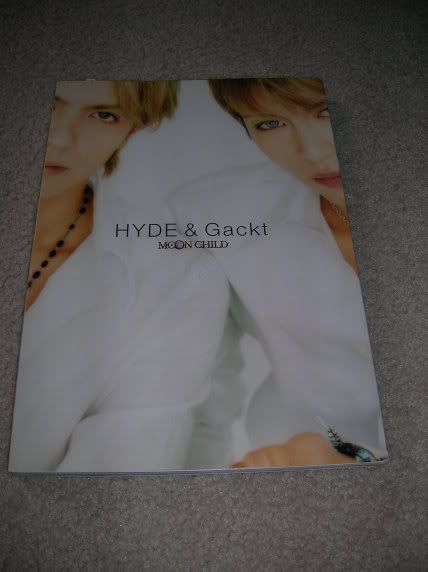 =MOON CHILD Film Photobook (C)(N). A beautiful collection of full-page color photos from the Moon Child film, featuring all Gackt and Hyde, all the time! Licensed Chinese edition with interviews from our two vampires in the back. Perfect to drool over or sleep with. :3 [PENDING PAYMENT]


***MAGS***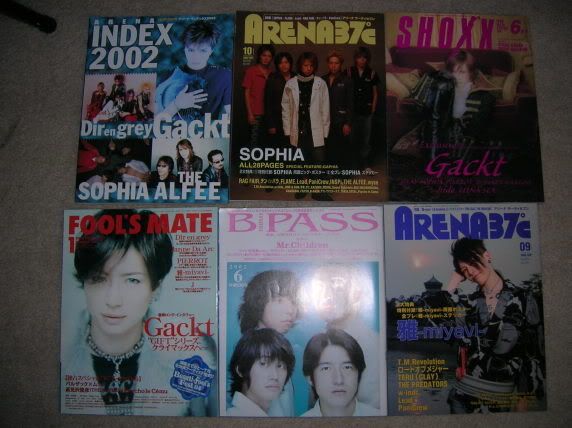 =ARENA INDEX 2002 YEARBOOK Feat. Gackt, Dir en Grey, Sophia, The Alfee, etc. (J)(VG) 160 pages of tasty photos, interviews,and assorted juiciness packed together for your convenience!
=ARENA 37C October 2002 (J)(N), Feat. Sophia, Rag Fair, FLAME, T.M. Revolution, Lead, wyse, etc. Loads of photos!
=SHOXX June 1999(J)(N), Feat. Gackt, GLAY, Pierrot, hide, Luna Sea...just about everone under the sun! Filled to the brim with full-page, full-color photos, including an exclusive 22-page special on Mizérable.
=FOOL'S MATE January 2005(J)(N), Feat. Gackt, Dir en Grey, Miyavi, Janne da Arc, Pierrot, 12012, Nightmare...everyone. Love the live reports.[ON HOLD]
=B-PASS June 2002 (J)(VG),Feat. Mr. Children, aiko, Bump of Chicken, PaniCrew, Cali≠Gari, Sophia, Plastic Tree, etc. Lots and lots of live reports, interviews, and photos to slake the burning thirst of a fan's soul. :3
=ARENA 37C September 2005 Feat. Miyavi, T.M. Revolution, Road of Major, w-inds, etc. Meev's special is super cute! [Person who was going to trade with me, get in touch please!]


***Miscellaneous Goodies***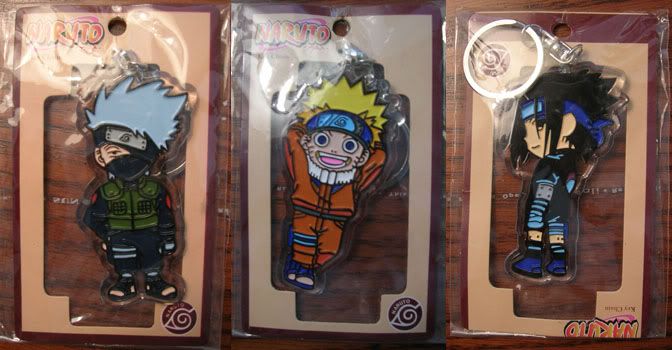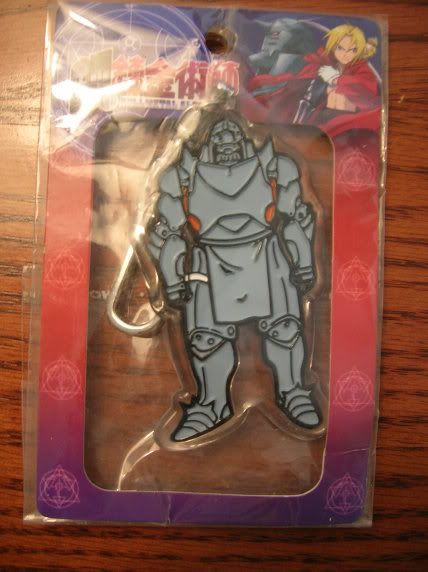 =Naruto, Sasuke and Kakashi are on ebay (link) as is Al (link) . Please go take a look! Auctions ending soon!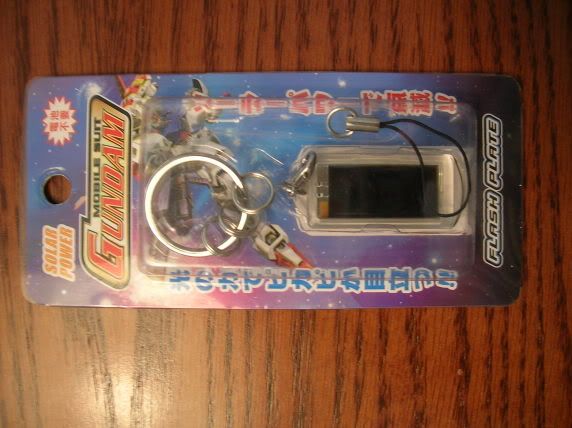 =Gundam Solar-Powered Light-up Keychain (N), $1.99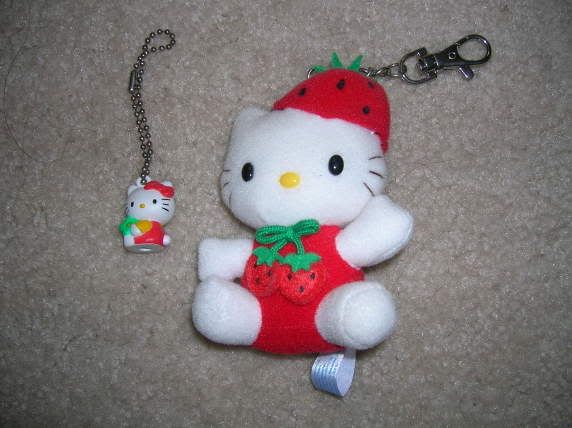 =Large Hello Kitty Strawberry Keychain (N), $2.99[Person who was going to trade with me, get in touch please!]
=Miniature Kitty Dangler (G), $0.99[Person who was going to trade with me, get in touch please!]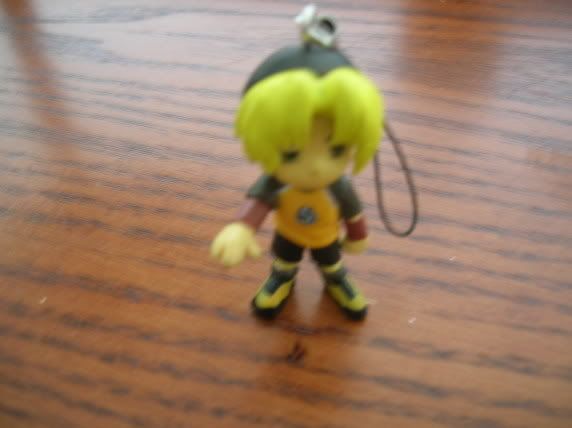 =Hikaru no Go Dangler (N), $0.99 [Pending Payment]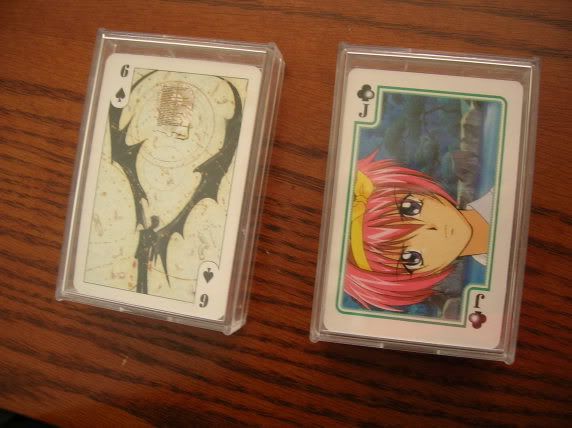 =Gravitation (Anime) Playing Cards in Box (N), $5.99
=X/1999 (X Zero Illustration Book) Playing Cards in Box (N), $5.99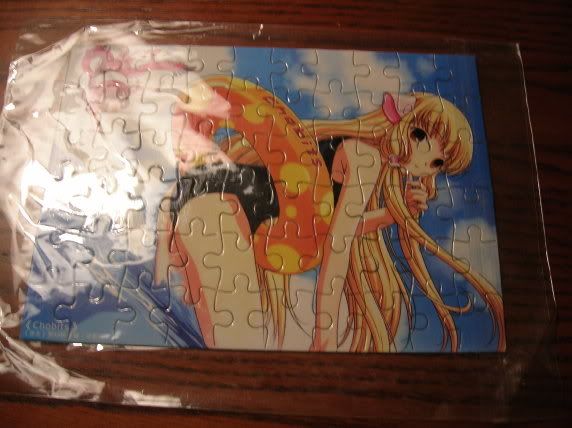 =Cute Chobits Chii puzzle (N) still in wrap. Good as a little game for when you're waiting for the next episode to download, or as a display item :3.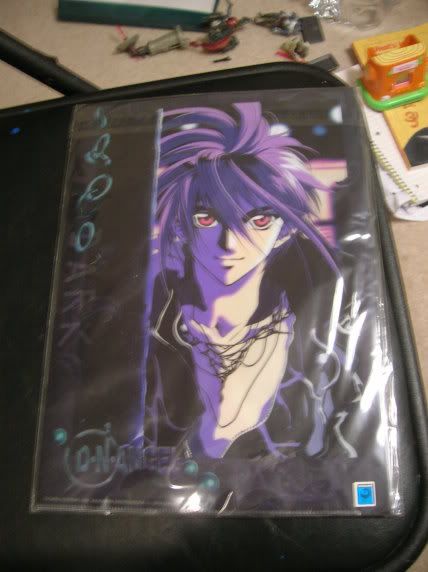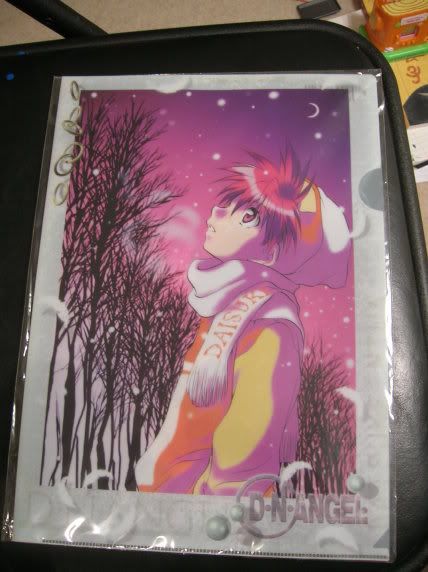 =D.N.Angel clearfile (N) still in plastic wrap! Beautiful illustrations of Dark and Daisuke.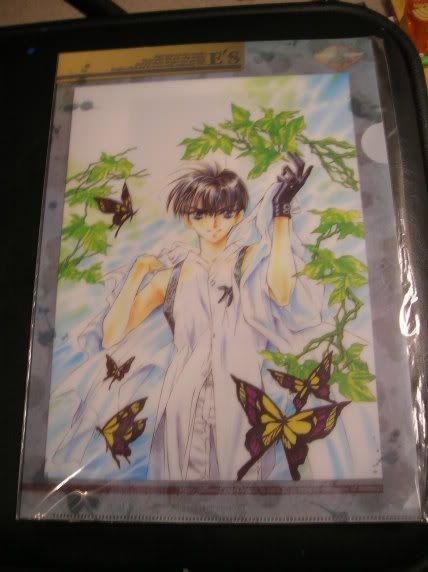 =Esper'S clearfile (N) also still in plastic wrap. Lovely picture of Kei, and a cute astronomy-themed pic on the back.



THANKS FOR LOOKING! Feel free to ask your questions here, at my LJ, or through email(ekblack@gmail.com!)