I have a few things I'd like to sell. I appreciate you guys taking a look~! All the info is under the cuts. *^_^*
I have feedback
here on garagesale
as well as on
ebay
.
Domestic Shipping ~ Whatever fits in a flat rate box will be shipped priority ($4.05). If its a delicate item like the Soyokaze video I'll add insurance to the package, even though I've never really had any problems before.
International Shipping ~ This will vary depending on destination and item weight. If you want an idea of what it might cost, please check
here
.
For payment I accept both types of Paypal and US Money Orders. I don't charge the paypal fees.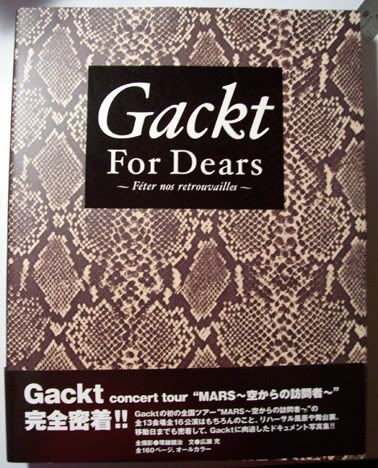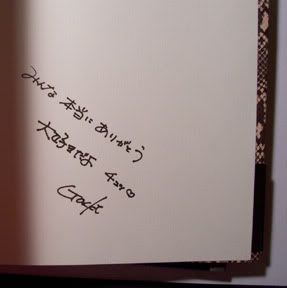 Back
and
inside contents
Dears photobook from Gackt's 2001 MARS tour. In perfect condition, I've hardly ever flipped through it. I haven't opened it in years, and its been stored in plastic so its dust-free.
$45.00
Back
and
inside

Soyokaze VHS featuring Another World and Jyunigatsu no Love song PVs and making-of's. Also has a very odd little movie with Gackt and You-san. In wonderful condition, with the textured lyrics sheet in perfect condition inside the hard shell case. Really hurts to let this one go.
$25.00

Also, an original copy of MARS with the cd case, photo/lyric book and slipcase that houses both. It's in good condition and I can supply pictures if anyone is interested, but somehow I missed getting shots of it with everything else. I paid a lot for it a few years ago, and need to let it go now.

$28.00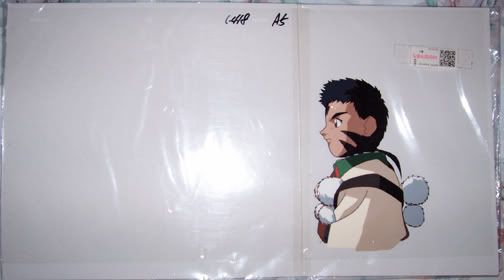 Tenchi cel! A wonderful pan cel from the original OAV series. The vertical line near Tenchi is
not
on the cel, but the cardboard backer behind it. He's an A5 cel in perfect condition. I hope there's a cel collector out there who can appreciate this more than me!
$20.00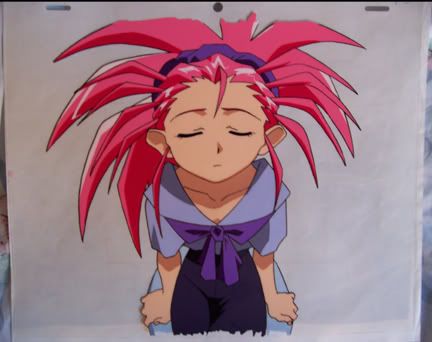 Washuu TV series cel. This one is from the Tokyo series, I believe. She comes with a
sketch
.
$10.00
Ryoko and Ayeka from the original OAV series! This is a lovely A2 cel I picked up in Tokyo a couple years ago. They're perfectly placed, mirroring each other. I have a closeup of
Ryoko
and
Ayeka
.
$25.00
**I will make a deal if someone wants to buy all the Tenchi cels.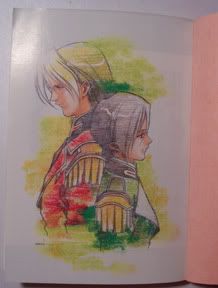 Duo character novel from Gundam Wing. Has two lovely illutrations and Japanese text.
$10.00
Very old Fushigi Yuugi vinyl bag featuring Tasuki and Chichiri. Still in it's plastic wrap, its never been used and bears the offical MOVIC logo and Studio Pierrot sticker. This is not a knock-off anime item!
$12.00
I apologize for the flat pictures of these items. I didn't have anyone to model when I was photographing them.
Cosplay straight jacket, US size Medium! This was made my TRIPP and is several years old but in new condition. I've never worn it because it doesn't fit me. It's nicely made from a thick black cotton canvas material with a zipper, snaps and five buckles down the front alone.
Extra buckles on the sleeves
attach
at the shoulders
when arms are crossed over the chest. There is also a
nice buckle system on the collar
.
$40.00
Purple cosplay corset
. I bought this last year for part of a costume I never made. It has nice sturdy boning it in, with a zipper on one side and lacing on the other. Its made of a synthetic material including spandex that allows it to give, and is quite comfortable. Its labeled US size "large" but because of the lacing can be worn by smaller figures. I'm a small, even x-small sometimes and I can wear it, but its a little loose, and laced completely closed. It would probably be ideal for a medium figure lady. :D
$20.00
White and pink corset set. This includes the corset top and skirt. The corset
back closes with hook and eye closures
and the both pieces are detailed with the
pink trimmed ruffles
. There is one tiny marker stain on the inside of the
skirt's waistband
. I had bought this to use for a Mitsuki costume, from Full Moon wo Sagashite, and just never got around to wearing it, so its in new condition as well. The size is US medium but this fit me fine with the clasps as tight as they go. There are three sets so it is adjustable. The skirt has an elastic waist so there is plenty of give there. Its made of a soft slightly stretchy material that has an overall give, so its really comfortable.
$30.00