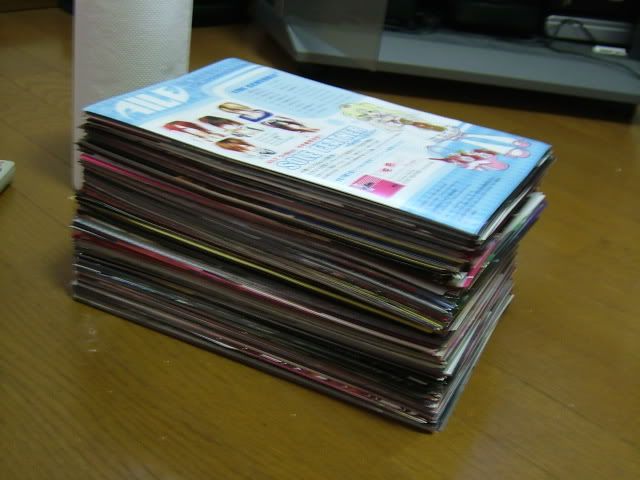 Here's the deal! I have no income for the month of September, so help me out!

I have a stack of nearly a thousand flyers that span the past year, attained from attending Visual and Oshare lives in Tokyo. I am going to sell these for a ridiculous price! All flyers are in excellent condition, and if any are small or slightly damaged, they will be combined with one more such flyer to make up for it.

Minimum order $10 = 30 flyers

Extra flyers are in increments of 15 for $5

Shipping is from Japan, and is $5, regardless of number of flyers ordered.

PLEASE READ

Flyers can be sorted by genre (visual, oshare, gothic, rock, etc.), and I will take into consideration any band preferences when sorting out flyers. NO PROMISES. If you say, "I would like PS company and Undercode flyers please," I will pull some if I find them, and put them in your order. This does not mean that your entire order will be made up of those requested flyers, or that I will give you every copy I have (It would be unfair to give every different Phantasmagoria flyer I have to one person, for example...)

ALSO! With band requests, please note that I will not go through the 1000+ flyers to make sure that I have ones you want before you decide. That would be ridiculous. I do, however, know that I have a LOT of different bands, and even some that are quite popular (No major bands, and no Ancafe though...) Feel free to request many bands, and I will do my best to find flyers for them if I have them.

Please comment here using the following form or email me at koinuchan81@yahoo.com if you are interested.

1. # of flyers wanted
2. Genre preferred (just say n/a if you want variety)
3. Bands you like/ want flyers for if possible (remember, this is not a promise)
4. Email address (email me with this form if you want to avoid posting your email here)

I'm afraid that at the moment, being in Japan, I can only accept PayPal as payment. If you wish to use a credit card through PayPal (or really, any method other than direct transfer), let me know beforehand, and I will tell you how much to add on for the fee. Flyers will not be shipped if an uncovered fee is charged me. All flyers will be shipped at the earliest date possible, but please note that I work the exact same hours that the post office is open, so it may be difficult for me to make it there.

Thank you!