Added new items!
Naruto KakaIru doujinshi
Tekken 3, Gran Turismo 2, and Ehrgeiz guides
Bubblegum Crisis Tokyo 2040 and Lunar: Silver Star Story Complete soundtracks
Strider 2, Ehrgeiz, Gran Turismo 2, Tekken 3, and Megaman 8 Anniversary Collector's Edition PS Games
Megaman X Zero action figure
Freebie items such as stickers and cards

Still selling...

Irwin Sailor Moon doll
PS and PS2 roleplaying, fighting, and action games
Escaflowne: The Movie Ultimate Edition 3-Disc Set
Final Fantasy, Tenchi-Muyo, and Trigun soundtracks
Yu Yu Hakusho, Princess Mononoke, and Inuyasha DVDs
Naruto and Tsubasa Reservoir Chronicle manga

Prices are quite negotiable, because I'd really like to get this stuff off my hands. Feel free to make an offer if you see something you want! Unless it's totally unreasonable, I won't turn it down.


Payment: Non-CC Paypal (e-checks are fine but it must clear before I ship), concealed cash (AYOR), and postal money orders. I'm not especially interested in trading right now.
Prices: Prices are in USD, include shipping, and will be adjusted if you buy multiple items.
Holds: Items can be held for two weeks. If you need them held longer, and you're serious about buying them, let me know and we'll work something out.
Shipping: Only within the U.S. and possibly Canada right now, sorry. Shipping to Canada will cost an additional $2-3. Items will be shipped as soon as possible after receiving payment – I've got an odd college/work schedule, so I can't run to the post office every day.

If you have any questions or want to buy anything, either comment here or email me at dark_angel_seph2000[at]yahoo[dot]com, and I'll get back to you as soon as I can.

Thanks for looking! ^_^

ANIME DVDs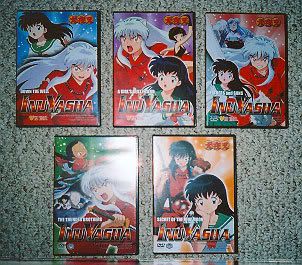 Inuyasha v. 1-5
Condition: Great. Each disc has only been watched once or twice.
Price: $35 for all, or $8 each $25 for all, or $6 each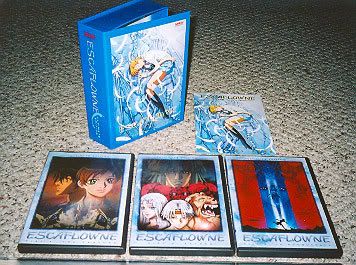 Picture 2
Escaflowne: The Movie (Ultimate Edition 3-Disc Set)
Condition: Like new. Listened to the soundtrack a few times, watched the movie once, and the bonus features disc hasn't been played.
Price: $50 $40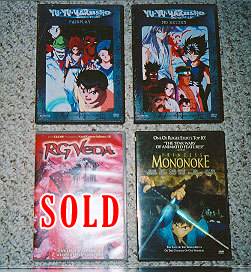 Princess Mononoke
Condition: Bought second-hand. I only watched it once and it plays fine. Case says widescreen, but movie is actually full screen.
Price: $15 $10

Yu Yu Hakusho: Fairplay (ep. 37-39)
Condition: Good. Watched once.
Price: $8 $5

Yu Yu Hakusho: No Return (ep. 47-50)
Condition: Good. Watched once.
Price: $8 $5


CDs / PS GAMES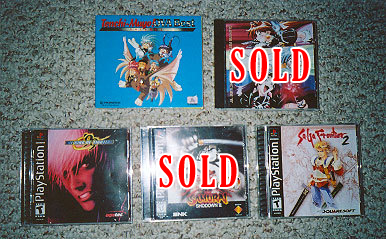 Tenchi-Muyo! OVA Best Volume 1 (Pioneer Entertainment)
Condition: Case is scuffed, but disc plays fine. Listened to quite a few times.
Price: $7 $4

King of Fighters '99
Condition: Like new. Played once for about half an hour.
Price: $7 $4

SaGa Frontier 2
Condition: Good. Played a few times, and never for very long.
Price: $15 $10 **On hold for
shindow_kitsu**


Final Fantasy: S Generation Official Best Collection (Tokyopop)
Condition: Good. Case has normal wear. Disc plays great.
Price: $15 $10

Final Fantasy X Original Soundtrack (Tokyopop)
Condition: Good. Case has normal wear. Disc plays great.
Price: $7 $4 **Sold to
hanamusume**

Trigun: Spicy Stewed Donut Original Animation Soundtrack (Tokyopop)
Condition: Good. Case has normal wear. Disc plays great.
Price: $7 $4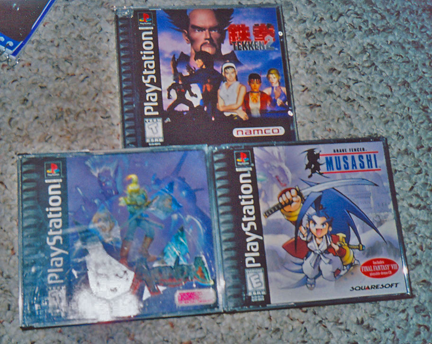 Picture 2
Tekken 2
Condition: Good. Case has normal wear, and game plays fine.
Price: $5 $3

Alundra
Condition: Bought second-hand. Does NOT include instruction booklet because I never got one. Game plays fine.
Price: $20 $15

Brave Fencer Musashi
Condition: Good. Case has normal wear, and game plays fine.
Price: $20 $15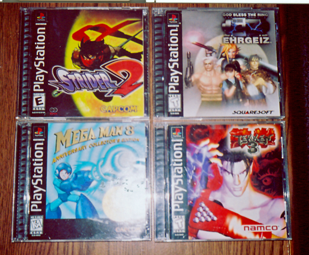 Strider 2
Condition: Includes two games, Strider and Strider 2, and both play great. Though it doesn't affect gameplay, the Strider 2 disc is actually the Strider game, and vice versa.
Price: $30

Ehrgeiz
Condition: Good. Case has normal wear, and game plays fine.
Price: $40 **On hold for
shindow_kitsu**

Megaman 8 Anniversary Collector's Edition
Condition: Good. Case has normal wear, and game plays fine.
Price: $5

Tekken 3
Condition: The disc is noticeably scratched, and I believe one of the endings skips, but the rest of the game plays fine.
Price: $3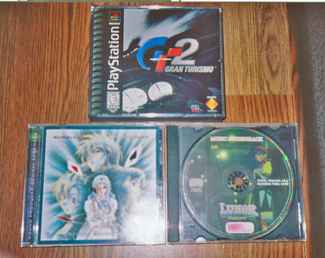 Gran Turismo 2
Condition: Good. Case has normal wear, and game plays fine.
Price: $5

Bubblegum Crisis Tokyo 2040 Soundtrack
Condition: Most of the prongs inside the CD case are broken off, but they were that way when I bought it from the store. The CD has been listened to many times and still plays great.
Price: $12

Lunar: Silver Star Story Complete Soundtrack
Condition: This is the soundtrack that came with the game. However, I bought the game used, so I didn't get an original case for this. Disc plays fine.
Price: $3


PS2 GAMES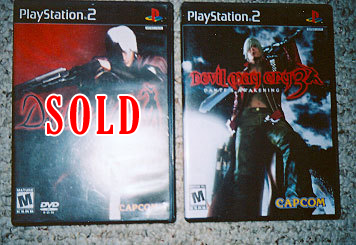 Devil May Cry 3 (NOT Greatest Hits)
Condition: Bought second-hand. Disc has some surface scratches that do not affect gameplay, and case is in good condition. I only played it once. This does NOT come with the instruction booklet because I never got one in the first place.
Price: $12 $8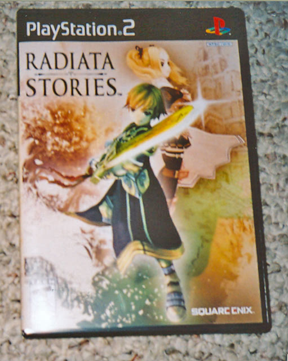 Picture 2
Radiata Stories
Condition: Like new. Played once.
Price: $25 $20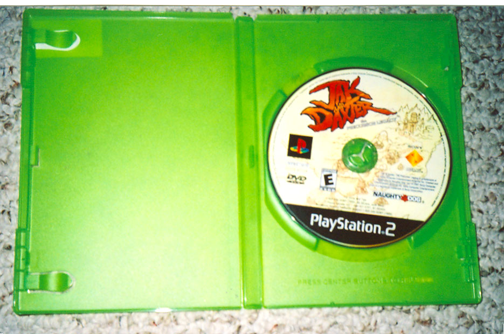 Jak and Daxter
Condition: Bought second-hand. I only played it once or twice. This does NOT come with the instruction booklet because, again, I never got one. It also comes in a green X-Box case, not the normal PS2 case. I can put this in a plain jewel case if you'd rather not have it in this one.
Price: $7 $4


MANGA / GAME GUIDES / DOUJINSHI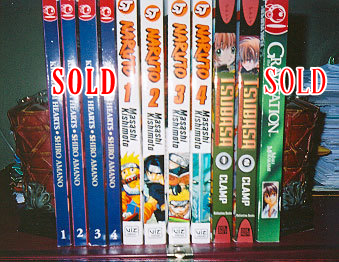 Picture 2
Tsubasa Reservoir Chronicle (v. 1-2)
Condition: Like new. Volume 1 was read once, volume 2 was only flipped through.
Price: $12 for both, or $7 each $7 for both, or $4 each
**Sold to
astash**
Naruto (v. 1-4)
Condition: Like new. Each volume was only read once.
Price: $25 for all, or $7 each $12 for all, or $4 each
**Sold to
astash**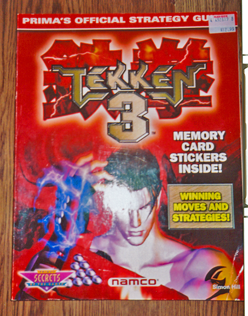 Tekken 3 Game Guide
Condition: Good. Normal shelf wear, no missing pages.
Price: $3, or free with purchase of Tekken 3 game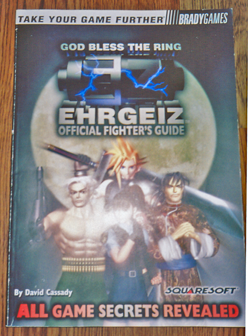 Ehrgeiz Game Guide
Condition: Good. Light shelf wear, no missing pages.
Price: $7, or $3 with purchase of Ehrgeiz game **On hold for
shindow_kitsu**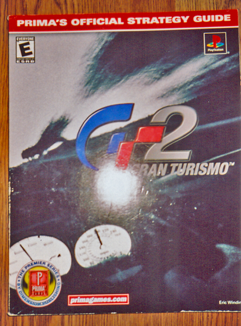 Gran Turismo 2 Game Guide
Condition: This had some shelf wear already when I bought it from the store, otherwise it's barely been touched.
Price: $3, or free with purchase of Gran Turismo 2 game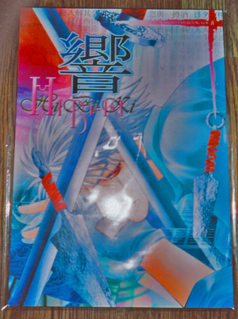 Back Cover
Naruto KakaIru Doujinshi "Hibiki"
Condition: Excellent. Been flipped through 2-3 times, but otherwise kept in plastic. There's nothing terribly explicit in this one.
Price: $10


MISCELLANEOUS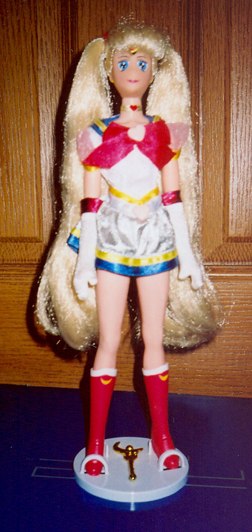 Picture 2
Sailor Moon Doll
Condition: Great. A Barbie-sized doll made by Irwin. It originally came with a small Luna keychain, which I no longer have. This does NOT come with a box.
Price: Make an offer.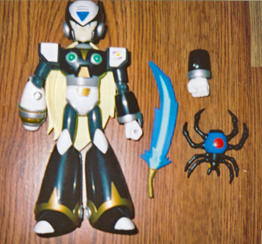 Megaman X Zero Action Figure
Condition: Used for display only, and was handled minimally. This does NOT come with a box. Includes everything shown in photo. This originally came with a small blue plastic fireball, which I'll include if I can find it.
Price: $7


FREEBIES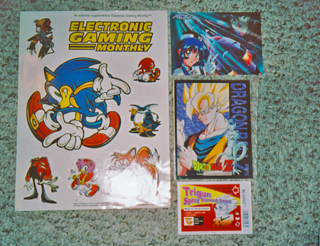 EGM Sonic the Hedgehog Sticker Sheet
Description: Supplement to an issue of Electronic Gaming Monthly magazine. One-sided.

Nadesico Card
Description: Official ADV card that came packaged with a Nadesico VHS tape. Two-sided.

DBZ Sticker Pack
Description: Two sticker sheets of Dragonball Z characters. Largest sticker is visible, second sheet has five smaller stickers.

Trigun Permanent Sticker
Description: Official sticker that came with the Trigun soundtrack listed above. One-sided.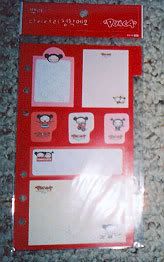 PUCCA Funny Love Mini Sticky Note Pack
Description: A variety of PUCCA Funny Love mini sticky notes. One of the largest sheets has been used. One-sided.
**Given to
astash**

** One item from this section may be included with any purchase. **


NOTE: DVDs, CDs, and video games include all original discs, cases, manuals, and inserts unless indicated otherwise. If you would like scans of any manuals or inserts just to make sure, let me know.