My selling journal isn't doing too well and I am in some desperate need of money so I'm putting these up to see if I get anyone.
All shipping is 2$ added on to the prices I list(unless otherwise marked), and I accept Paypal, well-concealed cash, and personal check.
I will accept trades, but only if I see something I like when presented.
Shipping will take place within a week unless you are notified. This is only because I cannot drive and cannot get to the post office right away. Thank you.

+Anime/manga items (Including Furuba, Sailor Moon, Dragon Ball Z, Digimon, and Pokemon!)
+DVDs (.hack//Legend of the Twilight Bracelet)
+List of manga (I do not have pictures of these offhand, but can get them if need be.)





.hack//Legend of the Twilight Bracelet VOLUMES 1 (ONE) AND 3 (THREE)
I am missing two. Neither were watched often. Non-cannon to the .hack storyline and is often mistranslated as .hack//DUSK.
Asking 8$ each or 14$ both.



Dragon Ball Z TRUNKS action figure (Japanese, released by Bandai) / Dragon Ball Z Mini Skateboard (Priceless caution to parents says: CAUTION. SMALL PARTS FOR CHILDREN UNDER 3 YEARS OF AGE.)
Trunks has been opened but never touched. He and the box are in great condition. Asking 7$
Mini skateboard's box is a little bent but it was that way when I bought it from KB Toys. Price tag is a little messed up, but that's because I was trying to get it off -before I saw the warning to parents. Thought that was cute, didn't remove the tag, and the skateboard has never been played with. Asking 6$



Japanese Sailor Moon tattoos
I would like to think that's what these are? They look like nail tattoos, with letters and pictures of the Senshi. They're strange, but cute!
Asking 3$ each or 6$ for all three.



Sailor Moon Postcard
Sorry, the sticker is no longer available.
Cute little postcard featuring Venus and Jupiter and the other senshi below. There is a small hole at the top where a thumbnail pierced, but it's adorable. Never been used.
Asking 2$, shipped.



Digimon T.K. and Matt Scholastic Released Scrapbook ENGLISH
A cute addition to any Digimon fan's collection, released through the Scholastic book company.
Asking 5$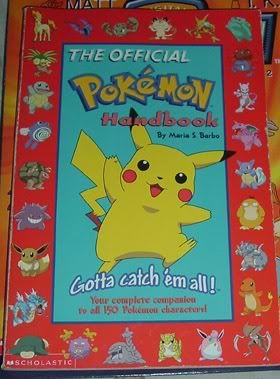 Pokemon Handbook Scholastic Released ENGLISH
A freaking huge book featuring details about all of the original Pokemon. 150 of them, I believe? It's a little battered, but this sucker's going to be heavy to ship.
Asking 10$, shipped.



Fruits Basket Kyo hat (Funimation released product.)
In awesome condition, worn once. I have a small head! It's just lying around waiting to be bought. I will wash upon request!
Asking 5$ On hold!

Manga (No pictures, but will attempt to at request ASAP.)

WILL NOT BREAK THESE APART
Samurai Deeper Kyo (1-11; 60$ SHIPPED)
Saiyuki (1-7; 40$ SHIPPED)
Chronicles of the Cursed Sword (1-4; 24$ SHIPPED)
doubt!! (1-4; 24$ SHIPPED)
MeruPuri 1-4 (24$ SHIPPED)
Bleach 1-12 (65$ SHIPPED)

FIVE DOLLARS EACH UNLESS OTHERWISE MARKED (together means I can break them if you wish)
DNAngel (3-5; 15$ together)
Shutterbox (1-2; 10$ together)
X-Day (1-2; 10$ together) On hold.
Howl's Moving Castle (movie manga 1-2; 10$ together)
11th Cat (stickers included, 1, 9$)
Digimon (first series, volume 2, 2$)
Ultra Maniac (1)
Comic Party (1)
Wolf's Rain (1)
Ruroni Kenshin (3)
Leave It To Piyoko (1)
Devil May Cry (1)
Tsukuyomi Moon Phase (1)
Snow Drop (1)
Angel Sanctuary (1)
Diab(o)lo (1)
Kodocha (5) - was second-hand to me, is a bit beat up -can take pictures if you wish.
Ceres (volume 7)
iD_eNTITY 1
Someday's Dreamers 1
Magical x Miracle 1

Shojo Beat volumes 1-5; asking 6$ for each or 30$ for all five


Remember, add 2$ for shipping unless otherwise marked.
I accept Paypal, personal check, and well-concealed cash only.
I will accept trades but it's on a if-I-see-something-I-like basis. Thank you!