I have a large lot of Japanese telephone book mangas for sale. Many have freebies (furoku), some don't. The more you buy, the cheaper your total!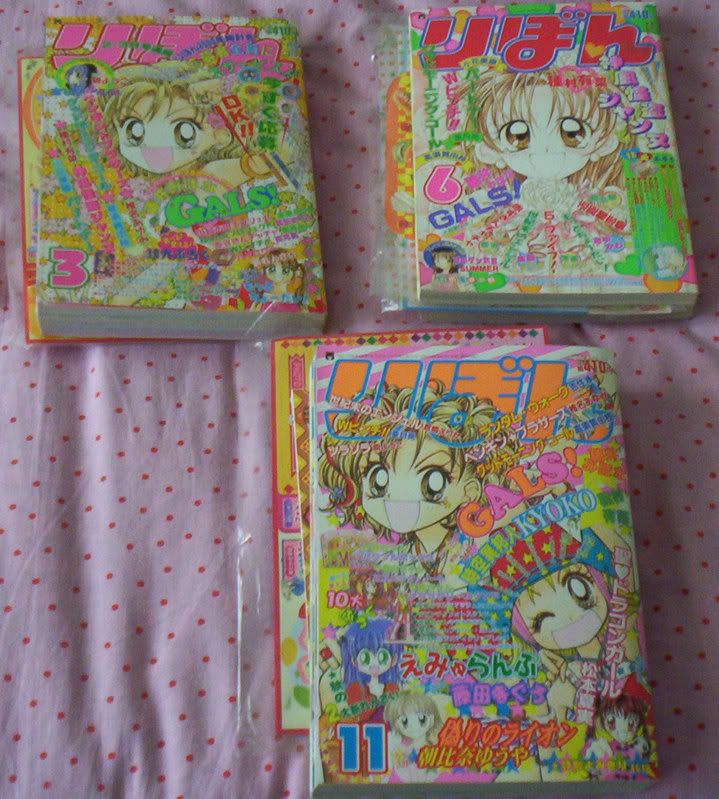 From top, left to right:
-Ribon 3/2000 Furoku is somewhat complete, it is missing the cardboard box you put together. $2
-Ribon 6/2000 Substituted furoku, which is stationary and a cardboard box. $2
-Ribon 11/2000 Not complete furoku, missing box $2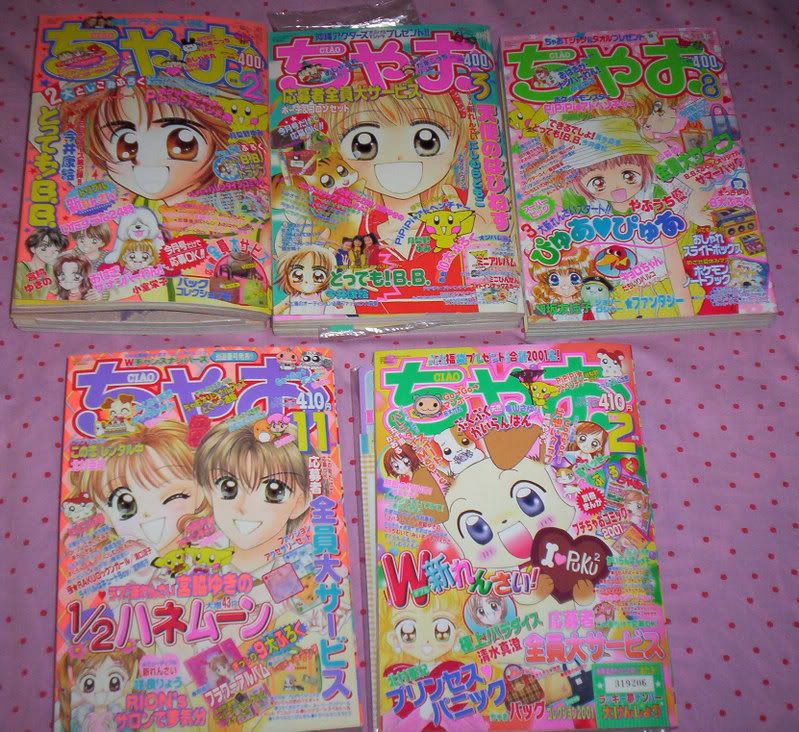 From top, left to right:
-Chao 2/99 Comes with trump card set and an extra comic. Furoku is NOT complete. $2.25
-Chao 3/99 Comes with plastic photo album and stationery. NOT COMPLETE furoku $2.25
-Chao 8/99 Substituted furoku $2
-Chao 11/2000 Comes with photo album and stickers. Not complete. $2.25
-Chao 2/2001 Complete furoku $3.50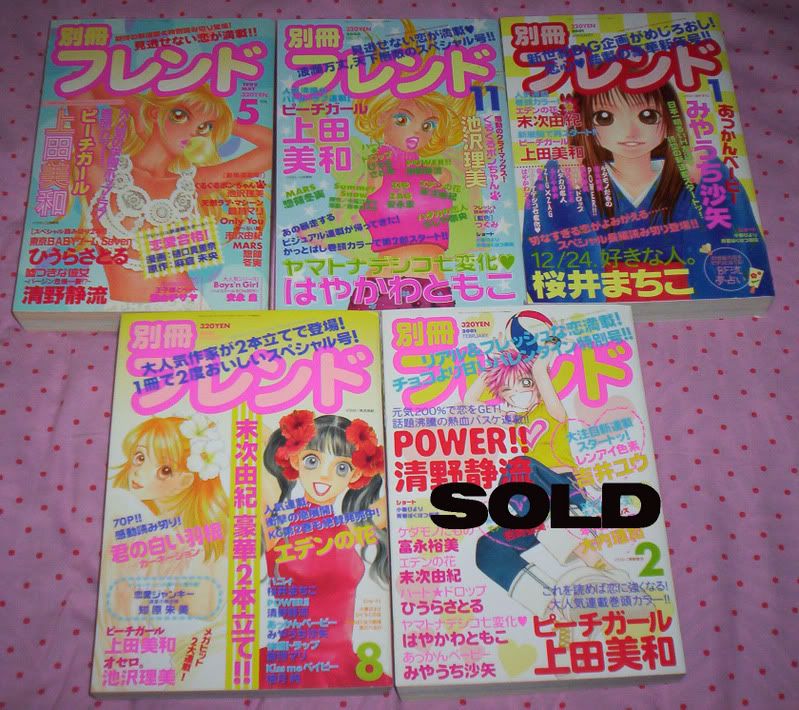 These do NOT come with freebies. From top, left to right :
-BetsuFure (Best Friend, which ran Peach Girl) 5/99 $1.25
-BetsuFure 11/2000 $1.25
-BetsuFure 1/2001 $1.25
-BetsuFure 8/2001 $1.25
-BetsuFure 2/2001 $1.25 SOLD




From top, left to right:
-Margaret 5/5/99 No freebie $1.50
-Margaret 10/20/2000 Postcard furoku complete $2.75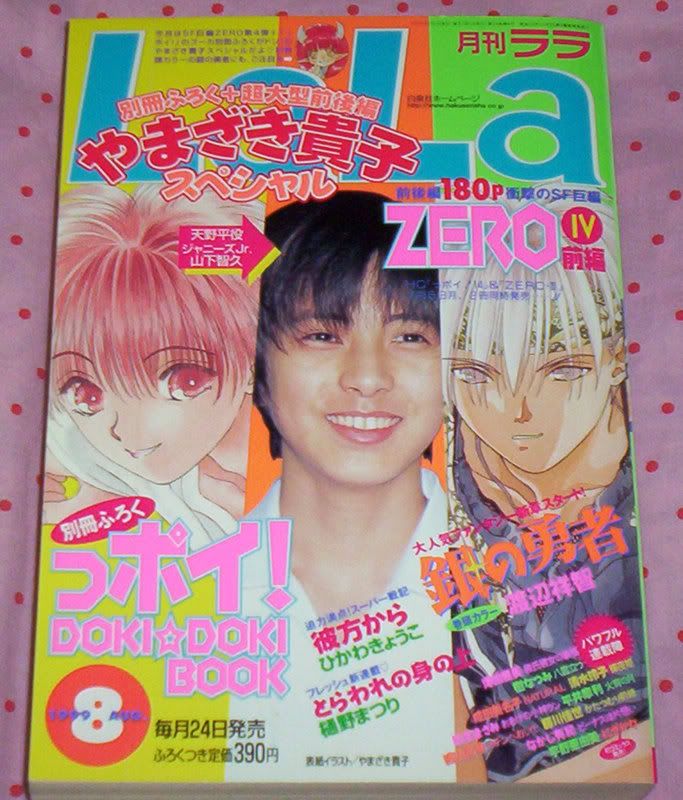 Lala issue 8/99 No freebies $1.50



RunRun 1/95, which includes a mini story from Magic Knight Rayearth $2.50 (cause it's a bit rare)


If you buy more than 5 magazines, I'll even throw in bits and pieces of random furoku from my large stash. Here's a peek: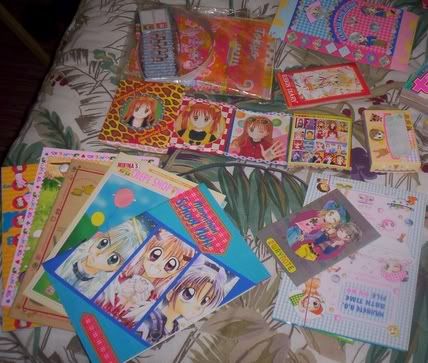 If you buy them all, I'll throw in Korean stationary stuff from Orange Story, seen here:



Stationary



Notebooks



Stationary set, with stickers, envelopes and notepad in its own box (writing on one flap)

Also, the more you buy, the more I can knock the prices off. If you want to buy everything (I can wish, right?) I'll knock at least 50% off of everything (except shipping). So buying more helps!




TERMS
-I accept Paypal (credit and non credit) and US POSTAL money orders ONLY. Money orders must reach me by the 7th day after confirming you'll buy. I may make exceptions for concealed cash if you show me enough positive feedback. If you do send concealed cash it must also reach me by the 7th day.
- I ship anywhere as cheaply as possible, as long as you pay for it. (If you do buy everything, I may have to split it into 2 shipments, because that'll be very heavy for 1 box)

You can check my feedback on Ebay here
You can reply here (faster), or email me at utenaten 78 @ yahoo.com (remove the spaces) if you're interested in anything.