Hey girls who love Gal style! I'm selling my NWB boots by FEE'FE. Please take a look!




FEE'FE Pink Gal Boots Size 8 (women)
These are chic boots by Fee'fe (www.feefe.com) which are made of pink faux material. They are NEW and never used! I am selling them due to the fact that they are too big on my feet. They're for galz who are daring! Stand out from the crowd! They're sold out so get them! $65 USD!!!
Info...
Style: Tricia
Color: Brown
Features pointed toe, zips up back middle with cuff that comes back over boot. Has a drawstring/ruschingLegshaft is about 12 inches long. Moleskin faux suede upper. New in box.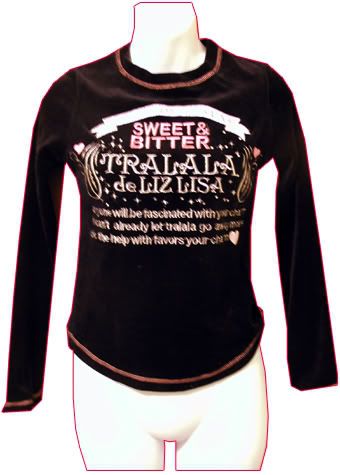 Liz Lisa JAPAN NEW WITHOUT TAGS Size Small Top ~ $25 USD
Beautiful and cute velvet top by Japanese fashion designer Liz Lisa from Japan. New without tags. Tight fit with cute words on the shirt as seen in picture. Buy it now!!! *_*

I accept money order or Paypal. You can email me about the items at aznsandwich@yahoo.com for any questions. Shipping for the boots to the US is $15. Elsewhere... let me know! And the shirt shipping is $6 to the US. Thanks a lot.