I have some J-rock/pop goods & a few Manga to sell as well as lots of FRUiTsy/Punk clothes and accessories!
Magazines:
Shoxx w/ Miyavi on the cover
Cure w/ Bis on the cover
NewType w/ Gundam Seed Destiny on the cover
Posters:
Bis
Fullmetal Alchemist
CDs:
Nami Takami - Greeting
Misc:
Fate/Stay Night Figurine
Hello Kitty candy tin
2005 Inuyasha Calendar
2004 Hamtaro Calendar
Clothing:
Bright Fishnets
Striped tights
Flame jacket
lots more
Flipped through once or twice. Kept in plastic. Poster not included. $12 + shipping
Flipped through once, kept in envelope. Includes Poster. $10 + Shipping
Read one article & out it back in it's plastic. Comes with a DVD. $6 + shipping
Previously Hung up. Is folded for a magazine. $4 + shipping
Unofficial FMA poster. Printed on thick poster paper, glossy. Previously hung up. $2 + shipping
Nami Takami - Greeting CD (middle) (the other two are for sale too, but they aren't Japanese) $8 + $2 shipping
Fate/Stay Night Figurine. New but his little staff is broken. It was that way when it came to me. It's still attached by the wire inside but I don't know how stable it is and may become fully detached when shipped. $2.00 + $1.50 shipping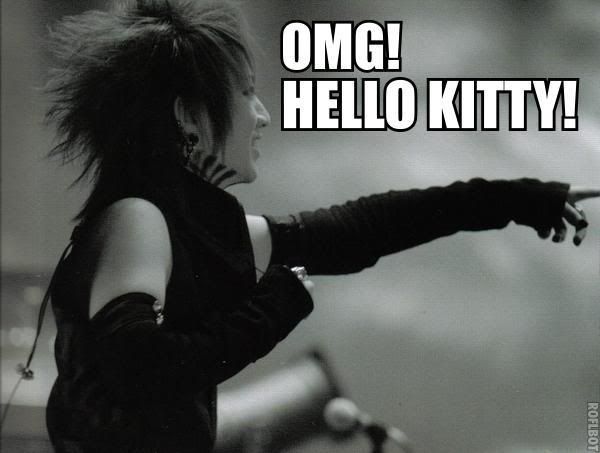 Hello kitty candy tin, never opened. They sound like hard candies. The tin is really cute! If you want I'll ship it with the sanrio store bag. $3 + $3 shipping
Unknown character Japanese candy. Hard Candies. I bought these for the cell dangle that came with them, but never touched the candy. Both boxes are open but the candy is in a separate bag which has not been opened. When I ship these, I may have to flat out the boxes. $1 + $2 shipping each
Inuyasha 2005 Calendar. Was used but never marked. Make me an offer.
Hamtaro 2004 Calendar. Was used but never marked. Make me an offer.
I have lots of clothing and accessories that can work with punk and fruits styles at my journal.
a_dropofcolour
All prices are in USD
I accept Paypal & US Money Orders(at your own risk)
Although I've never had any problems with uninsured packages, I am not responsible if they get lost in the mail. Any items can be shipped with insurance upon request(additional fee)
I have feedback at my journal and at
loligoth_dbs
.
If you need more info about an item please ask. Thank you for looking!