yes for the last time, so i'm giving up the following items,
since i want to sell them ASAP most of them are negotiable
buy more save more
p.s OBO = or best offer

Angelic Pretty Puppet Circus One Piece
It's absolutely rare and sold out now
it would ended up if is in JP!AUC as well
only have been try on, tag is attached
Bust: 86cm
Waist: from 60~68cm
there is built-in petticoat
fabric is velvet
length: 92cm
Asking: 350usd include shipping OBO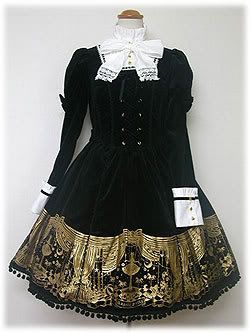 Pics got it off from JP!AUC, shown with pannier underneath
http://i108.photobucket.com/albums/n12/kitaosatchan/pastel_limon-img450x600-1169321116a.gif
http://i108.photobucket.com/albums/n12/kitaosatchan/pastel_limon-img450x600-1169321123a.gif
AP secret garden JSK:
Got it from my friend which cost me 32000yen
The back ribbon was lost, worn once by my friend
built-in petticoat
Sold out and rare to find
suit for all season
length: 92cm
Bust: 85~92cm
waist: 62cm~
Asking: 250usd include shipping OBO
please know shipping is expensive for this jsk since material is made out of denim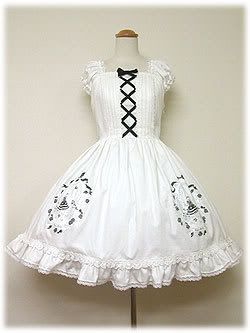 http://i108.photobucket.com/albums/n12/kitaosatchan/back4324.jpg</a>
AP melody tote bag:
length: 25cm, width: 35cm
brand new with tags on
original price is nearly 5000yen
Asking: 50usd include shipping OBO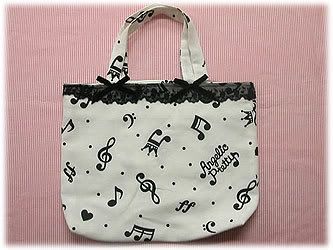 BTSSB ribbon and tie blouse:
trade it off for 160usd
only been try on twice from previous seller to me
bust: around 93~96cm
Tie and ribbon is detachable
length: 50cm
I think it's really worth it for a brand blouse because there are few ways you can co-ordinate with it
Asking: 150usd include shipping OBO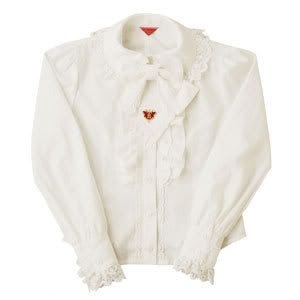 Pics from official site:
http://i108.photobucket.com/albums/n12/kitaosatchan/130414-w.jpg
http://i108.photobucket.com/albums/n12/kitaosatchan/130414-back-1.jpg

BTSSB spring doll headdress:
Worn once briefly
Please know i didn't get this from lucky bag it does cost me original price
SOLD
http://www.babyssb.co.jp/shopping/head/130814/130814-bw.JPG

BTSSB logo socks:
Knee length, new without tags
Asking: 22usd include shipping

BTSSB white headdress:
Only worn few times for photo shoot so it's not long
Asking: 32usd include shipping OBO

BTSSB double bow headband:
Worn once
this item i prefer trade with anyone has black x black ver
if not then asking: 35usd include shipping

BTSSB rose comb:
Brand new
Asking: 35usd include shipping
if you buy with the wine red set, just add extra 10usd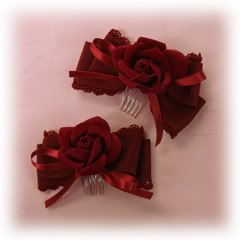 BTSSB wine red set:
Bought it from JP!AUC
skirt back ribbon was lost
Mint condition after been dry cleaned
Set includes: Bustier, Skirt and bonnet
can co-ordinate with other clothes as well, can be cute or elegant style~
Bustier measurement: length: 44cm, bust: 30~34' of course adjust bit smaller or larger since at the back has shirring and tie up ribbons
Skirt: length: 52cm, waist: 60~62cm, built- in petticoat
made out of velvet:
Asking: 265usd include shipping OBO
* set is heavy so bit of extra is for shipping


http://i108.photobucket.com/albums/n12/kitaosatchan/CIMG1667.jpg
http://i108.photobucket.com/albums/n12/kitaosatchan/CIMG1668.jpg
http://i108.photobucket.com/albums/n12/kitaosatchan/CIMG1669.jpg
http://i108.photobucket.com/albums/n12/kitaosatchan/CIMG1670.jpg


BTSSB sleeping beauty shirring JSK:
Length: 94cm
Size Free
No built in petticoat
Asking: 350usd include shipping


back:
http://i108.photobucket.com/albums/n12/kitaosatchan/sleepingbeauty.jpg
BTSSB LIMITED RARE ELIZABETH ONE PIECE
Limited and Rare
Original price is more than 400usd!!
If you don't know, is the exact same piece worn by momoko in Shimotsuma Story, just the colour difference
Bust: 32~36'
waist: 20~28 (ribbon can be adjust)
worn twice from previous seller and me
Asking: 350usd include shipping OBO
Please know this item is extremely heavy


http://i108.photobucket.com/albums/n12/kitaosatchan/IMGP4882.jpg
http://i108.photobucket.com/albums/n12/kitaosatchan/IMGP4891.jpg
http://i108.photobucket.com/albums/n12/kitaosatchan/IMGP4890.jpg

BTSSB Lobe A Ra Fransaz ONE PIECE
Not sure translate the name right but it's a pretty long name
Exact same as Fukada Kyoko worn at the interview
it's extremely rare to find now
length: 92cm
Bust: fit around 85~90cm (there is ribbon the back so it can be adjust)
waist: 60cm~ (ribbon can be adjust)
Dry cleaned after been purchased from previous owner and never worn out
Asking: 400usd include shipping OBO
*item is heavy


http://i108.photobucket.com/albums/n12/kitaosatchan/CIMG1608.jpg
http://i108.photobucket.com/albums/n12/kitaosatchan/CIMG1606.jpg
http://i108.photobucket.com/albums/n12/kitaosatchan/CIMG1607.jpg
at the back it looks like this:
http://www.babyssb.co.jp/shopping/onepiece/131304/131304-back.jpg
Worn by fukada kyoko:
http://i108.photobucket.com/albums/n12/kitaosatchan/report04-26.jpg
http://i108.photobucket.com/albums/n12/kitaosatchan/kyu_naru-img550x412-1154146142otyak.jpg
Angelic Pretty X Pyshcole cemu collaboration set:
set includes tie and socks
brand new
sorry bad pics taken at night
Asking: 55usd include shipping OBO


http://i108.photobucket.com/albums/n12/kitaosatchan/CIMG1318.jpg
http://i108.photobucket.com/albums/n12/kitaosatchan/CIMG1319.jpg

AP pink tartan headbows:
Sorry i only got this pic at the moment:
Try on few times
Asking: 20usd include shipping OBO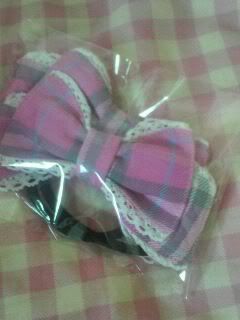 AP red tartan headbows
try on few times as well
Asking: 20usd include shipping OBO

AP headbow:
Try on only
Asking: 35usd include shipping


http://i108.photobucket.com/albums/n12/kitaosatchan/CIMG1651.jpg
http://i108.photobucket.com/albums/n12/kitaosatchan/CIMG1653.jpg
Very similar to this
http://i108.photobucket.com/albums/n12/kitaosatchan/b-blk1-1.jpg
AP navy knee socks:
Colour is navy, but in the pic showed more towards black though
brand new without tags on
Asking: 28usd include shipping

Putumayo 2007 lucky bag
all brand new
set includes jacket, cutsew, tie and skirt
skirt have 2 layers (can be separated) the front layer only can cover up to 27'waist but the white layer underneath is size free
the whole set adds up to nearly 400usd
Bust: 88~94
cutsew size free (stretchy)
Colour: black x white
please don't ask any more question because i had give enough information for a lucky bag
Asking: 185usd include shipping OBO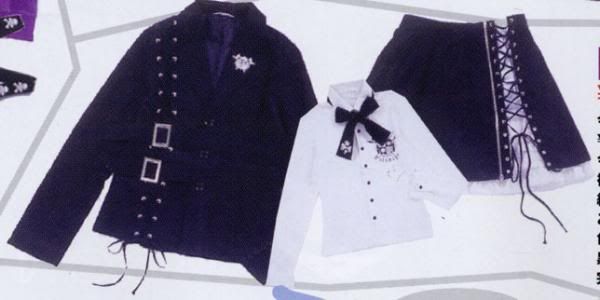 PUTUMAYO SKIRT
Length: 48cm
Waist from 66~about 88cm
NEW WITH TAGS ON
Original price is 9350yen~
Asking: 75usd include shipping OBO


http://i80.photobucket.com/albums/j187/sakuraloli/CIMG0166.jpg
Putumayo musical note blouse:
Bust: around 88~92cm
length: 52cm
waist: 60~
brand new with tags on
Asking: 90usd include shipping OBO
of course tie is detachable
sold out on web

Algonquins T-shirt:
Length: 48cm
Bust: 34' max
Worn twice
Asking: 25usd include shipping OBO

Algonquins parker:
worn 3 times
length: 60cm
bust: 36' max
Asking: 35usd include shipping OBO
colors are bit off in the pictures, actual product is towards dark red

Sex Pot T-shirt w/ chocker
Shirt worn once but chocker is new
chocker is detachable
size S
bust: 30~35'
length: 55cm
Asking: 50usd include OBO

H.Naoto shoulder bag:
One of the hook that connects with the handle to the bag is broken and lost
original price is nearly 80usd
only used once
width: 40cm
length: 25.5cm
there are many pockets inside and out to fit many things
OFFER ME~

back:
http://i108.photobucket.com/albums/n12/kitaosatchan/pimg_10795_2_tbig.jpg
My pic:
http://i108.photobucket.com/albums/n12/kitaosatchan/CIMG1603.jpg</a>
H.naoto Leg warmer
New without tags
length: 42cm
width can be adjust using ribbon and lace
Buttons at the back are detachable
Asking: 65usd include shipping OBO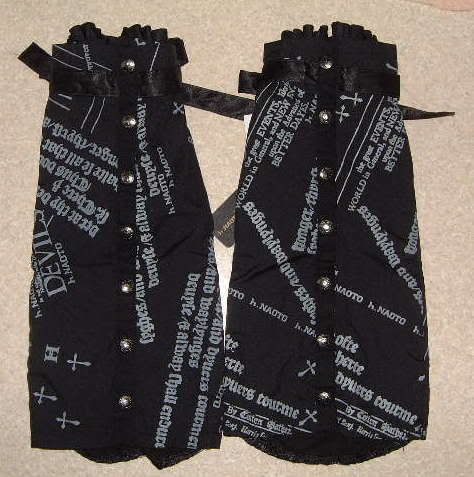 Banana Fish Top:
length: 76cm
Bust & waist are free because material are stretchy
only try on few times
model G worn in Kera as well~
there's bit of wax at the bottom of the shirt, not very obvious
bust minimum: 80cm
Asking: 50usd include shipping OBO


http://i108.photobucket.com/albums/n12/kitaosatchan/CIMG1071.jpg
Banana Fish Pirates of Banana top:
length: 76cm
Being shown on last few issue of Kera alot
Bust minimum 80cm
try on once, bought it from Kera Shop
below pics got it from somewhere though
Asking: 65usd include shipping

If i don't have enough funds, then i'll probably chuck this out then:
I got it like 2 or 3 years ago, which i assume it's basically same as Momoko wore in the Shimotsuma story
It comes with a small red pannier
Last time, a while ago I asked and most people seem to interested and can go high in this JSK, doubt will go high but i still would like reasonable offers
I've seen couple of times before in JP!AUC and still ended up in original price or even higher
if you want to compare, the newer ver it's less green and lace it's different
I am selling the following one:


Compare to the newer version:
http://www.babyssb.co.jp/shopping/jumper/131201/131201-e.jpg
I don't know what price i should be asking,
if anyone can offer high amount, i would sell of them and also give free btssb black ribbon hair bows
Details:

Condition:
If i haven't mention the condition in the list, it means i probably wear once or twice briefly, otherwise it will be stated..
All of them have been kept in the closet in mint condition after been try or worn on
Payment:
I accept paypal only
For cc-paypal, that includes debit card have to charge fee and please let me know before you purchase and i'll give different account to you

Shipping:
Please know all price are shipping included to Australia, USA/Canada only
All paid item should be ship within 3 days item, i'll notify you once again when it's shipped
Insurance it's not available unless you willing to pay extra
p.s small item i still use normal airmail (cost me 8usd)
I can ship rest of the world depends on what item, small to average item would be fine, usually add 2~5usd, for large item such as OP & lucky bag, i would not ship to rest of the world
Pictures:
Due to my laziness and computer running like a snail, i would not take any further pictures. So please don't ask for other pic just for out of curiosity.
IMPORTANT:
Please reply within the next 24 hours or it will lead to another buyer
I will sell to the person who can pay me ASAP, therefore i do not take holds, if is for large amount and you want instalment, deposit is required
So reply with your location and method of paying
I respond pretty fast
Again price is negotiable
thankyou very much!