I am yet another person who is moving and needs to make money/space.

Here are a few things I'm willing to part with or don't want. For items labeled "make an offer", if more than one person wants it, the highest offer gets the item.

Since everything is flat, I just scanned them all instead of taking photos to save time!

NO HOLDS! Everything must be sold by the start of June!!

All products are official merchandise unless specifically stated otherwise.

I expect payment within ONE WEEK of purchase!

I accept Paypal, checks, and money orders. NOTHING ELSE. Please check with me if you need to make a different kind of payment!

I ship worldwide.

You are invited to view my community feedback and ebay feedback (username: vive_lareine).







Lareine - fiancailles single w/ VHS


This is the one thing that breaks my heart to let go ;_; It is BRAND NEW still in the wrapping! There is only a slit in the wrapping so that I could take out the trading card.

VHS has never been viewed, single has never been played.

FEATURES:
1. fiancailles
2. Je t'aime

KAMIJO trading card!

1998-1999 Romance Kakumei tour clips



PRICE: I'd like $15, since I never used it.



~



Lareine - Like an Edison original VHS "Doukeshi no Bukyoku" making-of


This has been sitting on my shelf unloved because I can't find the old VCR. It was only obtainable in Japan by buying all three singles at once from the Like an Edison store.

No scan, because it is only a video tape with a label written in Japanese. The Like an Edison logo is on it.

PRICE: Make an offer.

~



The following CDs are items I purchased in an ebay lot recently, but didn't want to keep.



L'arc~en~ciel - Hitomi no Juunin


This is in beautiful condition!

FEATURES:
1. Hitomi no Juunin
2. Hitomi no Juunin (hydeless)
3. Ready Steady Go (ken Ready)
4. " (tetsu Ready)
5. " (yukihiro Ready)

PRICE: Make an offer.

~



Gackt - Vanilla single


Comes in a clear sliding case. The CD number is CRDP-220.

FEATURES:
1. Vanilla
2. " (unplugged)
3. " (instrumental)

PRICE: Make an offer.

~



Gackt - Remix of Gackt


1. Vanilla / MR PLASTIC DUB
2. Mizerable / Tiny Voice,Production Remix
3. Mizerable / Into the Water Mix-QUADRA
4. Vanilla / MAN Yamada Remix

PRICE: Make an offer.

~





spitz - Video clip crhonicle 1991-2001




Live chronicle 1991-2000



I'm pretty sure these are bootlegs. Of course they happen to be the one band in the lot that I never listened to and really don't care for! If you want them, I'll send them to you at no extra cost if you agree to pay the shipping fee. I don't care to make a profit off of bootlegs, I just want to get rid of them somehow!

~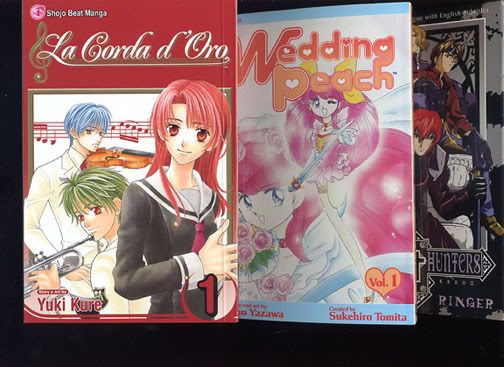 Weiss Kreuz/Knight Hunters VHS - vol. 1 subtitled


PRICE: Make an offer.



Wedding Peach vol. 1 Nao Yazawa


New! Read once.
PRICE: $7 shipped in the US. Price negotiable.



La Corda d'Oro vol. 1 Yuki Kure


Also new and read once!
PRICE: $7 shipped in the US. Price negotiable.



Battle Angel Alita singlets


I HAVE A SH*TLOAD OF THESE! Someone gave them to me and at the time I liked the series, so I took them and never read them! I'll give them to you for cheap if you want them! If you want specific ones, tell me which ones and I'll see if I have them.

PRICE: Make an offer! See description.



Gundam Wing Duo Maxwell poster


This is an official Japanese GW poster that features a split-shot of Duo's face and his Gundam's face in the background, and a full body shot of Duo in the foreground.

PRICE: Make an offer.

SEE TOP FOR PAYMENT INFO. Thanks for looking!!