Please buy them off of me since I no longer want them. I rather sell them than make it lie in my house with no use. =(



B~Pass HYDE January 2004 Start: USD 30
Interview and photage of HYDE for his CD 666. Includes poster. In Mint Condition!!!



What's In? HYDE December 2003 Start: USD 20
Interview and photage of HYDE for his CD 666 during Christmas time. Includes mini fold out poster from the cover of the magazine. In great condition!


[no image]
HYDE 2004/2005 CALLENDAR! Start: USD 100
This is a NEW, never been used callendar dated back from 2004~2005. It is from his 666 photoshoot. There are 12 giant posters of him too. This item can be used as a poster since it's not much of a callendar/ or a collector's item. The shipping rate varies for this item and can only be shipped by itself. It cannot be combined with any other products unless it is small paper items.



L'Arc~en~Ciel THICK Book "L'Arc~das" Start: USD 70
This exclusive book is a thick book which contains information on L'Arc~en~Ciel (from their beginning days to their days up til 99) from their history, profiles, merchandise, lives and very random information about themselves... like hyde liking Harry Potter...? And if you know about them and their 'n'... lol Just check out some of the cool pictures made by their artist... and it has some info on Sakura too. There's a front with their merchandise in color and the rest is in black and white. If you know the Larku~chi, it's in here! Very rare and fun book you'll enjoy reading or looking at.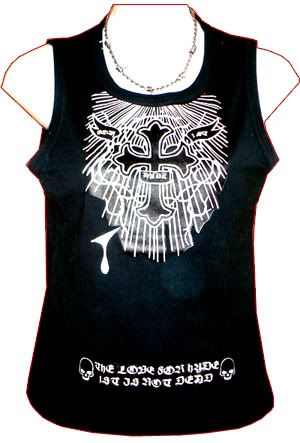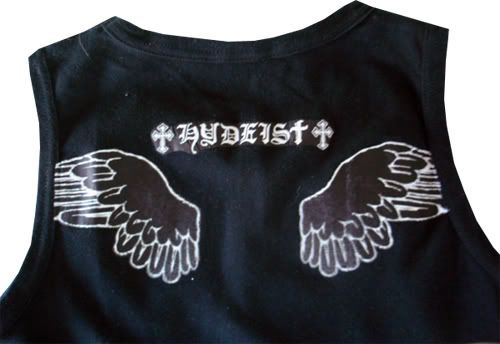 HYDE Hello PV Black Shirt Size Small -female- Start: USD 80 (or tell me how much you would pay...)
This is an EXCLUSIVELY made cosplay shirt I made for my HYDE cosplay. Actually, I'm proud to say I am the first Hello HYDE cosplayer in the US (one from both AnimeNext04 and Big Apple Anime Fest 03)! Anyways, I am finally selling my LAST shirt that I designed off of HYDE's real shirt SOLD OUT from hyde-ist. The shirt looks good on those who are more flat chested since the shirt can be damaged if wrinkled a lot... it is very delicate! I prefer a cosplayer to be size extra small or small... it could fit a medium but your bust size should be ranging to A cup! If there's more questions, feel free to ask. I'm selling for a high price but only to the person who really wants it... because I already know a lot of people want one and a more accurate design. Only used for two conventions in my life! So yeah, it's in great condition. I will give you washing instructions...


I accept PAYPAL or money order. You can email me at aznsandwich@yahoo.com for questions. Shipping depends on the item but usually ranges from $6 and $10 to the US. Thank you!