I'd rather not take these to eBay yet, so I'll try my luck here. <3 Details behind the cut.
Things you need to know before browsing
- All items are in great/like new condition because I am very anal retentive about my media. If something is marked "first press" or "limited edition", it means it's now hard to find and in some cases, completely sold out.
- If I mention something is a sample CD, it means that it was basically a promotional version sent around to media stores. These ARE authentic, Japanese releases; the only difference is that there is normally a sticker on the back of the case saying it is a sample and on the inside of the disc the word "SAMPLE" is written. Don't let this deter you from buying.
- All prices are in US dollars.
- Shipping prices have gone up again, very annoying >_<; Priority mail (arrives in 2-3 days) for up to three CDs/two DVDs/phone straps/etc will be $5.20. First class (1-3 days supposedly, I think it's more like 3-5) will be $3.00 for most media. This only applies to domestic rates. If you live outside of the United States, ask for shipping cost and I'll calculate. Anything above the listed ones (for example, 5 CDs), I'll calculate. My shipping costs factor in materials as well.
- I take Paypal and well-concealed cash. If you live outside the USA, Paypal only, but I can negotiate a method if you absolutely can't do Paypal.
CDs
1 - Saito Michi - Dakara... (Normal edition). Comes with obi. This is a sample CD.
$5
2 - Perfume - Linear Motor Girl (first press). Comes with obi and a trading card of Nocchi.
$8
3 - Perfume - Computer City (first press). Comes with obi and a trading card of Kashiyuka.
$8
4 - Kingyo Chuuihou Vol.1 - Gakkou Daisuki! Vocal collection. Out of print and hard to find. Also hard to let go of.
$20
5 - Kingyo Chuuihou Vol.2. Also a vocal collection. Also OOP and hard to find. Also also hard to let go of. xD
$20
6 - Miyaji Mao - Sahana Suzuki (Limited edition). Comes with obi and a bonus DVD of the offshot of the single's PV. This is a sample CD.
$8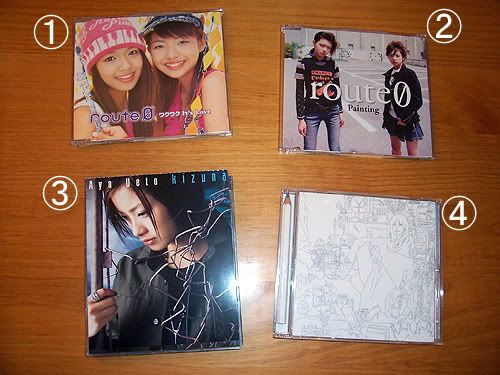 1 - route0 - Waku Waku It's Love. No obi, sorry.
$5
2 - route0 - Painting. No obi, sorry.
$5
3 - Ueto Aya - Kizuna (Limited Edition). Comes with oversized obi and bonus CD-rom of Aya goodness.
$14
4 - bird - Double Chance. Included is a multi-colored pencil you can color the booklet with, if you wish. :D Fun times all around. This is a sample CD.
$10
1 - Spin Aqua - Paper Moon. No obi, sorry. $5
SOLD!
2 - Various Artists - Sweet -for emotional memories-. Compilation including Hikki and Onitsuka Chihiro among many. Comes with slipcase.
$15
3 - The Indigo - Indigo Suite. No obi - this was an American release, so the booklet has romaji lyrics and an English translation of all songs.
$10
4 - Ueto Aya - Kanshou/Mermaid (first press I think). Comes with a slipcase.
$8
5 - Kato Kumiko - Thinking of You. American release. Comes with a postcard/promo card whatever that thing is. Can't be bought from Sounday's site anymore =/ $5
SOLD!
6 - Re*GirL - Fantasy. Comes with obi and inside are instructions on how to dance for the song. xD
$6DVDs
All sold!
Phone straps and randomity
Orange Bubbleman phone strap. Not a clue what Bubble Man is, if you know you can tell me.
$3
Dinosaur phone strap. Another one I don't know much about. If you pull on the chain his wings flap. xD
$3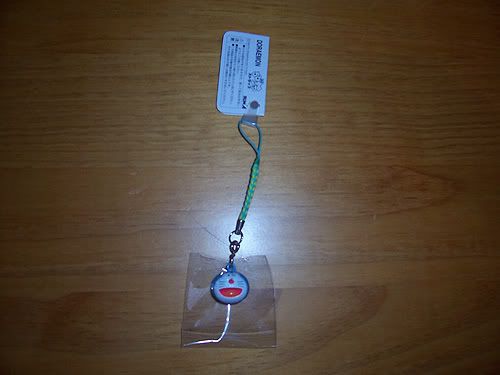 Doraemon phone strap. Has a bell in his head so he jingles a bit. :D
$3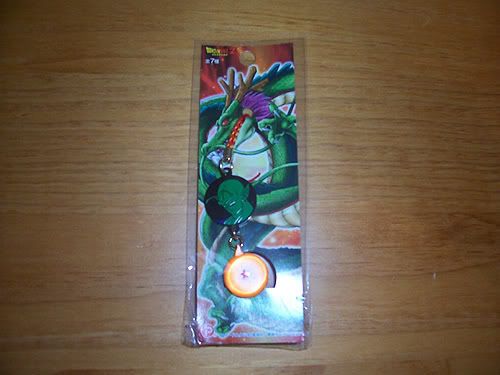 Dragonball Z phone strap with one of the dragon balls and I think Piccolo.
$5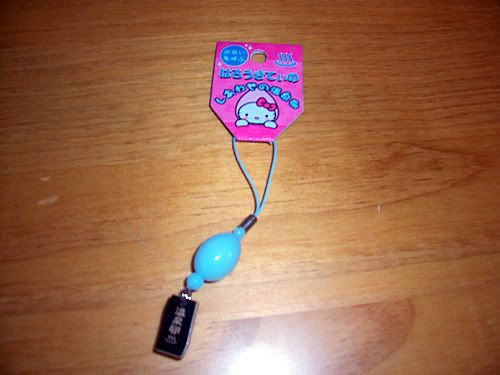 Hello Kitty egg phone strap. Toootally cute - when you pull open the egg, there's a tiny Hello Kitty chick inside!
Here's
a close-up picture of Kitty in the egg. The strap's paper hanger is broken but I've never used the strap, and the strap itself is in mint condition.
$5
Takara Choro Q Mobile Choro Q Phone Straps, set of 3, vol 4. They're fun pull-back-release cars.
$8
Mushi King Giraffe Stag Beetle phone strap + cleaner.
$5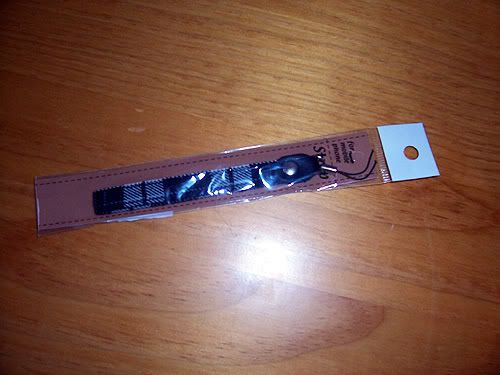 Just a plain black plaid phone strap.
$3
Blue Ficelle phone strap with two pretty rhinestones on each end. I think it's leather but I'm not sure. (Mostly everything else they make is leather.)
$7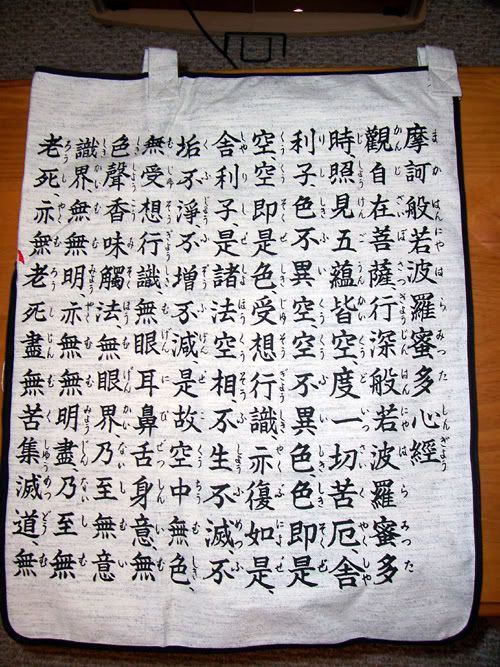 Not entirely sure what this is. My friend told me it's hung above doorways, and that the writing on it is old kanji along with their pronunciation. The photo is of this cloth folded in half, so it's actually twice as big. Shipping may be a little extra due to size.
$5
EDIT:
sakura_no_kage
says it is a noren with Buddhist scripture on it. :D Thanks!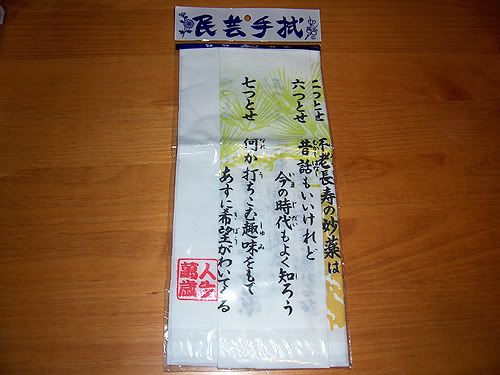 Similar to the above but this is a bandana/cloth/thingie. Again, if you can give me more details please do. Shipping may be a little extra due to size.
$5
First come first serve! If you have any questions, email me (wapiko@gmail) or leave a comment. =)