For payment I prefer PayPal as in my experience it's pretty safe for these sorts of transactions, but I am open to other "safe" forms of payment. If you're interested or want more information on these items you can find me on AIM "RhettThanas" or by email on hethatishere[aaaaaaat]gmail.com. I'm a friendly fellow, so don't be afraid to ask questions if you're interested. Pictures and descriptions are in the cut below. Thanks for looking!

The X Manga is in "very good" condition from sitting on a shelf for three years since they were given to me. For book nerds, they would be described as lightly shelf worn. They can be pretty cheaply shipped to you via Media Mail if you're in the continental United States. I'm asking $30 for the lot plus shipping, but I can be talked down and am friendly so don't be scared to offer less!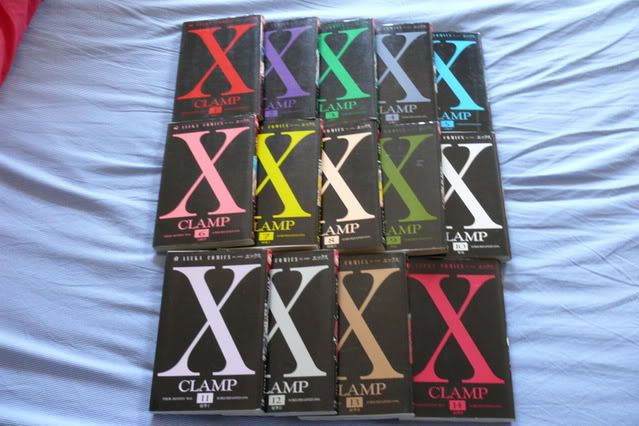 Next up on the block is a rather delightful curio I was given as a joke present. It's a used copy of the Japanese version of Rez and an UNUSED Trance Vibrator. As a member of the male persuasion, I had little use for the device except as a conversation starter (and start conversations it did). The purpose of the Trance Vibrator is to interface with Rez and plugs into the Playstation's USB port. I've heard there are drivers available so you can use it with your computer too. The game is in excellent condition, and the Trance Vibrator comes with instructions (in Japanese), an unmarked registration card, and a still-sealed cloth baggie (for easier cleaning I would assume). If you're still wondering what this is all about there's a semi-NSFW article over on GameGirl Advance. I'd like $35 + shipping for the both of them and again I can be talked down on price with a little convincing.