A lot of stuff for sale. Mostly manga. ♥

♥ Manga (Gravitation, Ranma 1/2, Inuyasha, Fruits Basket, Hands Off! Various, also, OLD SCHOOL thin Sailor Moon comics)
♥ 2 Shirts & some accessories
♥ Random things (FMA)
♥ Everything you ever wanted in a box boxes. (details inside)
♥ Newtype Magazines from 2005 - March 2007


Manga & Comics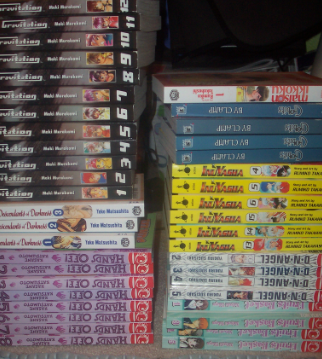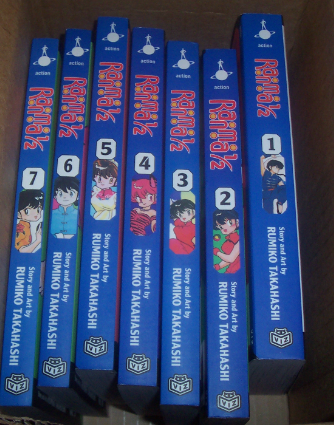 All manga is in mint condition (or condition when purchased) unless otherwise stated.
Buy 1 - $5
Buy 2 - $10
Buy 3 - $15
Buy 4 - $20
and so on

Sets:
Hands Off! complete, vols. 1-8 = $35
Gravitation complete, vols. 1-12 = $45 (notice: the bottoms of the spine are a bit white, however, this is how they were purchased from the book store).

Uncomplete or single:
Ranma 1/2 vols. 1-8
Chobits vols. 1-4
Descendants of Darkness vols. 1-3
Fruits Basket vols. 1, 3-5
DNAngel vols. 2-5
Inuyasha vols. 4,5,6,13,14,15

Only first volume:
Maison Ikkoku
X/1999
Tokyo Babylon
Until the Full Moon
Princess Ai
Kill Me, Kiss Me
Pita-ten
Peace Maker Kurogane
Until the Full Moon
Loveless
Eternity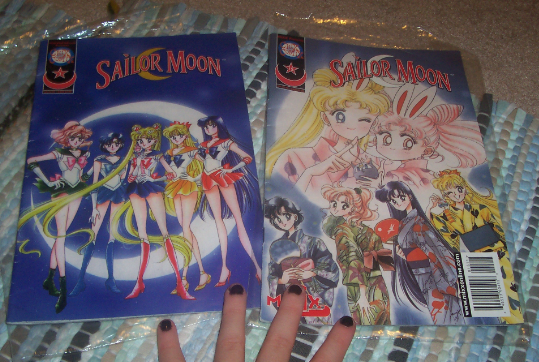 Sailor Moon comics, vol 3 & 15. These are very old and not in the best condition. The spines are a bit messy and the covers are a little wrinkley, but otherwise, they are still in good condition.
Suggest a price/barter with me.


Random:


This is an old FMA Calender. I used it, but it's in great condition. If anybody would like to buy it, however, because of the artwork for each month, which is quite large it's only $5 It would be good for putting up on walls, like posters.

Shirts & Accessories


David & Goliath "Chillin with my Gnomies" shirt. Size XL. Worn about twice but it was a gift and sadly, does not fit. )':
$10



Scrapbook/Delia's 3/4 quarter sleeved star shirt. Size XL. I love this shirt a lot, it's a pity it's too big. It's VERY comfortable. Worn a few times. Still seems new, though.
$8



Purple polka-dotted fold-up tote bag. $3
It's really cute but not quite my style. Never used. It is pretty big when un-folded and quite tiny when it is folded. Seems to be rain/water resitant. It's pretty thin, but it could make a nice beach/pool bag.



Everything You Ever Wanted in a Box Box.
These were actually gifts I gave to friends on Christmas and such but people have been requesting them. I have three two left over from the last few I made. Very good for scrapbookers & crafty people. A lot of random but useful objects.
Includes:
More then what's in the picture.
Stationary
Instant Miso Soup & chopsticks
Japanese candies
Stickers
Gel pens (working when placed in box)
beads
string & ribbon
etc

$6, but you can request one for free if you buy 10 items


Newtype Magazines
In case you just want them really cheap or you or looking for one that you missed, I have from early 2005 to late 2007. Feel free to request one and I will find it, tell you the condition, etc. Prices will range accordingly, but generally $2-5


I take PAYPAL only. Shipping not included in prices. Thanks!



Please take a look. I'm dead broke and trying to get enough money to convince my mom to let me move in with relatives in England! (And I want doujinshi!!! ;A;)