I am old and senile and bought extra copies of Tsubasa/Takki/T&T photos when I already have the said photos. Imagine my horror when I discovered I already have them! So they need new owners to moe over them!



Unofficial Photos

Title: Set A – Tsubasa only
Price: 1000 yen
Condition: MINT



Title: Set B – Tsubasa only
Price: 1000 yen
Condition: MINT




Official JE Shop Photos

Title: Set C – Tsubasa only
Price: 1000 yen
Condition: MINT



Title: Set D – Tsubasa only
Price: 1000 yen
Condition: MINT



Title: Set E – Tsubasa and T&T
Price: 1000 yen
Condition: MINT



Title: Set I – Tsubasa only
Price: 1000 yen
Condition: MINT





Official Live Photos

These photos are sold only at the T&T Dame Concert venues. It's impossible to get them from the JE shop.

Title: Set F – Tsubasa only
Price: 1000 yen
Condition: MINT



Title: Set G – Takki only
Price: 1000 yen
Condition: MINT



Title: Set H – T&T
Price: 1000 yen
Condition: MINT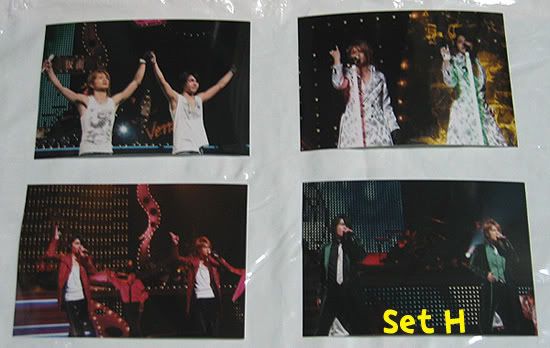 Please read through these conditions before you decide whether to buy:

a. All prices are final and non-negotiable. All prices are in Japanese yen.
b. All prices do not include shipping fees.
c. I can only accept well-concealed Japanese yen via registered mail and buyer bears the risk of loss.
d. Registered shipping is a standard rate of 500 yen worldwide.
e. My email is ribichee @ yahoo.co.uk (remove the spaces between "@" but ribichee remains an entire word).
f. I apologise for the poor quality of the pictures as the same were taken at night after work.
g. Please don't flame me for the prices coz I paid much higher prices for the photos when I bought them on Japan Yahoo auctions.