Hi there, I'm looking to sell my collection of anime and JRock collectibles. It's mostly YuYuHakusho, some Neon Genesis Evangelion, Tokyo Babylon, Rurouni Kenshin, things like that. Pencil boards, laminated cards, playing cards, T-shirts, posters, and a really special YuYuHakusho alarm clock. Prices and photos are under the cut. Click the thumbnails to see a larger image. VERY IMAGE HEAVY.

I am more then happy to combine item prices and throw things in for free if you get a lot of stuff. I'm really looking to sell as quickly as possible. The item price does not include shipping. I prefer to sell through PayPal and will ship ASAP. I am also selling JRock collectibles and a Harry Potter shirt (It's a rare collectible - it's a Visual Effects Team shirt from the Sorcerer's Stone film) so if you'd like to see what else I am selling, please ask. Everything is in perfect or excellent condition.




YuYuHakusho Items:

Alarm Clock: This is one of the crowning glories of my collection. I've never seen another one. It's in perfect condition. It comes with a battery and the alarm works (very loudly) - I've never taken it out of the box. It's fairly large sized - I'd say eight or nine inches. I've never seen anything like it since. 30$.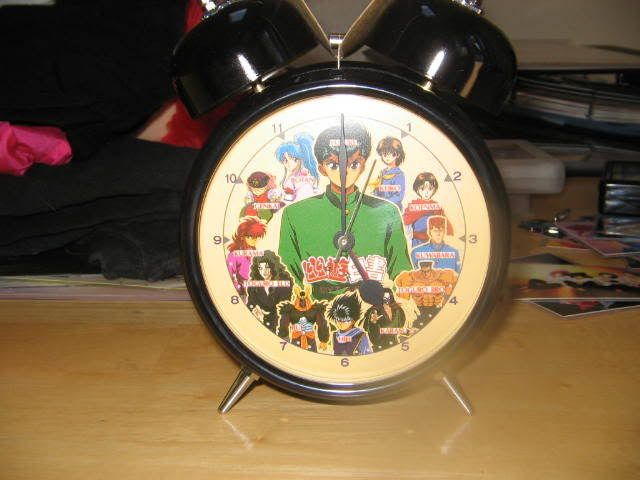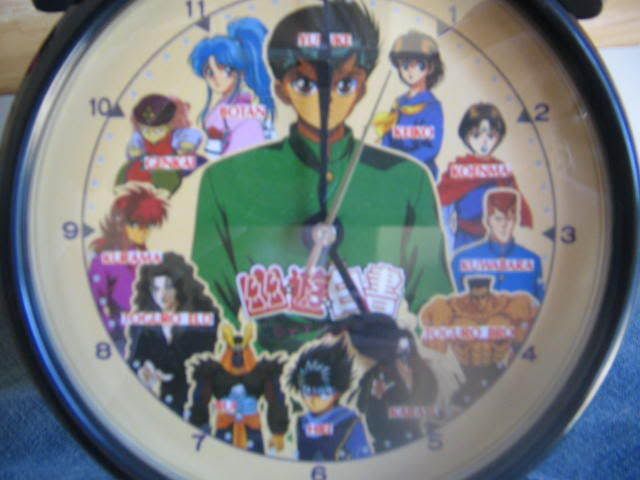 Pencil Boards: 10$/pc or 25$ for three.

Front/Back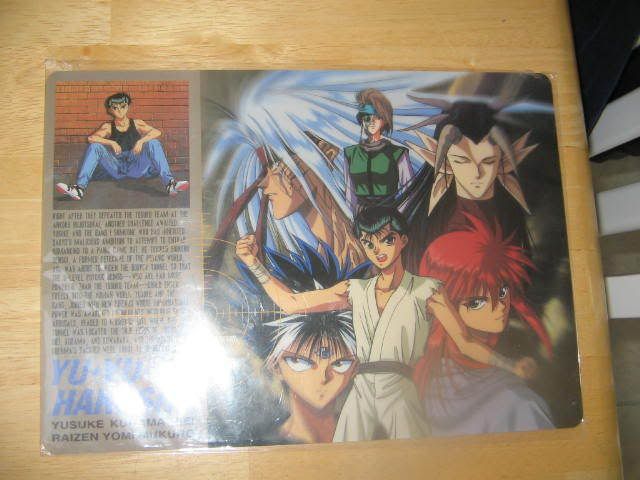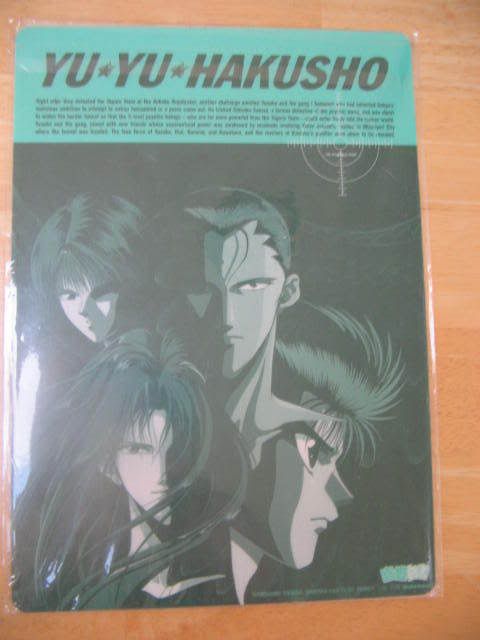 Front/Back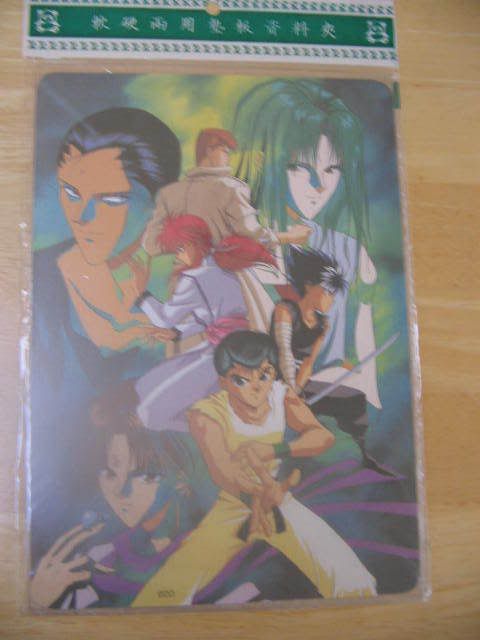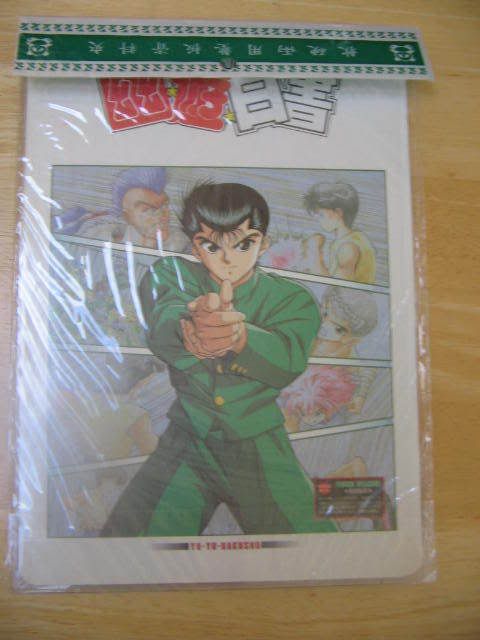 Front/Back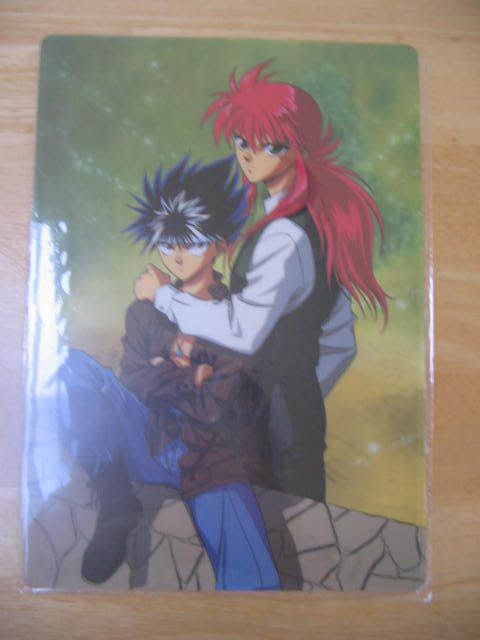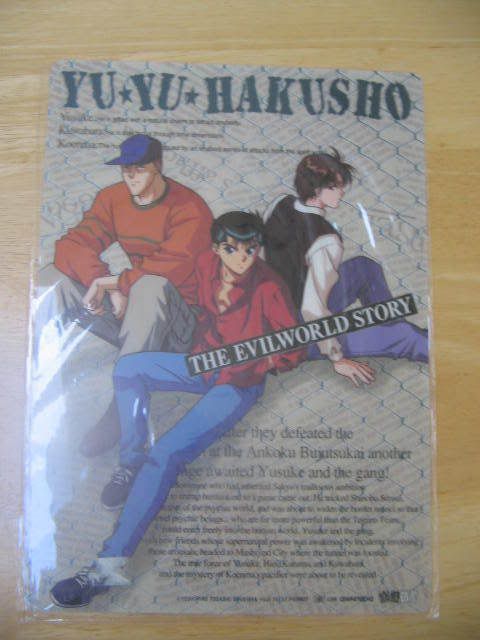 Cards: Playing cards, 10$ per pack, 2 for 17$, all three for 25$. Pack 1 and 2 are ordinary playing cards, with one image on the front and high quality images on the back for the suits. The third pack is some sort of YYH game - it's not quite as nice, but I'm pricing it at 10$ because it comes with a nice case and a little display pack.

Pack 1: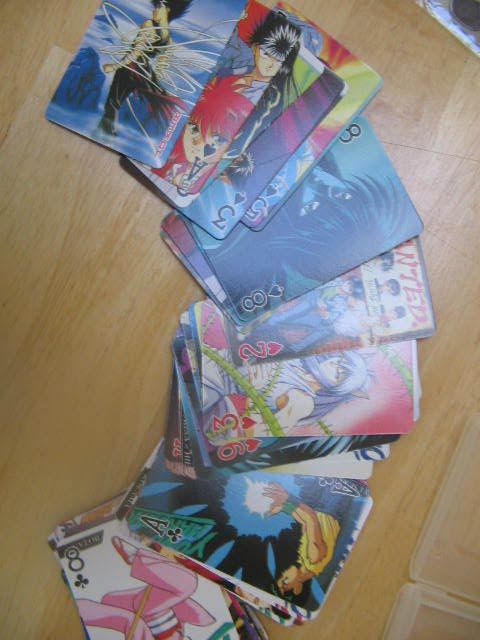 Pack 2: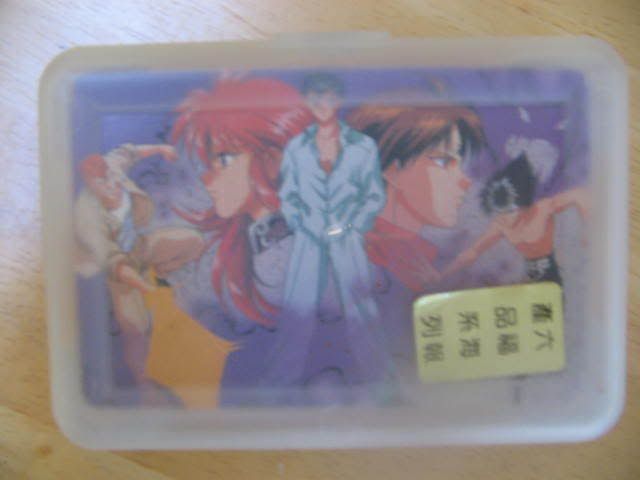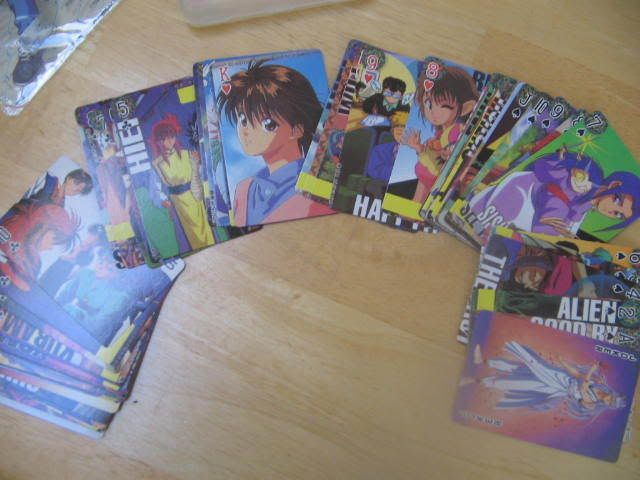 Pack 3: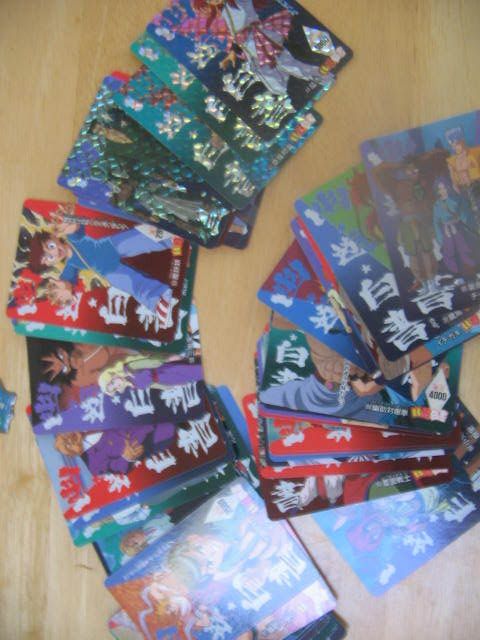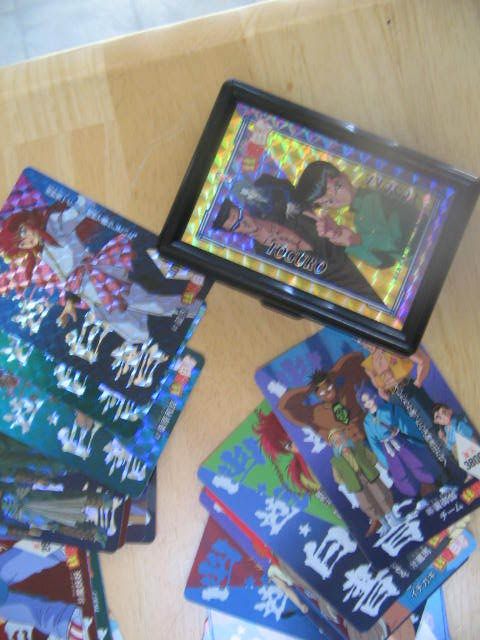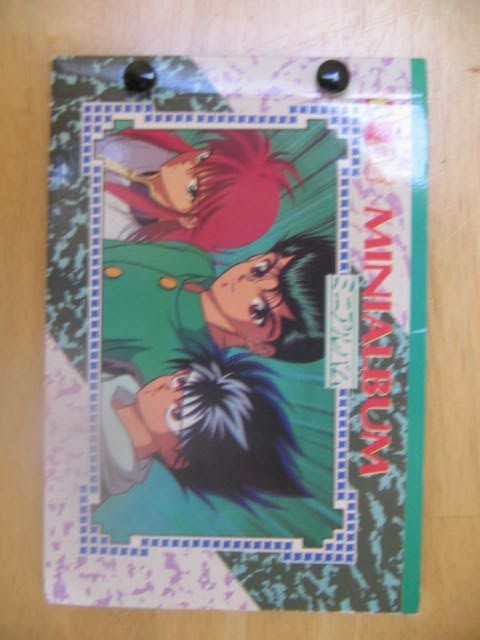 Pencilbox: Two layers, the side with the fire is the outside, the one with the blue faces in the background is the insert. 15$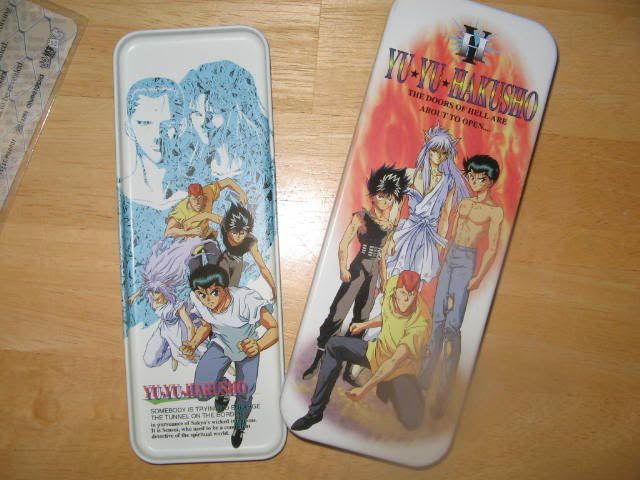 Cellphone Charm: Yusuke and Kuwabara. 5$ or if you get more then 30$ worth of other merchandise, I'll throw it in for free (first come first serve). Sorry about the poor quality of picture - it was really, really hard to take.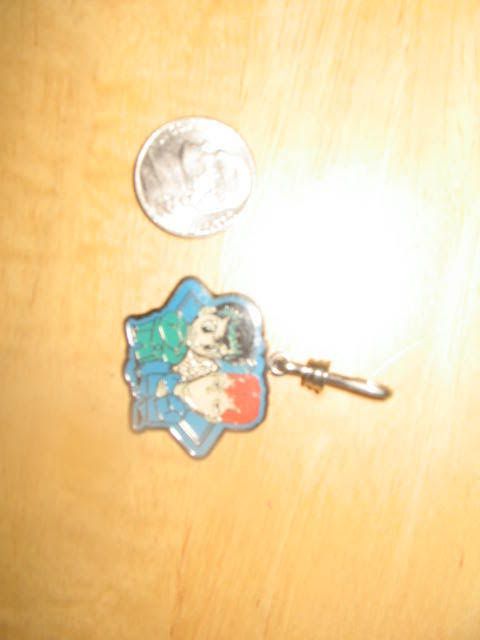 Laminated Cards: Sorry about the poor quality of pictures - these are really beautiful, high quality images, a bit larger then a playing card. 5$ for a single one, 3/10$, 5/20$.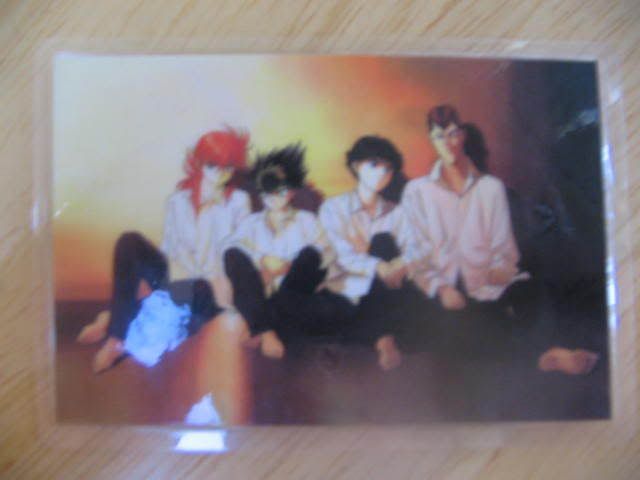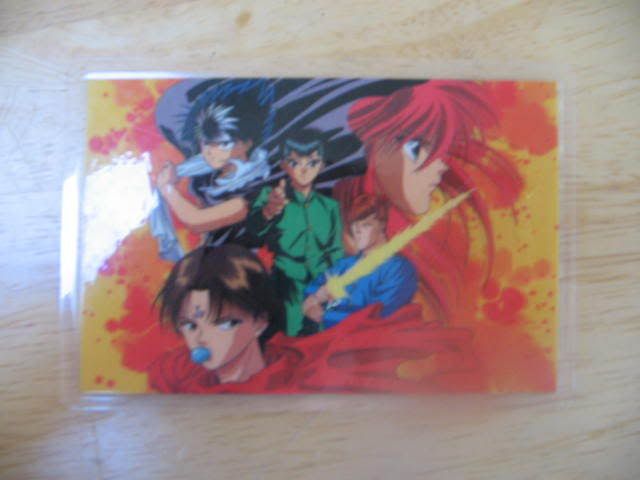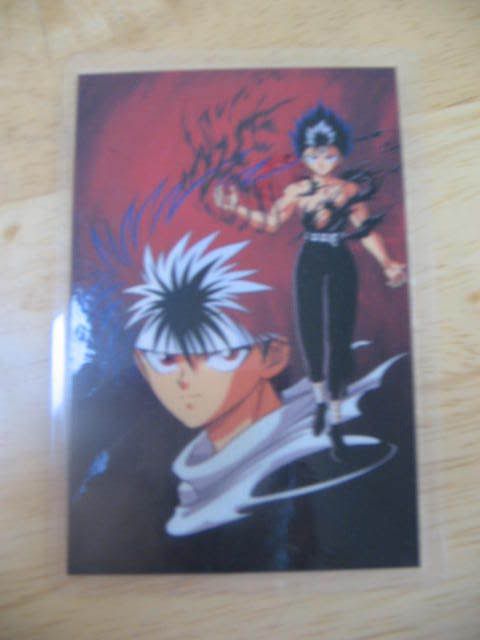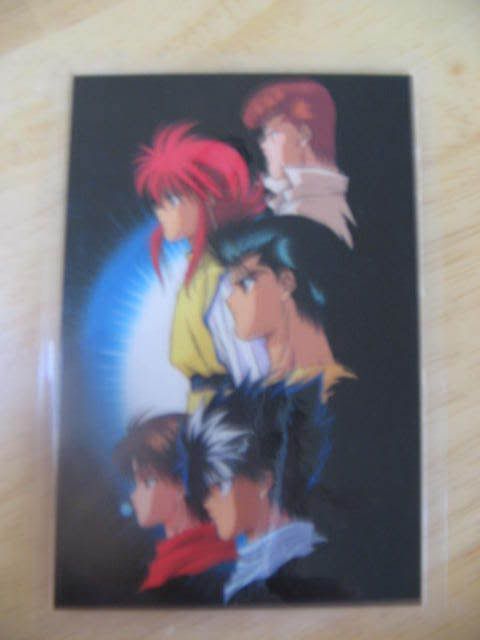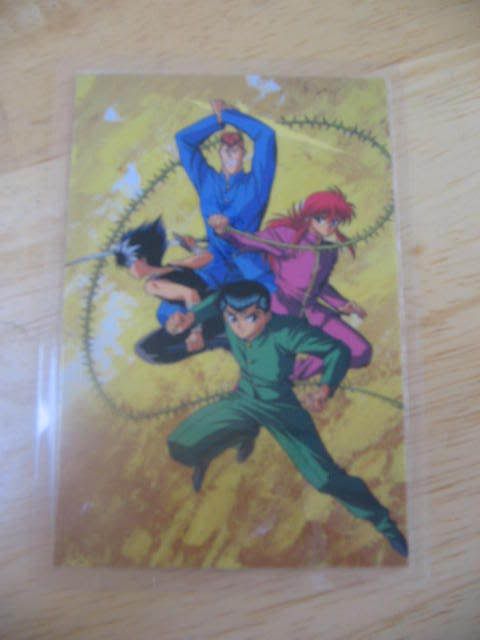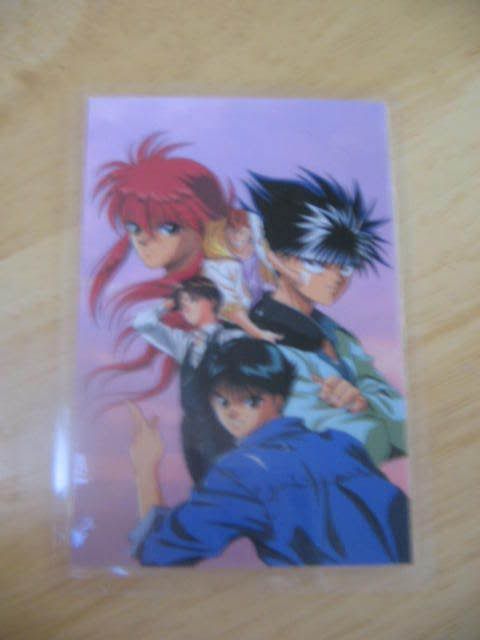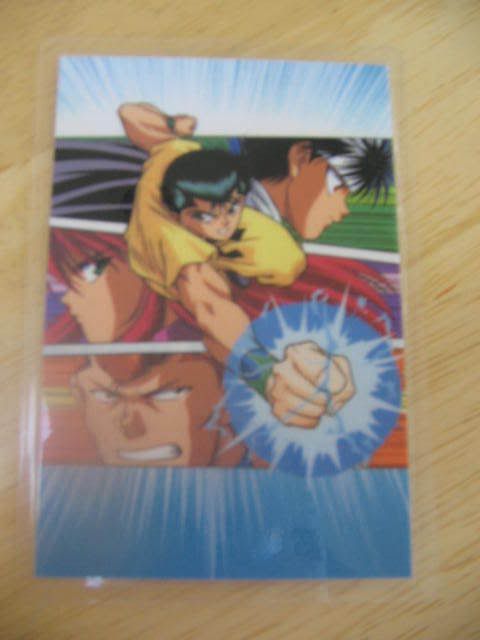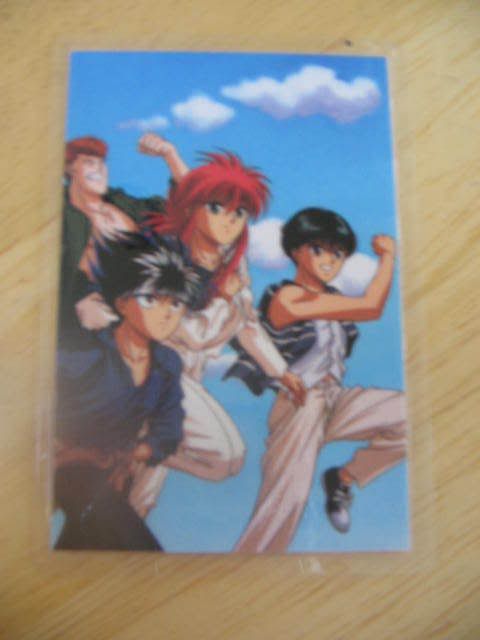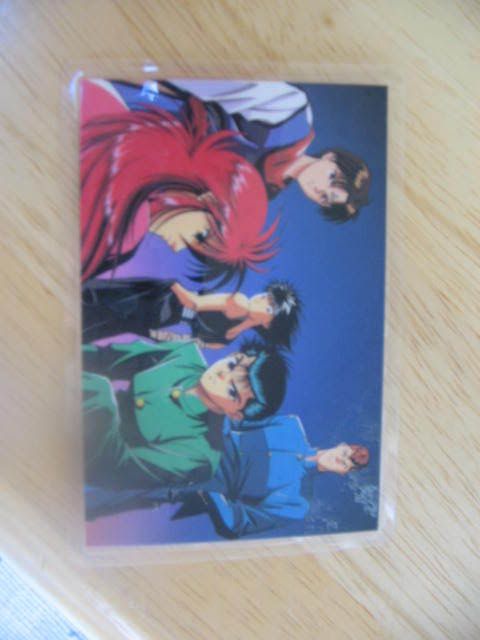 Neon Genesis Evangelion:

Pencilboard: 10$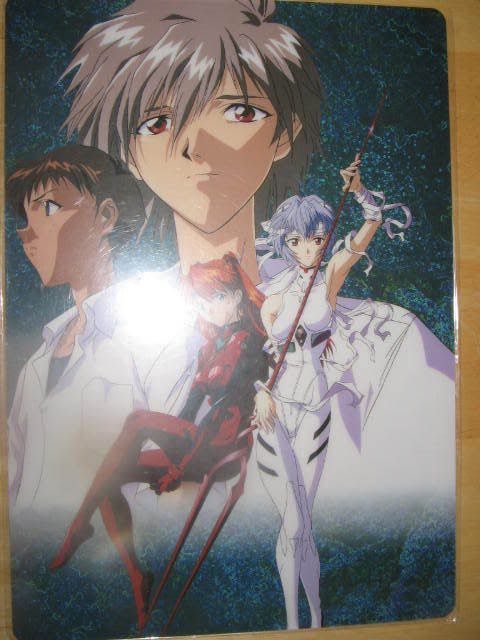 Laminated Cards: 5$/pc or 8$ for both.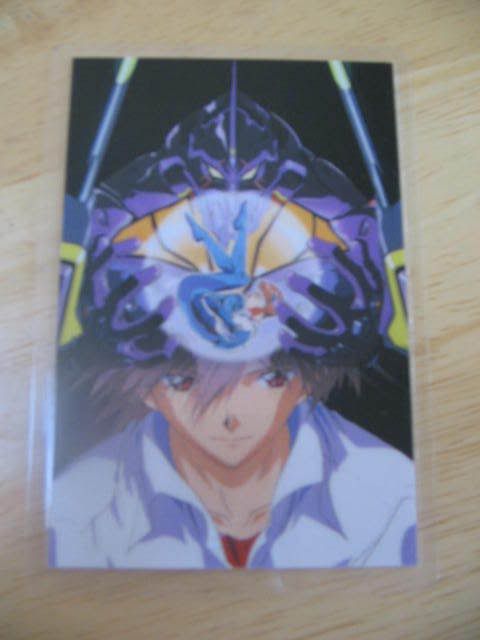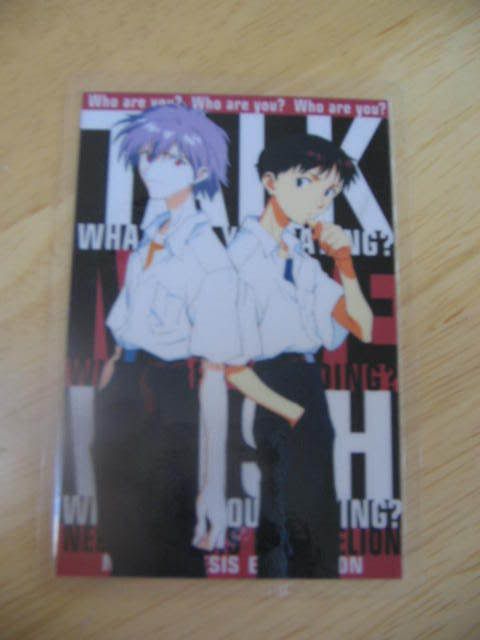 Tokyo Babylon:

Laminated cards: 5$/pc or 12$ for all three.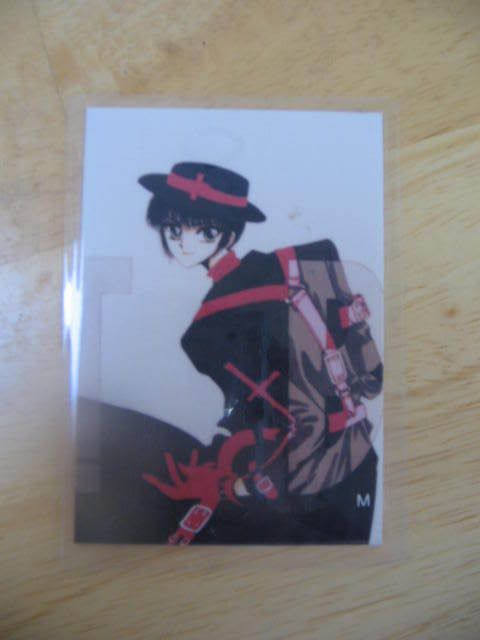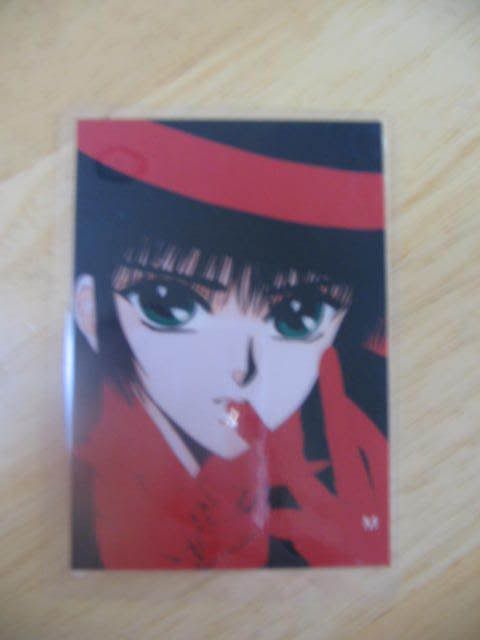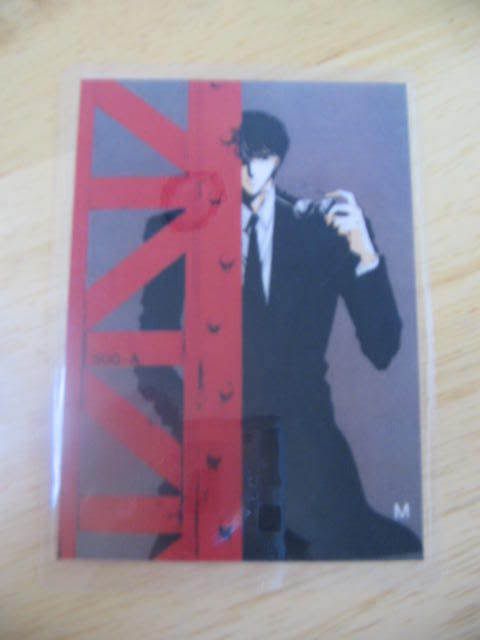 Weiss Kreuz:

Pencilboard: 10$

Front/back: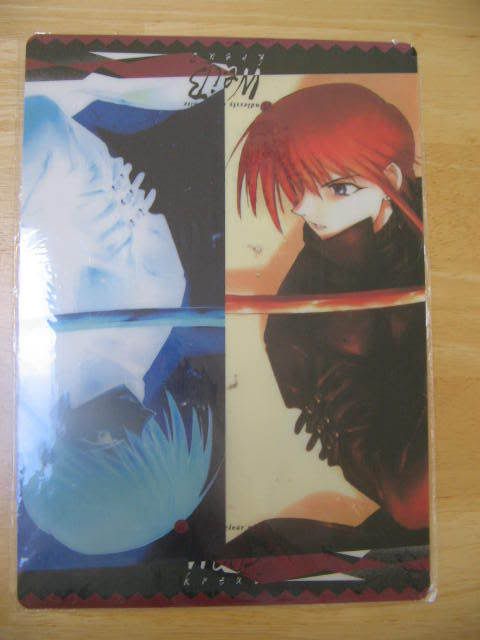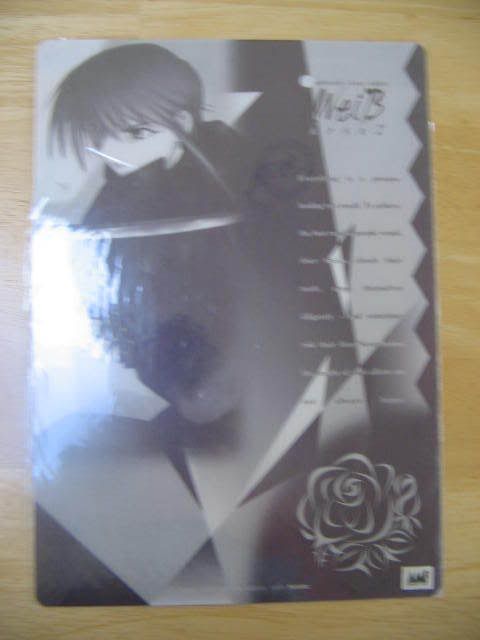 Front: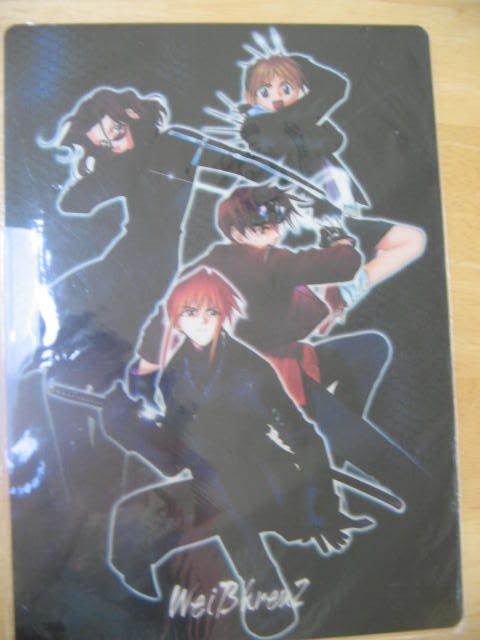 Rurouni Kenshin:

Pencilboard: 10$ (Front/Back)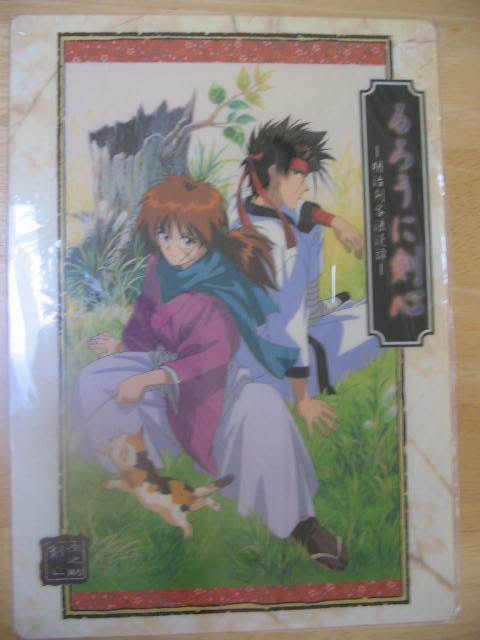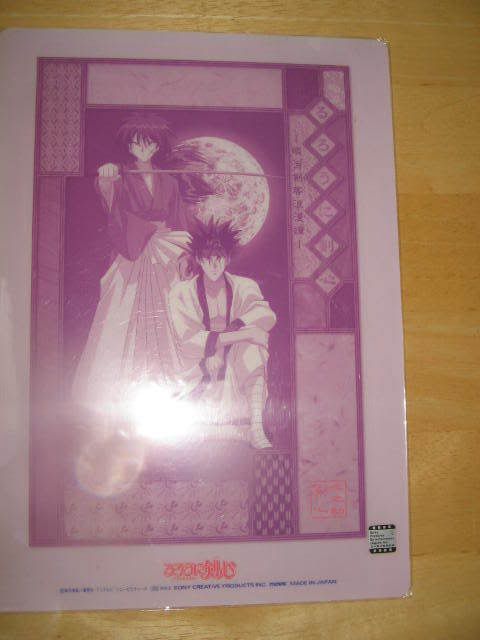 Fushigi Yugi:

Sticker pack: 5$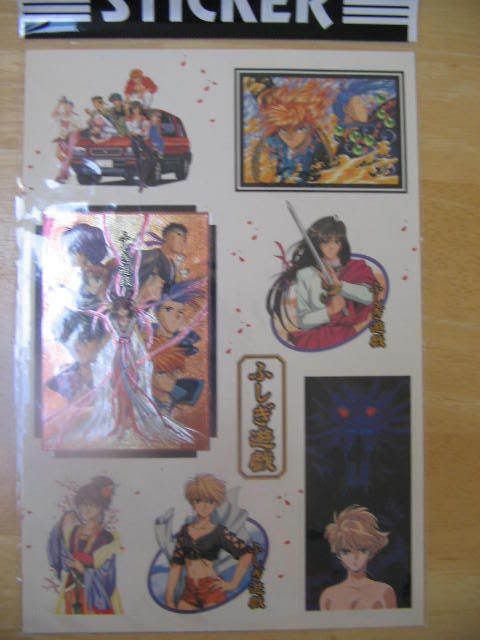 Wow, that took an incredibly long time. Anyway, please comment to ask questions, I'll respond as quickly as I can. Thank you so much!