Warning: This post contains images of male/male relationship, some explicit, some mild. Just... don't click if you're not into that. Otherwise, come right in :D :D

Prince of Tennis Doujinshi
including circles such as Jet Monster, Komeya, WaG, NANA and MICROMACRO. Pairings include Yamato/Tezuka, Inukai, SP, Oshitari/Atobe, Niou/Yagyuu and a random spludge of other pairings.

Please include your country of residence in your comments so I can calculate the shipping cost for you :D Payment by non-cc Paypal, please. Can't accept anymore CC paypal payments XD Prices negotiable withing reason.




Title: Double Impact! Recapture
Doujinka/Circle: Tatsukawa Kazuto/WaG
Description: Compilation of Double Impact 1-6 in one handy book. Yamato/Tezuka, 66 pages of love love love.
$20



Title: Otona ga Neta Ato de
Doujinka/Circle: Yamada Sakurako/Micromacro
Description: 30 pages of Inukai. Gorrrgeous Kaidoh :D :D
$10



Title: Every Day
Doujinka/Circle: Panda Fujimaru/Babel Panda
Description: Niou/Yagyuu, 34 pages. 1/3 novel.
$8



Title: 180 degrees
Doujinka/Circle: Panda Fujimaru/Babel Panda
Description: Niou/Yagyuu, 28 pages
$8



Title: Seigaku vs Hyoutei + Yamabuki dayo, Zenin Shuugou!
Doujinka/Circle: Sakura Sakuya/Jet Monster
Description: 22 pages of lol, really. Some Inukai & SP bonding in the cinema, Fudomine problems, Sengoku going all Casanova on Atobe's (and even Akutsu's) ass, and Oshitari/Atobe.
$12



Title: Twentyfour-seven
Doujinka/Circle: Amano Kai/Kai@Az
Description: A beautiful 44 pages of Inukai.
$9



Title: Bitter Sugar 2
Doujinka/Circle: Yamada D Yonezou/Komeya
Description: 38 pages. Book 2 of 3. Inukai.
$13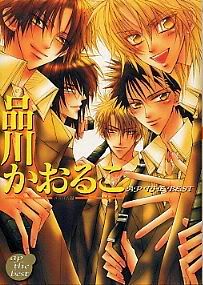 Title: ap the best Shinagawa Kaoruko -NANA hen-
Doujinka/Circle: Kaoruko Shinagawa/NANA
Description: Thick anthology with series like One Piece, Naruto and Prince of Tennis. Includes pairings like Zoro/Luffy, KakaIru, Ohtori/Shishido, Atobe/Shishido, a little bit of Hiyoshi/Shishido and Oshitari/Atobe. I like her Choutarou. He isn't a weepy uke by any means. He's broad and strong and he's just infatuated with Shishido-san and aww :-*
$15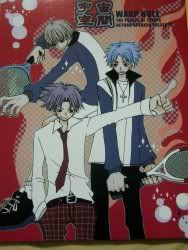 Title: Warp Hole
Doujinka/Circle: Azco/Retoro Speaker (I think)
Description: Hyoutei-centric gag! Haha, Sakaki sleep-drowning in the tub XD Hiyoshi's magical change in hairstyle! Atobe-fawning and some Ohtori/Hiyoshi!
$7

Also selling Descendants of Darkness Volume 1 and Lupin IIIrd Volume 2 at $5 each.