edit: I reduced some price
Hi,
I'm selling some of my stuff. All price are
without shipping!
I only accept payment via Euro cash or bank transfer to my bank account in Austria.
Aya Ueto - Pureness (5 Euro)
Aya Ueto - Binetsu (5 Euro)
both cds are in perfect condition and originals from Japan. If you take both the price will be 8 Euro.
Ruby Gloom purse (7 Euro)
never used
Weiß Kreuz Filmbook
- Story & Charakter (8 Euro)
with postcard, in perfect condition
Bag in Anime Style
(6 Euro)
to wear on your shoulder or in your hand, the lenght of the strap is not
adjustable; never used
size: 18x18x5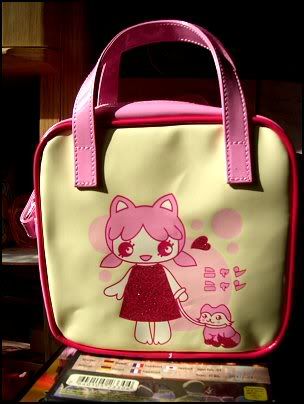 Tokimeki Memorial Shitajiki
(2 Euro)
http://img.photobucket.com/albums/v25/MilkyWay85/Animexx/shitajikib.jpg
http://img.photobucket.com/albums/v25/MilkyWay85/Animexx/shitajikia.jpg
Tenshi in Tokyo
(Anime tape NTSC) (4 Euro)
http://img.photobucket.com/albums/v25/MilkyWay85/Animexx/tenshiintokyo.jpg
Edgar Allan Poe
(English version)
- Secret Tales
- Spirit of the Dead
each: 3 Euro, if you take both: 5 Euro
I never read them cause I didn't understand half of the words ^^;