Hello everyoneeee~
I really just need to get rid of this stuffs!
I will gladly give pictures and more info upon request, make an offer if you would like. :3


Selling my gorgeous Freya costume from Chobits. . . I am an award winning cosplayer, having cosplayed since 2003. I can assure the quality of this costume =3

My measurements are 32C-22-34 and I am 5' 2" and a half XD However, since it is a corset the measurements of the dress can fit a VERY WIDE RANGE OF SIZES.

Bust should be a C cup or Below, and waist is adjustable as it is fully corsetted up the back, hips are pretty much free.

The only neccessity is that you are below 5' 3" XD She does not fit me because I have become too tall, and the waist is too far up on me, so as long as you are shorter, it should be fine.

The costume cost me about 200 dollars to make between fabrics, patterns, buckles, accessories and such. ToT

The dress is made of a heavy, beautiful crepe satin and the belts are all made of pleather. The belts all have hand inserted grommets and all of the studs and buckles are handpainted.

So here is what it comes with. . . .

1 pair of handpainted hairspools

1 headpiece with attatched Chii ears and accented with handpainted studs

1 collar which velcros and is attatched with 2 buckles

1 dress with attatched belt, it buckles clothes at the side, the top is boned and ribbon laces up the back. It is also accented with the studs, along the top of the corset and along the points on the 2 tier skirt.

2 Sleeves with attatched belts, they are attatched to the bell sleeve pieces with a strap of pleather. (This is coming undone a bit.)

2 wrist corsets, well, forearm, these each have 2 belts for closure

1 toulle underskirt cut in an accurate zigzag pattern

1 pair of thigh highs with attatched garter straps (garters are not included)


Its a beautiful costume and very accurate to the design, I am very sad to part with it. T-T



PRICE : I am looking for around $150 for this, but I am very open to offers! I WILL ACCEPT 120 BECAUSE I nEED MONEY XD

PICTURES :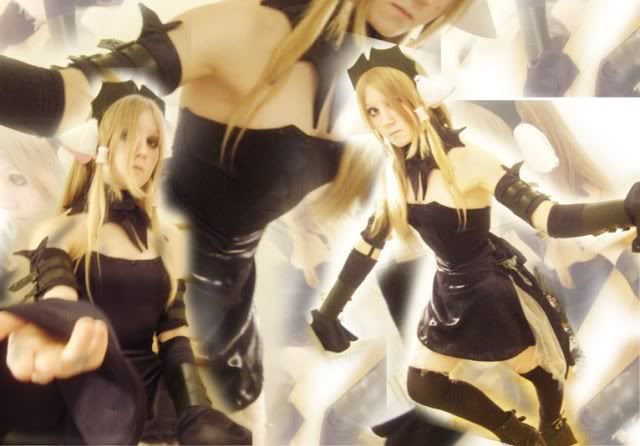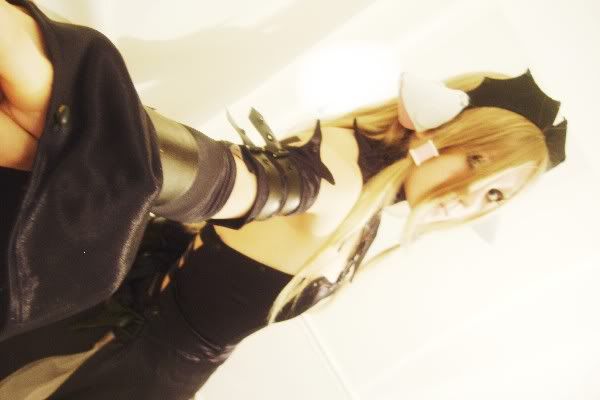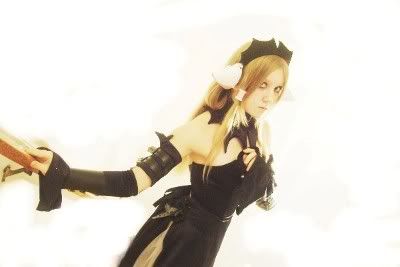 CLOTHES

I <3 Kyo Shirt - $7 Shipped - Size M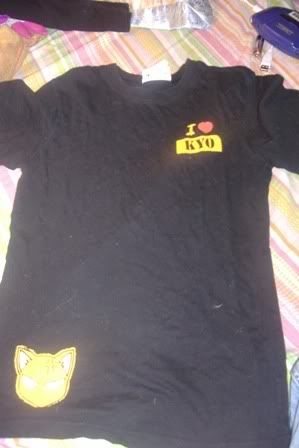 Princess Ai Shirt - $7 shipped - Size M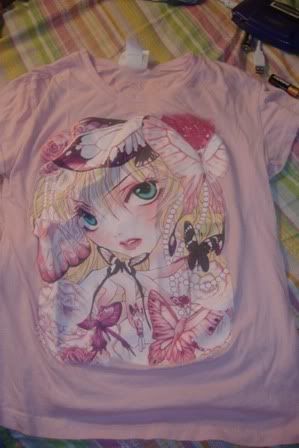 MANGA - $4 + $2 shipping = $6 each

Naruto - 1
Petshop of Horrors - 1,2,3
GALS! - 1,2
Pita Ten - 1
Pita Ten Fanbook - 1
X/1999 - 1,2
Little Queen - 1
Shaman King - 1
Baby Birth - 1
Shoujo Anthology - 1
WISH - 1
Seven of Seven - 1
Rurouni Kenshin -1,2
Ceres - 1,2
B.B. Explosion - 1
Inuyasha - 1,2
Kare Kano - 1
Fushigi Yuugi - 1
Ranma 1/2 - 16
Hikaru No Go - 1
Prince of Tennis - 1,2
Gravitation - 1
Digi Charat - 3
Model - 1,
Full Moon - 1
Mink - 1,3,4
Kingdom Hearts - Boxset - ( 1-4 ) $20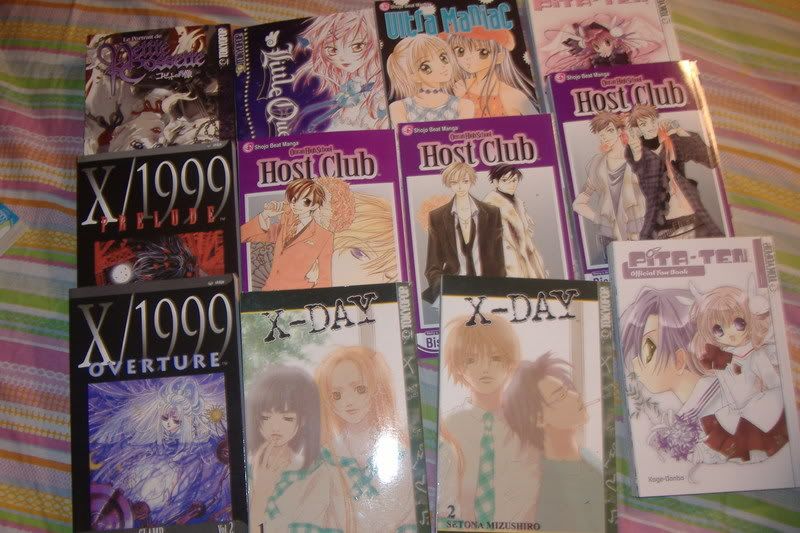 (I will provide specific pictures upon request)



[B]DVDS - Make an offer :3[/B]

About 5$?


InuYasha: Down the Well (Episode 1-4)
YuYuHakusho: Point of No return (cracked case)
YuYuHakusho: Artifacts of Darkness
Super GALS! Dvd 1
Gundam Wing Endless Waltz
World of Narue Collection Boxset
Cowboy Bebop Boxet (knock off)
Tiny Snow Fairy Sugar Boxset - 25$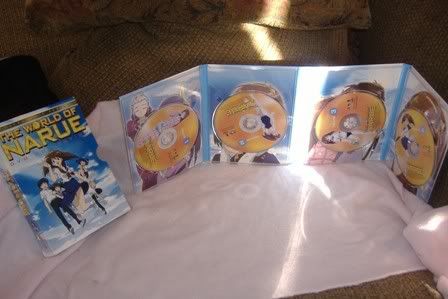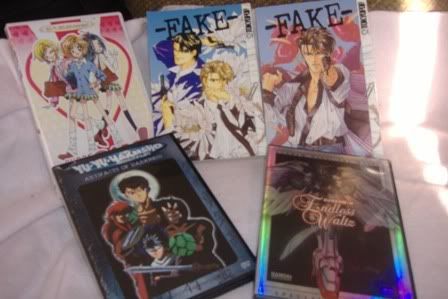 Video Games :
Death by Degrees (No case) - $8 shipped
Oni (no manual or original case ) - $5 shipped
Summoner (No manual or original case ) - $5 shipped
Metal Gear Solid 2 - (Complete) - $1o shipped
Devil May Cry 3 - No Case - $10
Shadow of Colossus - No Case - $10
Final Fantasy 8 - Complete - 15$

[B]Cosplay things: [/B]

Chii Ears - [URL="http://images.cosplay.com/gallery.php?cat=13520&member=16883"]http://images.cosplay.com/gallery.php?cat=13520&member=16883[/URL] - I can make Chii ears for $7 a pair with shipping, in any colors you would like, they will come on a headband, or not if you don't want one XD.

Hairspools - $4 a pair shipped

Juri Wig - $30 obo - This wig is great but, my Juri costume is on hiatus. DX Originally styled by Setsuna Kou.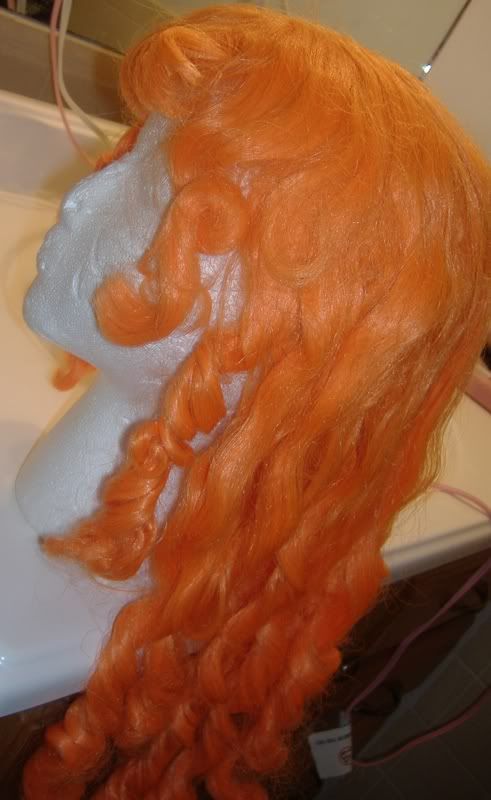 [B]Random : [/B]

Monokuro Boo cell phone holder - $8 shipped -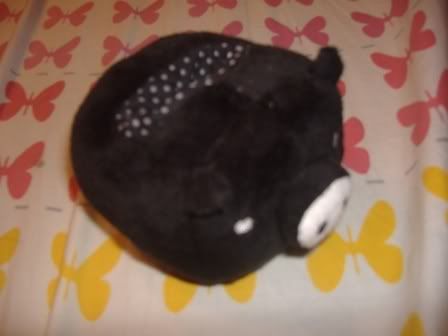 Thanks so much!