Just got some cute new bento stuff in <3

Prices do not include shipping ~ so please state whether you're in the US, Canada, or other International for a quote

Non-credit card Paypal or POSTAL money order only. (if you MUST pay by credit card, you can either get me an amazon or ebay gift certificate, or you can cover the PP fees.)

ALL NEW AND NEVER USED.

Hello Kitty Bento Box: $4 ~ 2 available
Measures approx 5" x 5" x 3. So it's a nice size where you can fit quite a bit inside. Pale pink top and gorgeous hot pink bottom.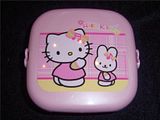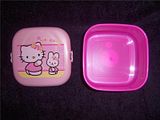 Hello Kitty Onigiri Wrappers with Labels: $3 ~ 4 packs available
Enough to wrap 20 onigiri! Will keep your seaweed separate from your onigiri till it's time to eat! Comes with 20 Hello Kitty head shaped labels to seal the wrapper, also so you can label the flavor of the onigiri.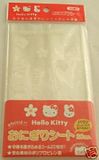 Triangle Onigiri Mold: $3 ~ 2 available
This is a set of 2 Triangle Onigiri molds. Each mold measures approx 3" x 3".
To mold your onigiri: Scoop some rice into your molds and then pack it down tight with the reverse lid. Then press down onto the triangular tabs to push the molded rice out. If you've ever made onigiri the old-fashioned way, these molds will save you time, and save your palms from being burnt.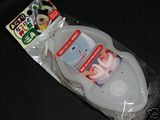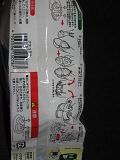 Pink Bunny Bento Set: $10 ~ 1 available SOLD to
volathemonster ~ MAY BE ABLE TO GET MORE!!!
Double layer bento box. (2 layers for food, lid has space to hold fork and spoon) Bento box measures approx 3.5" x 6.5" by 3.5" deep. Also comes with fork and spoon. Fork and spoon measure a little over 5.5" each.


Quick US shipping estimates:
Bento Set (box & utenstils) will be about $4.
Bento box will be about $3 shipping
Onigiri wrappers will be about $1.50-$2 shipping depending on how many packs you get
Onigiri molds will be about $2 shipping

Also, more stuff here: My GSJ Sales Post of Doom! (it's thumbnail image heavy ^.~)