I have some Japanese telephone book mangas for sale. I also have loose furoku from various shoujo series. The more you buy, the cheaper your total!
TELEPHONE BOOK MANGA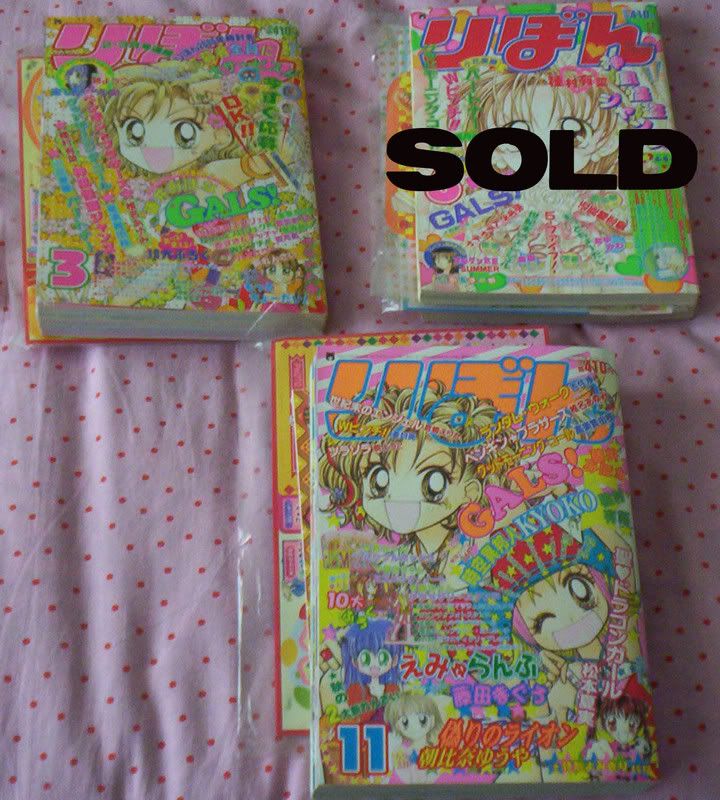 From top, left to right:
-Ribon 3/2000 Furoku is somewhat complete, it is missing the cardboard box you put together. $2
-Ribon 6/2000 Substituted furoku, which is stationary and a cardboard box. $2
SOLD
-Ribon 11/2000 Not complete furoku, missing box $2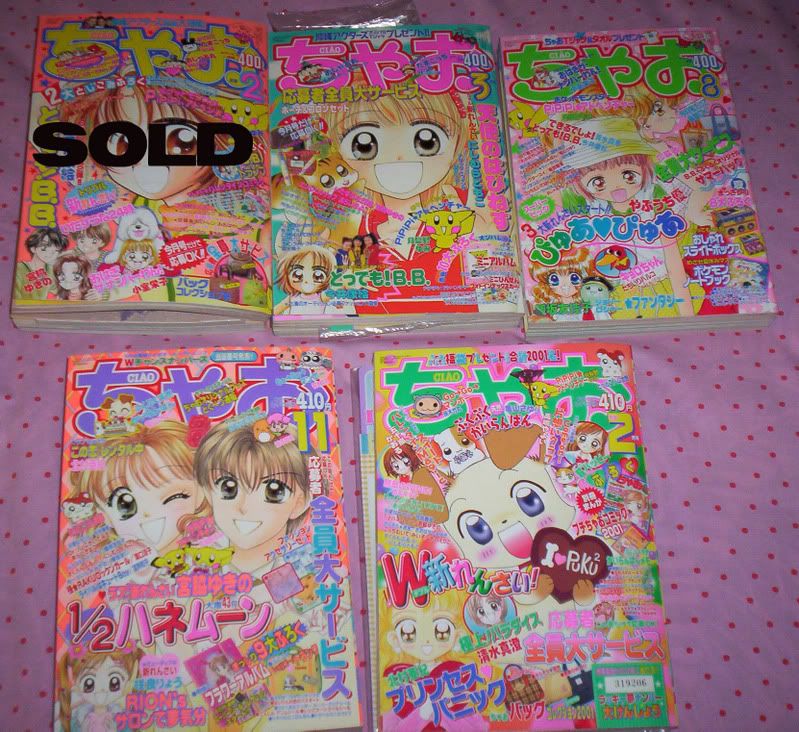 From top, left to right:
-Chao 2/99 Comes with trump card set and an extra comic. Furoku is NOT complete. $2.25
SOLD
-Chao 3/99 Comes with plastic photo album and stationery. NOT COMPLETE furoku $2.25
-Chao 8/99 Substituted furoku $2
-Chao 11/2000 Comes with photo album and stickers. Not complete. $2.25
-Chao 2/2001 Complete furoku $3.50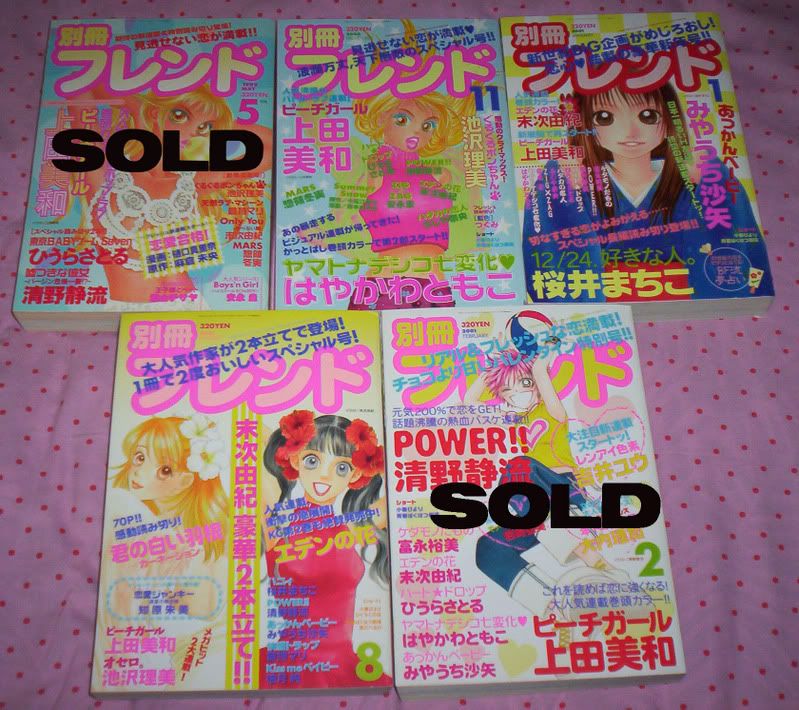 These do NOT come with freebies. From top, left to right :
-BetsuFure (Best Friend, which ran Peach Girl) 5/99 $1.25
SOLD
-BetsuFure 11/2000 $1.25
-BetsuFure 1/2001 $1.25
-BetsuFure 8/2001 $1.25
-BetsuFure 2/2001 $1.25
SOLD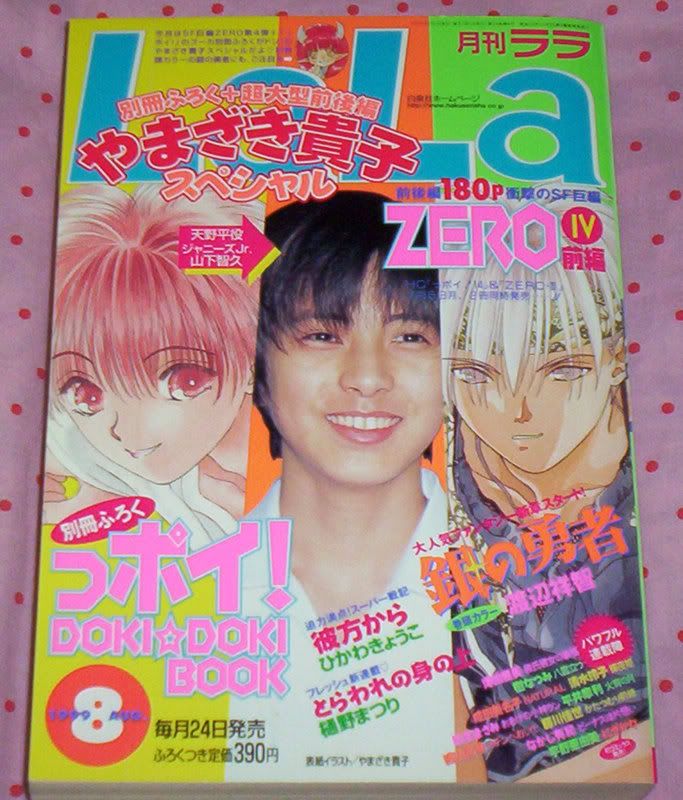 Lala issue 8/99 No freebies $1.50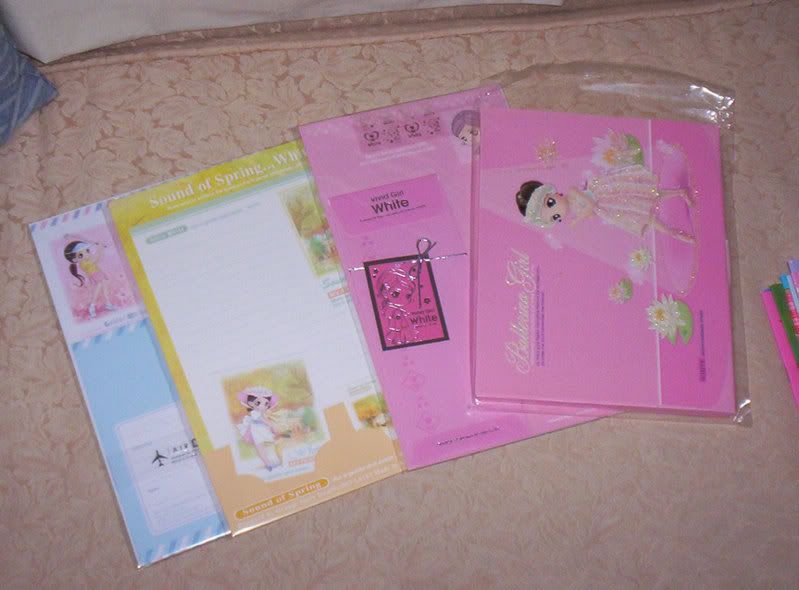 -3 "White" stationary sets from Orange story $1.50 each
-Stationary White Ballet set, also from Orange story. It comes with stickers, envelopes, a large notepad in its own box (there is writing on the flap)$3.75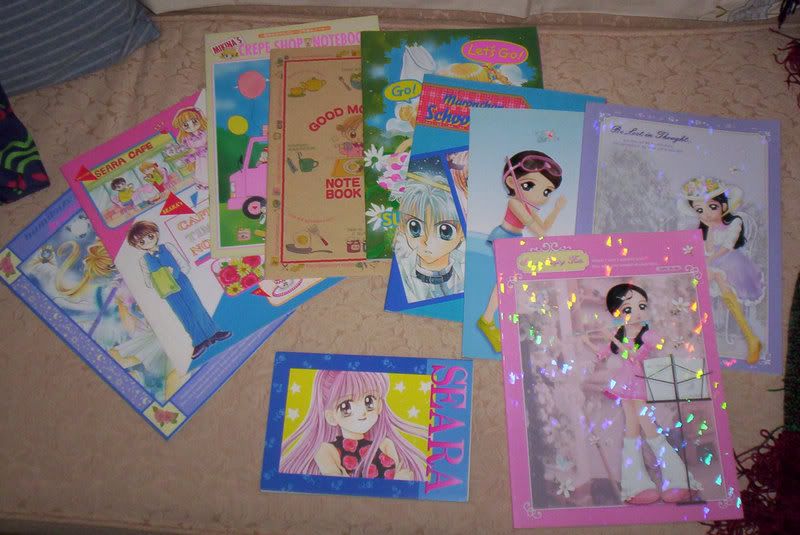 -Blank notebooks, 3 from Orange story and the rest are furoku (freebies) from various magazines. Series include Kamikaze Kaitou Jeanne, Baby Love, and Good Morning Call. $1.50 each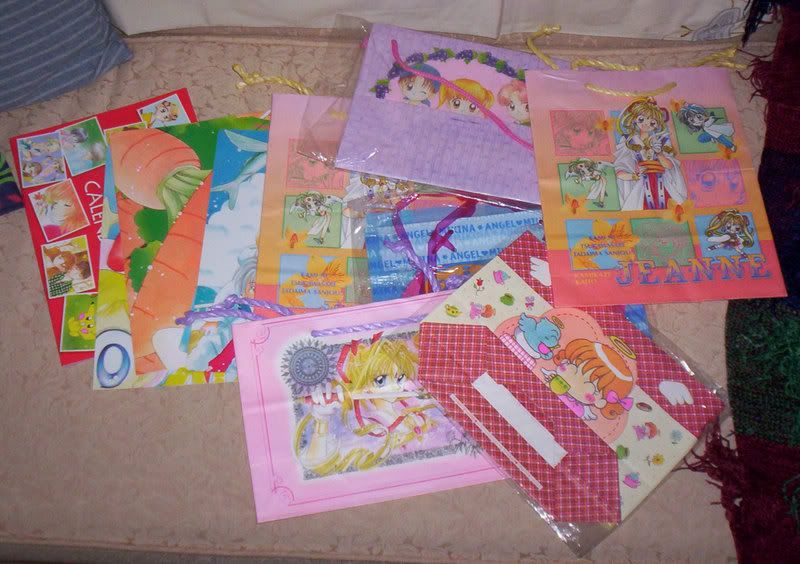 Various paper bags from different shoujo series, including Kamikaze Kaitou Jeanne. There's also a couple of posters and an old calendar full of illustrations.
SHOUJO MANGA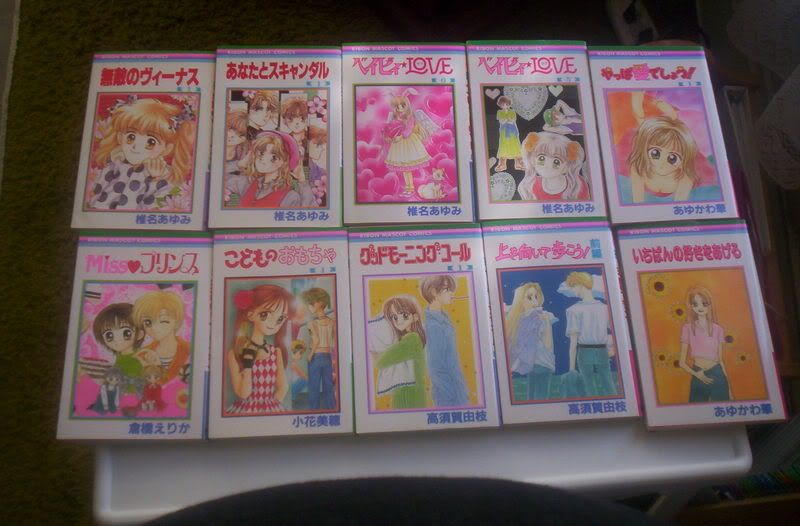 Top L to R:
Shiina Ayumi - Muteki na Venus 1 , Anata to Scandal 1, Baby Love 5, and 6
Ayukawa Hana - Yappa Aideshou
Kurahashi Erika - Miss Prince
Obana Miho - Kodomo no Omocha (Kodocha) 1
Takasuka Yue - Good Morning Call 1, Ue wo muite arukou
Ayukawa Hana - Ichiban no sku wo ageru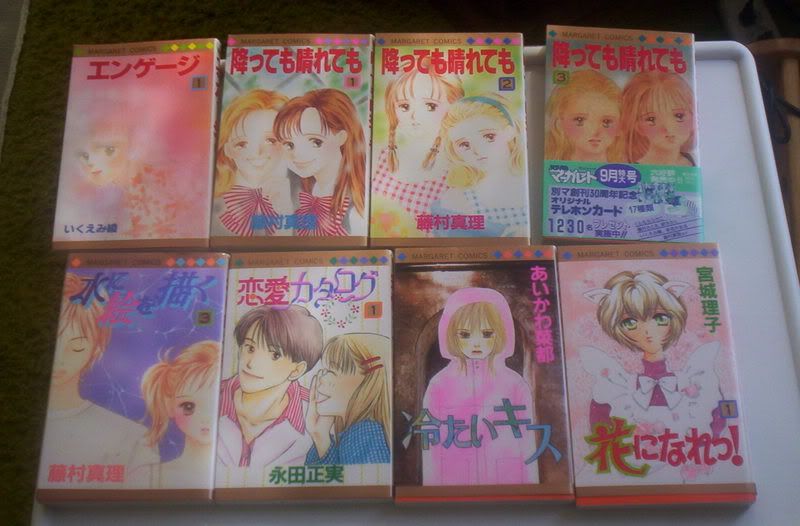 Ikuemi Ryo - Engage
Fujimura Mari - Futtemo Harettemo (Come Rain or Shine) 1-3, Mizu ni e wo kaku 3
Nagata Masami - Renai Catalog
Aikawa Natsu - Tsumetai Kiss
Miyagi Riko - Hana ni Nare!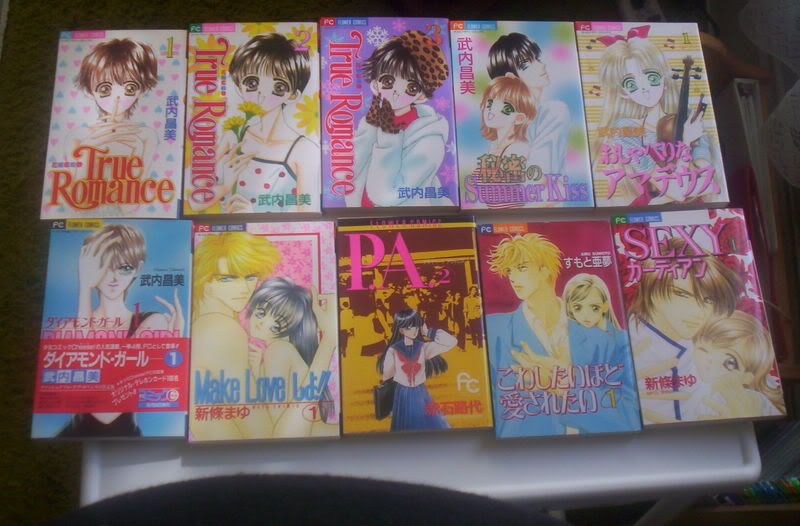 Takeuchi Masami - True Romance 1-3, Himitsu no summer kiss, Oshaberina Amadeus 1, Diamond Girl 1
Shinjou Mayu - Make Love shou!
Akaishi Michiyo - P.A. (Private Actress)
Sumoto Amu - Kowashitai hodo aisaretai
Shinjou Mayu - Sexy Guardian 1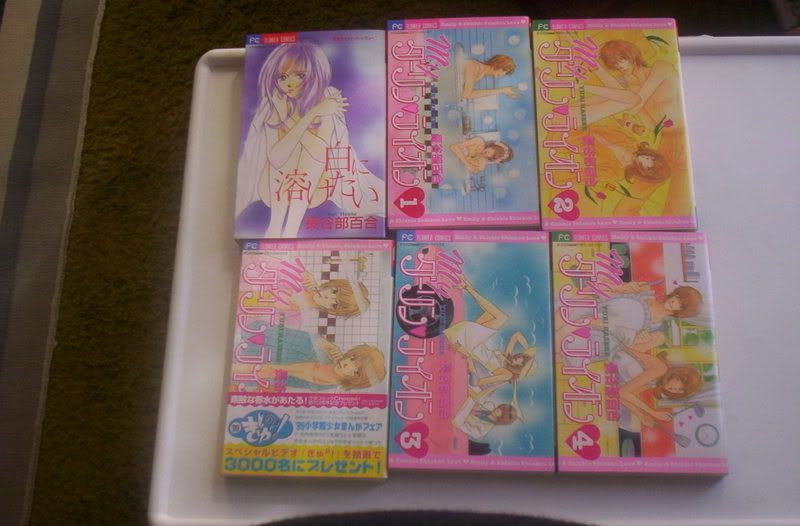 Hasebe Yuri - Shiro ni toketai, My darling lion 1-6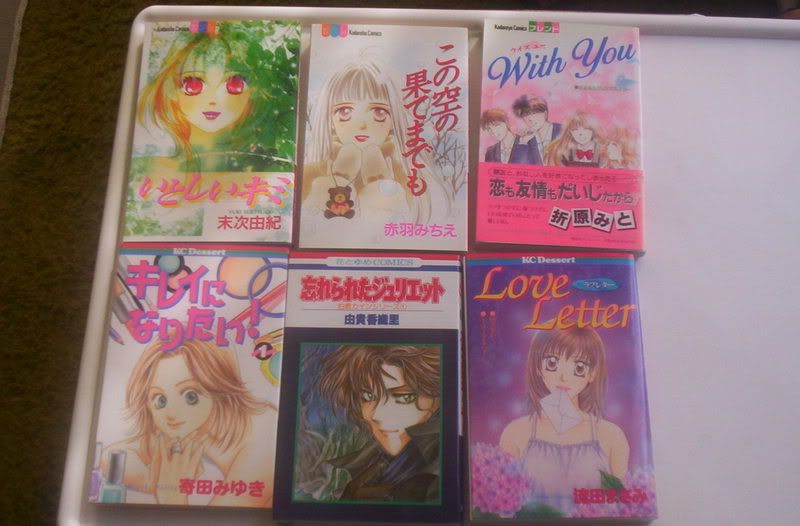 Suetsuga Yuki - Itoshii Kimi
Akabane Michie - Kono sora no hatemademo
Orihara Mito - With You
Kirei ni Naritai - Yorita Miyuki
Kaori Yuki - Wasureteta Juliet
Nagareda Masami - Love Letter
All of these are at least 10 years old, with comedy/romance/drama/school life type stories. Since I just want the room, $1 each!
If you want to buy it all (I can dream, right?), I'll include the Orange Story stationary and most, if not all of the blank books for FREE! I'll also knock off at least 40% of the price (not including shipping) if you buy everything. So buying more helps!
And now for something a little different: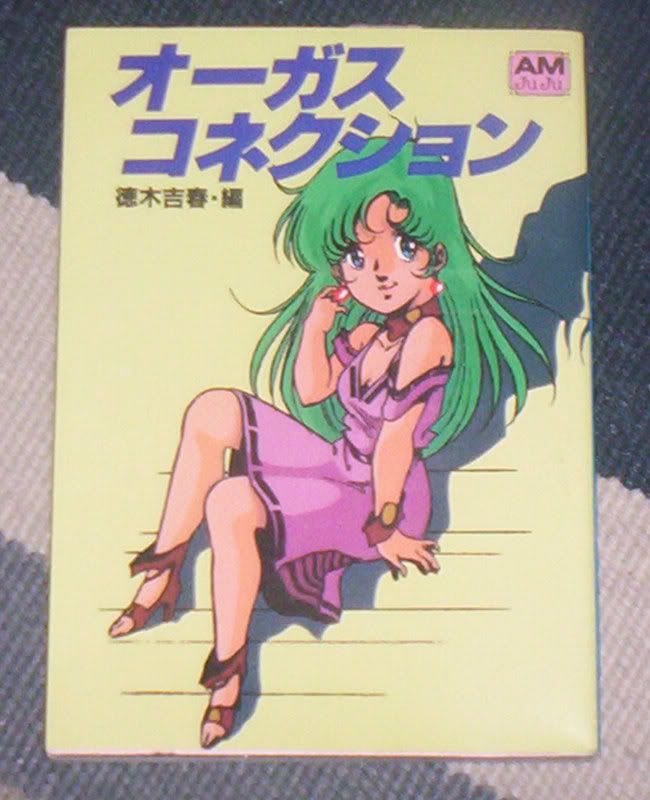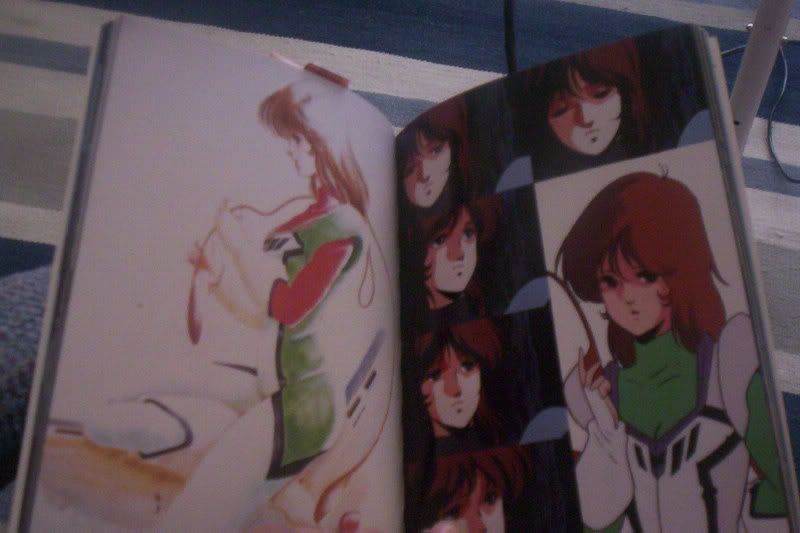 Orguss Collection book from AM Juju. Published in 1983, it has pictures of all the characters and more from Orguss, as well as illustrations from Haruhiko Mikimoto, who did character design for the original Macross(Robotech) and Orguss. Great book, letting it go for cheap because I wound up with 2. $4.00
TERMS
-I accept Paypal (credit and non credit)ONLY. I may make an exception for money orders or concealed cash if you can show me positive online feedback. If a money order or concealed cash is agreed upon, it MUST reach me by the 7th day, otherwise you lose your items. Sorry for being so strict, but several people have flaked out on sending payment, and I can't wait forever.
- I ship anywhere as cheaply as possible, as long as you pay for it. (If you do buy everything, I may have to split it into 2 shipments, because that'll be very heavy for 1 box)
You can check my feedback on Ebay
here
You can reply here (faster), or email me at utenaten 78 AT yahoo DOT com (remove the spaces) if you're interested in anything.