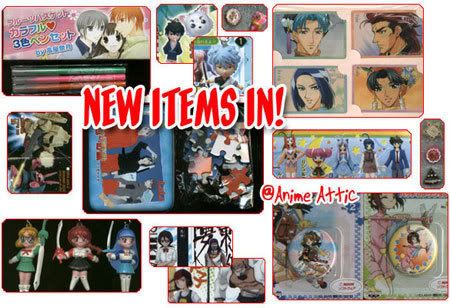 New from the 2 most recent updates:
Hitman Reborn Swings, Cardcaptor Sakura Swings, Sailor Moon Star Lights Cel DIY Straps, Hana Yori Dango DIY earrings, Corrector Yui Plushies, Ojamajo Doremi Plushies, Rurouni Kenshin Plush Keychains.
$6 doujinshi sale! (Death Note, D.Grayman, Fullmetal Alchemist, Gundam Seed, Harry Potter, Hikaru no Go, Naruto, Prince of Tennis and more!)

My Ebay Auctions ~ tons of yaoi promo items and some furoku goods. Ending TODAY (10 hours)

Still Available:
Mini Dessert Earrings, Angelique Clear Idol Card Sets, Harukanaru Enamel Pin, Gintama Swings and Celstraps, Naruto Celstraps, Fruits Basket Furoku Items, Magic Knight Rayearth Keychains, Mamotte Shuogugetten Gashapon, Cat Girl Nuku Nuku Keychains, Gundam Gashapon, Osamu Tezuka Badge Pins: Black Jack, Astro Boy, Kimba, Princess Knight, etc, CardCaptor Sakura Badge Pins: Sakura, Tomoyo, Kero, Li-kun, Yu Yu Hakuso Playing Cards, Yu Yu Hakusho Badge Pins: Yusuke, Kuruma, Koenma, Hiei, and Group, Random Anime Trading Card Grab Bags, Ouran Host Club Makeup Bag, Ouran Host Club Flake Stickers, Ouran Host Club Tote Bag (restocked), Sailor Moon Pins, Sailor Moon Pencil Board, Sailor Moon Pencils, Bleach Gum Cards/Bookmarks, Bleach Sticker Tape Rolls, Kyou Kara Maou Promo Posters, Kyou Kara Maou Birthday Mascots, Hello Kitty Chopsticks, Hello Kitty Hair Ties/Pony Tail Holders, Badtz Maru and Lucky Star Lead Pencils, Iwako/Japanese Erasers, Kenshin Boxed Goods sets and more!

( Click to see the new stuff!) - also, check the top of the page for links to more stuff for sale! XD


Newer ( Bento Stuff) added!