I can only accept concealed cash. All items are new or "old", but have been never been used or were just lightly used- and as such in GREAT condition. Please don't feel afraid of making an offer as I accept offers. Also feel free to tell me if you no longer want the item however interested you seemed at first, I won't bite you for an abrupt "never mind". This allows me to free an item and try selling it again. If I do not receive a notice from you about an item after 2 weeks with no information on payment status the transaction will be void. I ship from the US, but am willing to ship internationally. Thank you.

Most prices do not include shipping, unless noted; should you wish to know the total, provide item information and your zip code. I ship your purchase once I receive your payment.

If you have questions you don't want to ask in comments may be sent to my email address: taishonagisa@msn.com

All sales are final.

InuYasha
Inuyasha 1st Season Box-set comes w/Inuyasha's rosary. Collector's item. Another Picture - $90 shipped OR FOR $135 GET BOX SET AND (SHIPPED):
InuYasha Manga (Animanga, VIZ) - (buy seperate for $1)
InuYasha Manga (Animanga, JP) - (buy seperate for $3 each)
InuYasha Manga (Japanese) - (buy seperate for $2 each)
InuYasha OST III & Movie OST II (JP, NOT BOOTLEGS) - (buy seperate for $15 each [shipped])
US released cards *MAKE ANY OFFER*
US released PS1 game $15, has Japanese voices; + $10 for memory card w/almost all unlocked characters. INSIDE/DISK
Inuyasha deck of cards - $4

---

Fullmetal Alchemist
Fullmetal Alchemist Character Collection (JP) - $10
Edward & Alphonse FIGURE in RED (in box +manga extra) - $15 (shipped)
Fullmetal Alchemist and the Broken Angel Game OST - NOT A BOOTLEG $20 (shipped)
FMA CARDS SET 1
FMA CARDS SET 2
FMA CARDS SET 3
$7.00 for card lot shipped.

Naruto (all JP release)
Naruto Keychain & Konohamaru keychain (with box; both have boxes) - $1 each
Naruto cards $1 per card
Holo. Kakashi card & Chibi Naruto Sticker $2 each
Naruto posters - $10 each

Sakura Figurine - $10
Chibi!Naruto figurines set - $10 BOX BACK

Naruto PS2 game - Japanese. Only works on JPN PS2 or PS3- $7 (shipped)
Sasuke phonestrap/braclet white-day gift RARE $45 (shipped; comes in box and plastic wrap + card)
Team 7 blue umbrella - $25



All doujinshi prices include shipping.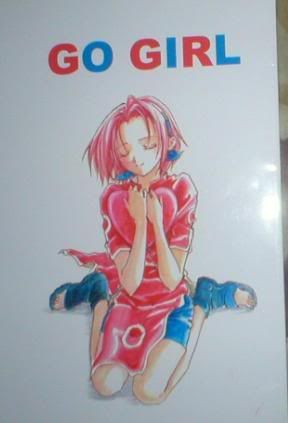 Title: Go Girl
Circle/Artist: COCAINE BABY
Pages: 30
Size: B5
Pairing: SasuSaku
Price: $25
BACK SAMPLE SAMPLE SAMPLE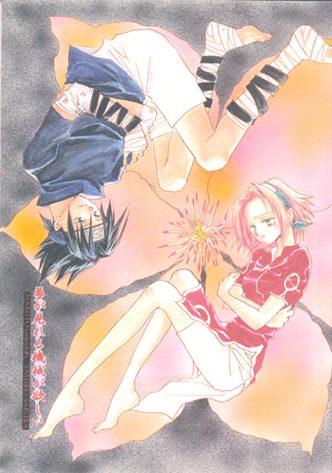 Title: "Dream Machine"
Circle/Artist: COCAINE BABY
Pages: 30
Size: B5
Pairing: SasuSaku
Price: $25



Title: Hana no Tomitsu
Circle/Artist:
Pages: +20 (?)
Size: B5
Pairing: NaruSasu
Price: $13
SAMPLE SAMPLE



Title: ---
Circle/Artist: ---
Pages: 16
Size: B5
Pairing: Lelouch x Suzaku
Price: $12
SAMPLE


Other (all Viz)
Case Closed volumes 1 & 2 - $3 each
MARS volume 5 - $5

Oriental Letter/Card Set Outside. Inside. - $5

If pictures of angles or insides are desired, please ask for them.