Alright I have some stuff that need to be sold. Many of these came straight from Japan :]
go take a look~


[Jrock flyers]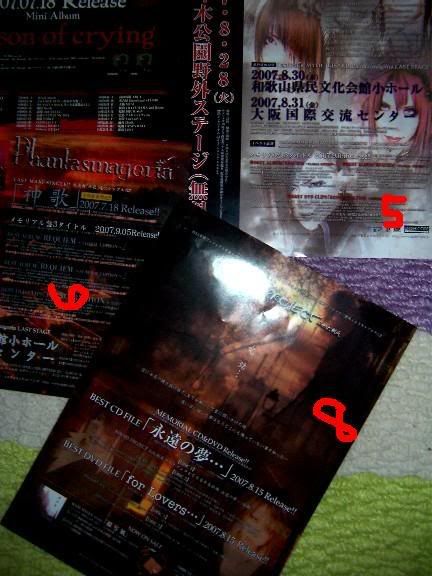 $2 each
1-UnsrawSOLD!
2-Kaya
3-Sugar (in first photo its marked wrong as Girugamesh)
4-Girugamesh(first photo is marked as Phantasmagoria)
5-Phantasmagoria
6-Phantasmagoria
7-Marvelous Maiden
8-Kisaki Project
9-Moment to moment

Got these from Japan back in August. Just name the one you want!
[Gackt photobook: Requiem et reminiscence]
$15 plus shipping

Picked this up in Japan. Good condition. Lovely for any Gackt fan, full of beautifuly colored pictures.
[L'Arc en ciel live
in
USA 04 dvd]

$10 plus shipping

comes with pen and tour pamphlet still. only watched once, perfect condition.
[T.M. Revolution double sided poster]
$5

Also purchased in Japan. Huge poster from Arena37. hasn't been hung up. Beautiful pictures
[K Starr punk jacket]

$30 plus shippingSOLD!

Worn to Jrock revolution and Dir en grey (inward scream) otherwise never worn other than that. Looks dirty in first picture, but it's only the shadows xD nice visual jacket. Comes with straps to wrap around jacket.
[Zebra Dress]
$10 plus shipping

Got this from a Japanese fruits style swap. I never got a chance to wear it. size L. Zipper on the side was broken when I bought it. I think it can be fixed though :]
[Tank top]


$12 plus shipping

Bought this in Shibuya109 back in August. I only wore it once. Stretchy material. Long around to wear almost as a dress. fitting
[Leopard purse]


$8 plus shipping

Bought from Japanese style swap. Cute small purse to go along with your concert outfit!
Just tell me what you want and give me your zip code so i can calculate shipping. If there is an offer you would like to make, feel free to let me know.
e-mail: spunky_junky_love@hotmail.com
I will NOT ship until i recieve the money. I take paypal and mailed money (though i am not responsible if it doesnt come)
thankyou~