For sale: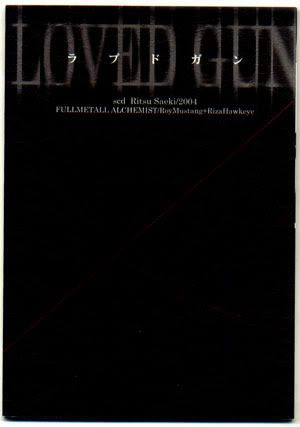 Loved Gun
by scd (Saeki Ritsu)
specs:
48p. comic (Japanese), B5, September 4, 2004
genre:
drama
condition:
excellent.
Loved Gun
is manga-based, and takes place after events in chapter 39. Roy is recovering from his injuries, and Riza can't bear to meet him. Alphonse, Winry and Fuery also make an appearance.
price:
$7.00 + shipping
***
Rangiku x
4
3
Grimmjow x 1
Ulquiorra x 1
Pic c/o play-asia for reference. I haven't taken a picture of the actual items yet, but these are all mint in packaging. Will ship with official leaflets, but not the gashapon balls. (If you want the item intact in the ball, I will have to add to shipping.)
price:
$7.00 shipped

At the moment, I can only take non-cc payments via Paypal. Sorry.
Items will be shipped from the Philippines via airmail. My scheduled run to the post office is Tuesday next week, so if you're interested in anything here, please let me know.
(Feedback
here
and
here
.)