For sale--

Death Note phone charms
FFX, Negima figures
Saiyuki & Bleach manga
DBZ wallscroll
Japanese/lolita clothes
and more, all here!

Priority goes to those who can pay most quickly. Paypal preferred but other methods are fine.
S+H costs not included. Feel free to bargain or make offers, I will consider it if it's reasonable.
If more than one person's interested in something, it'll go to the highest offer.

No deadbeats--I welcome questions, but if you say you're going to buy something, please make sure that you can. I understand it takes a while to get back to people sometimes (I forget too) but at least tell me if you're still interested or not. I might have to just trash some of the cheaper stuff if no one wants it--as it is, it's just extra clutter. So, please take it off my hands. Thanks for looking!

Clothes / Accessories:

Handmade casual lolita skirt - 25$
Worn only once to take the picture. 22"~40" waist (unstretched/fully stretched), 23" long.

Please ignore the non-matching top and lack of petti. ._.;;;;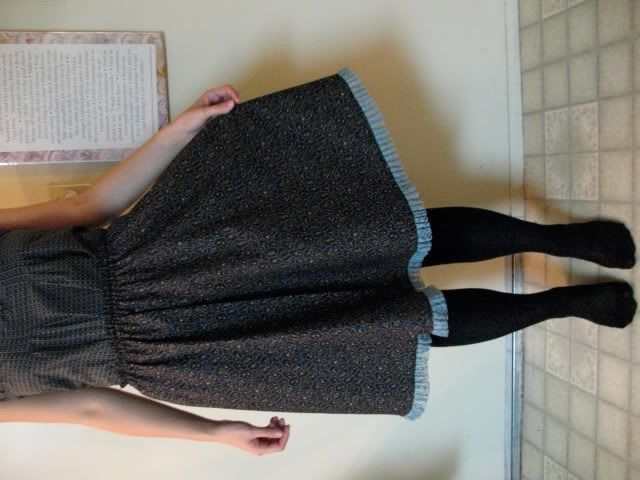 Olive des Olive flowers tank top - 18$
Almost NWOT, tried on twice, once before washing and once after. It shrank too much, and now I can't wear it. :( Would best fit a small/medium. 15.5" bust/waist, 13.5" long but has a bit of stretch.

Olive des Olive blue lace tank top - 18$
Almost NWOT, same as the previous one. 15.5" bust/waist, 16" long, but stretchy.

Sorry about the lighting on these, the blue one is more like this color. The other one is off-white/cream with tiny yellow flowers.

OdO is a Japanese brand that's hard to find in the US and their cheapest tops start at 30$--as it is I'd rather not have to get rid of them, but it's already quite a discount considering what I originally paid for shipping, and all.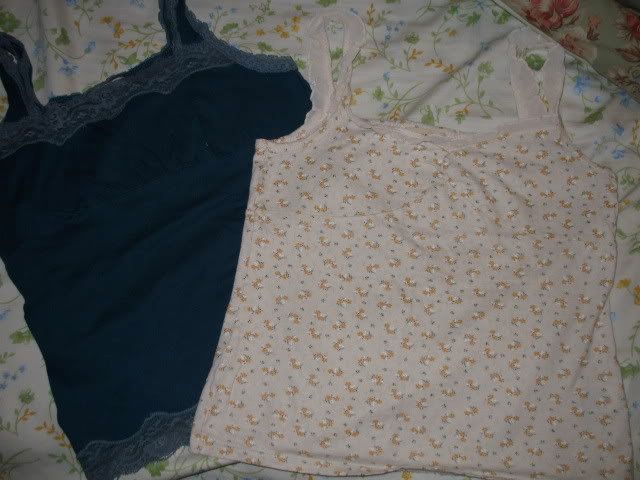 'Ai' wristband - 3$
Tried on once or twice.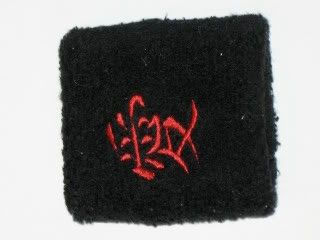 Invader Zim wristband - 3$
Never worn, just missing tags.

'Mana' armband - 5$ - pending
Bought a few years ago and never worn. Comes with a big safety pin.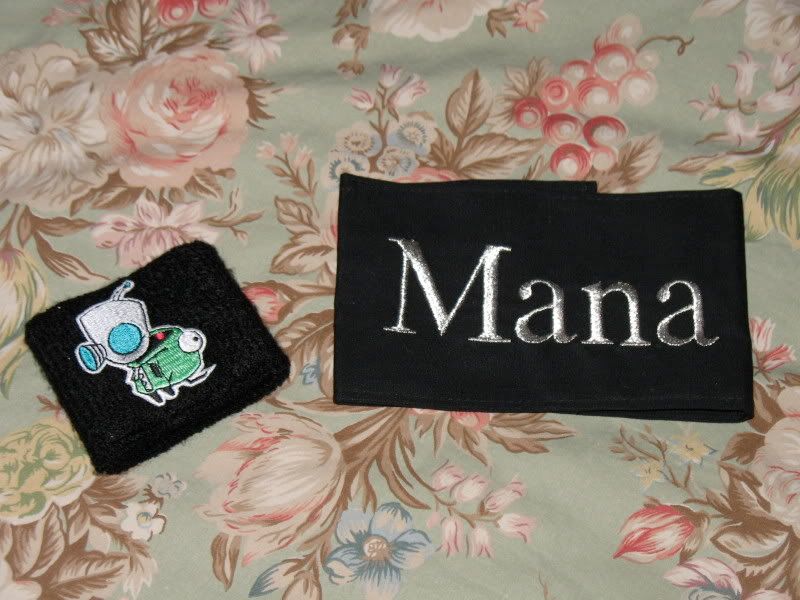 Nana red tartan bag - 15$
Originally sold for 40$, but one of the straps is broken because I stuffed a bunch of heavy things in there. It's currently being held in place with a safety pin, which should hold if you don't plan to overburden it like I did. I can also try to fix it for you if you'd like. Does not include One Piece pin. xP

http://img.photobucket.com/albums/v393/Jiroh/nanabag.jpg
http://img.photobucket.com/albums/v393/Jiroh/vw_fake.jpg

DIY 'Kana' bag - 5$
Following one of the GLBs, I cut out the shapes and glued them on. xP I'm not that fond of it, and if you aren't either you can just rip the felt off. Anyway, it's a good, sturdy bag, but I already have way too many.

14" x 13" x 1" - 1 outer pocket, snap closure, 3 interior pockets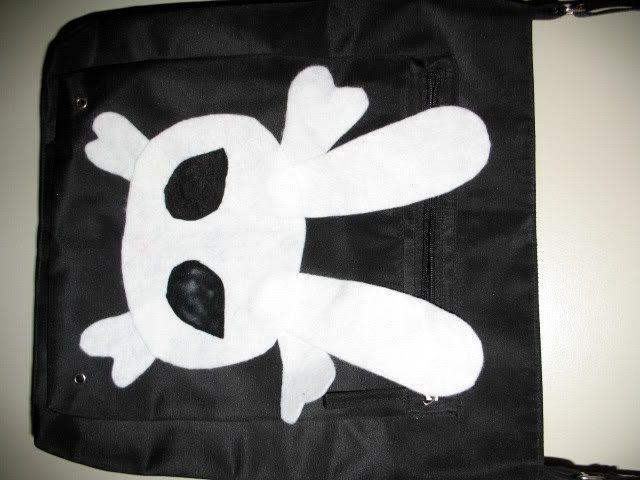 Light-up bracelet - 2$
If you press the center heart, all three start flashing. Very cute (esp. with decora) but too small for me. :(




Figures:

Final Fantasy Trading Arts - Tidus - 5$ - pending
I lost the base, but he still stands up fine without it, as shown. Originally retailed for 11$. I also have a Rikku from the same set that I might consider selling.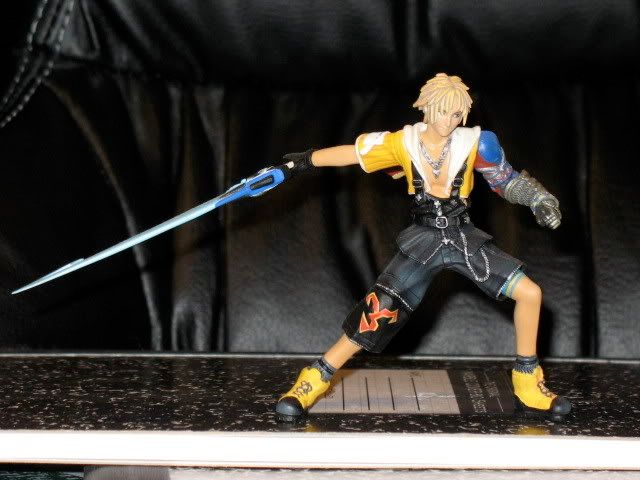 KH Trading Arts - Ansem - 5$ - pending
Missing a part. Retailed for 12$, this is the original Japanese release, not the one that comes pre-assembled.

KH Trading Arts - Goofy - 8$
Still in the plastic bag, not pre-assembled. Not sure if I still have the instruction sheet, but it's pretty self-explanatory.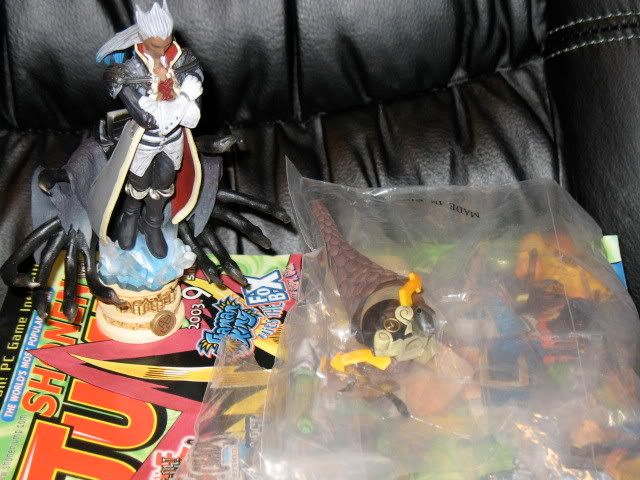 Negima Figumate Vol. 3 - Makie - 5$
Opened the box to see which one it was, otherwise new. I also have Yuuna and Ako from this figure set, still in the packaging, they're not included in the picture because I found them after I took all the photos.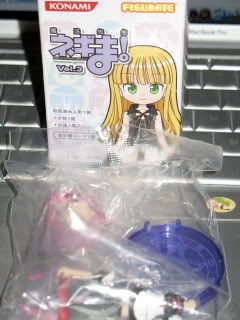 Negima Figumate Vol. 4 - Asuna - 5$
Opened the box to see which one it was, otherwise new.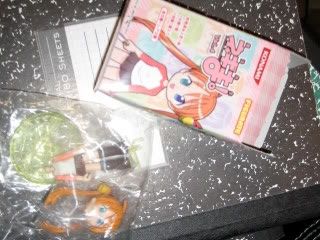 ROD - Nenene Sumiregawa - 1.50$
Missing the base, but stands on her own.

Love Hina - Kaolla Su - 1.50$
I don't know if she even came with a base, but might need to be propped against something.




Evangelion Angel Chromosome - Zeruel, Tabris, Lilith, Sachiel - 15$ each
In good condition but the two pictured are slightly dusty from being displayed. If you need evidence that I actually have them, I'll take a photo of the other two as well.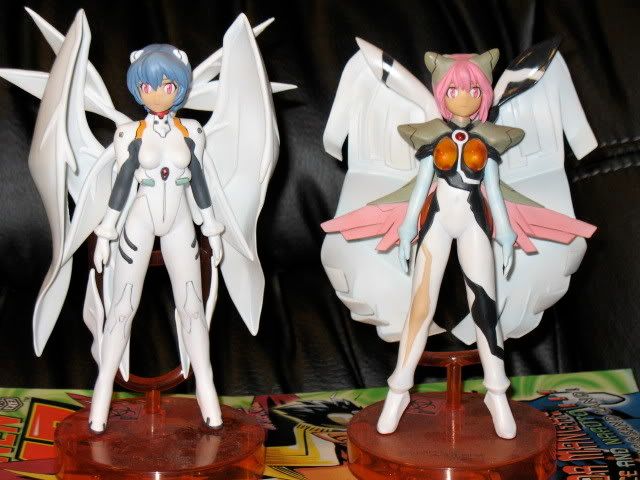 Books/Magazines/Doujinshi:

Tsubasa Reservoir Chronicles, Vol. 4 hardcover - 10$
Includes book, case/cover, and two postcards.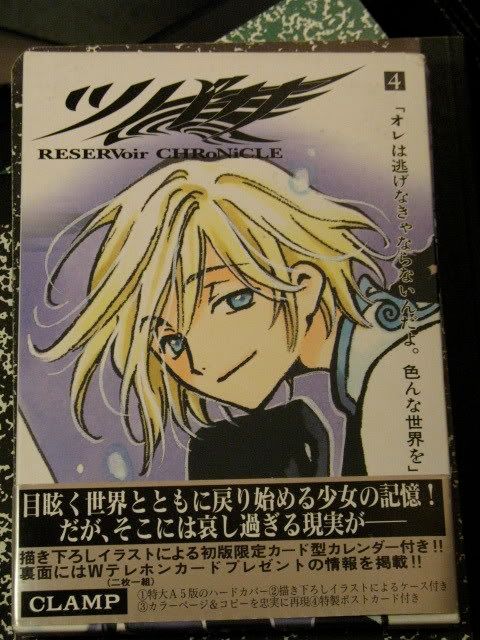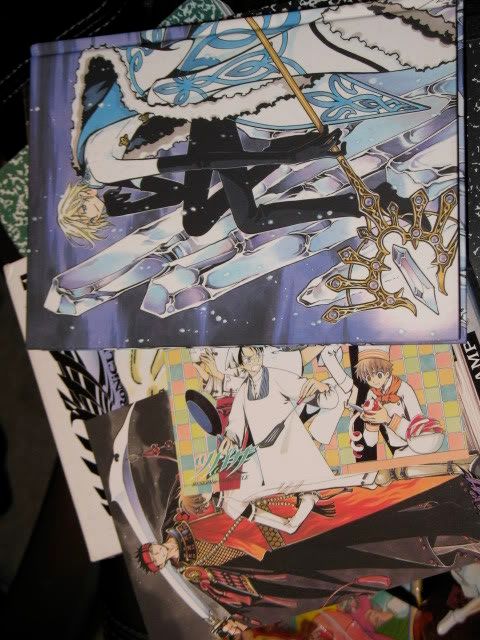 Saiyuki, Vol. 7 - 4$
Has a small dent on the back cover, otherwise in good condition. I can take a picture if needed.

Bleach, Vol, 6 - 4$
Read once or twice. In good condition.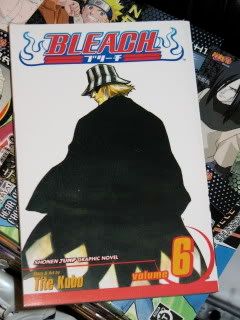 Inuyasha, Vol. 3 (Chinese) - 1$
It's been sitting in a drawer for a while and was barely read. In good condition.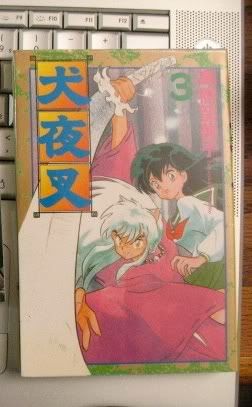 Shonen Jump - 1$ each, 8$ for all
In good condition. Each of these was probably only read once or twice, then put away. I have April '03 through January '04.




Please make me an offer on these doujin, they were initially 14$.

"Illness of Love", Roy x Ed
lazuli & Azuma Yoshino
36 pages, yaoi.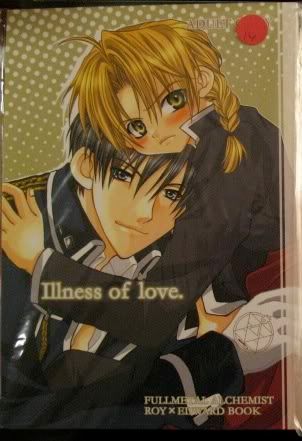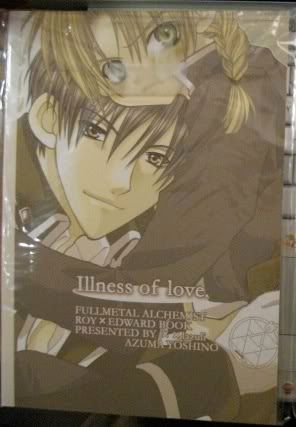 "Agitator -a man of low degree-", Roy x Ed, Roy x Havok
caramel prince maiko
52 pages, shonen-ai.

"Judgement", Light x L
32 pages, yaoi.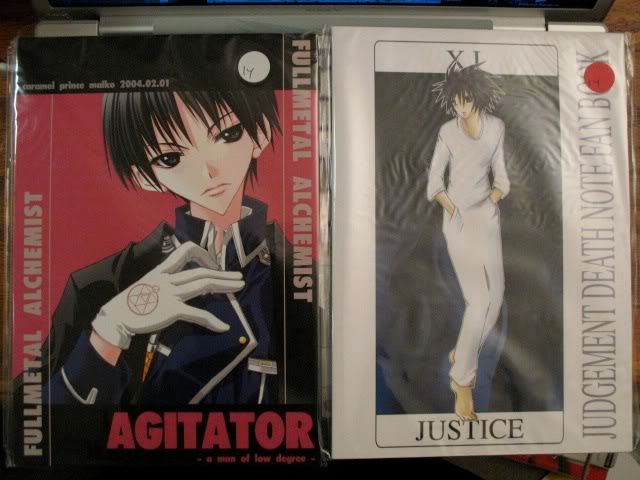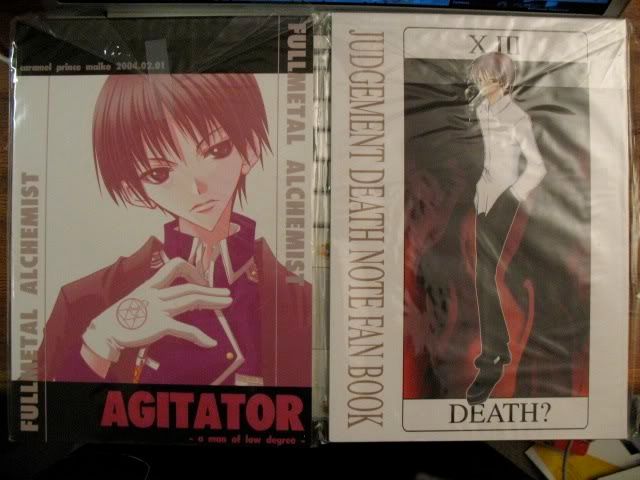 Etc... :

DBZ wallscroll - $3
New, never used.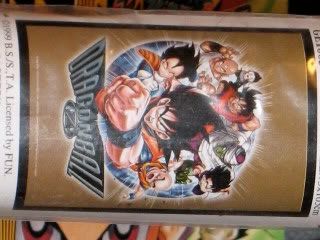 Buttons & pins, prices vary
HP, Family Guy pins - .50$ each
Inuyasha - 2$, has some scratches
All the rest are free.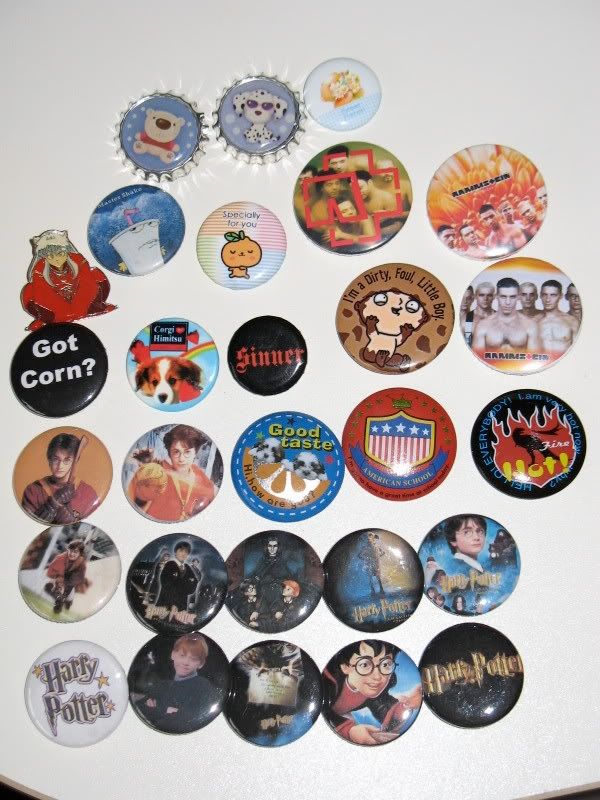 Pokemon trading stickers & Dragonite keychain - 2$
Keychain is slightly scuffed in some places, but clean and in good condition otherwise.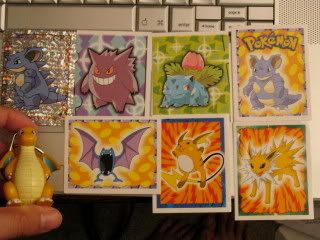 Death Note charms - Misa doll - pending/ interrogation...thingy - 3$ each
About 1" high, does not come with a strap.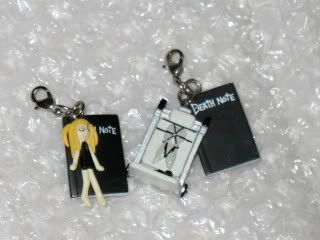 Operation game pen - 1.50$
Taken out of packaging and played with once. Otherwise like new.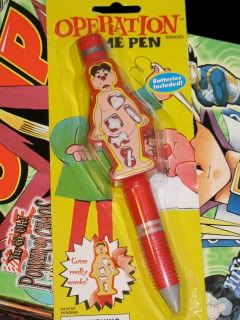 Some things I want to sell but don't have pictures of yet:
- Red/clear Furuba shitajiki
- Naruto figure sets
- Knee socks
- Loads and loads of BPAL imps

If you're interested, let me know and I'll get back to you about the condition, measurements, etc. ^^

I'll be posting more stuff soon, I have a lot to get rid of. :p