I've been sorting through my collection and have decided to part with two of my rarer doujinshi: Gamerz Heaven Director's Cut # 2 (Kaito version) by Crocodile-Ave. / Murakami Maki (of Gravitation fame) and the Hentai Book of Hentai by Hentai the Radical (Harry Potter, Harry/Draco).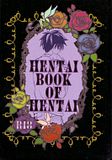 Check them out (along with Japanese yaoi manga and a few English manga) at my sales post. I'm very open to trades, be sure to take a look at my (extensive) wishlist if you see something you like.

Finally (and this is a longshot), does anyone have an authentic Luffy, from Megahouse's Portraits of Pirates series, that they'd be willing to part with for a fair price?