Bunny Hello Kitty
SOLD TO
suixelo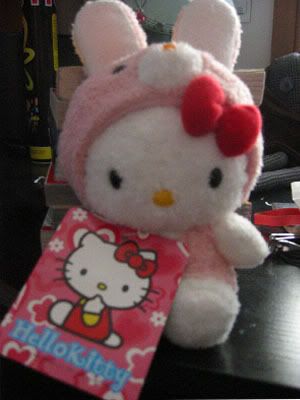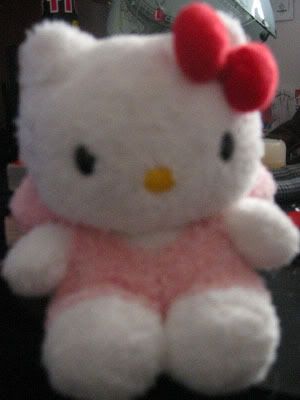 Brand New with tags, bought 3 years ago in Tokyo. There was a whole line of Hello Kitty's dressed in various adorable animal costumes. You can take off her bunny hood to show off her trademark bow at her ear. Her actual outfit isn't removeable, however.
She's roughly 13cms tall without the ears, and 17cms with.
This HK is no longer available and very rare- she'll make a great christmas present!
$9USD
Gloomy: BabyHood Edition
SOLD TO
starlettbabe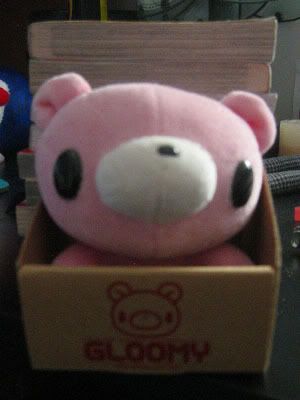 Also bought in 2004, Tokyo. Before Gloomy was rawr-ing and eating little kids, he was the most adorable baby. XD In his famous pink colour, sitting in a little cardboard box. He is attached to the box with a little plastic tag string, but you can cut that to take him out and cuddle him at night, if you want. ^_^ Baby Gloomy is roughly 11cms in his box.
$9USD
Fruits Basket's Yuki in his Nezumi Form
SOLD TO
generationxwing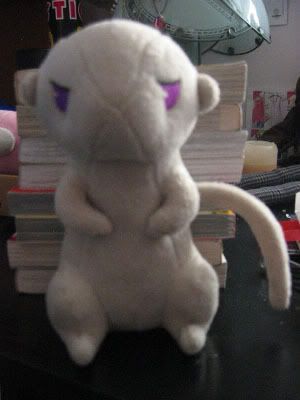 Ahh, as amused as ever. Bought a few years back during my Fruits Basket phase, but he deserves a new home. He's roughly 15cms tall with no flaws. You can hang him from your phone for the ultimate dangly. XD
Yuki is roughly 15cms tall.
$6USD
Adorable Notebooks


* Each notebook has 24 Pages.
* 26cms x 18.5cms.
* BRAND NEW
* Perfect as diaries, school notebooks or just a small present.
* First page has an "index" for you to write your name and subject. 2 colums for "Description" and "page"
* Each Page after that is ruled and has "Date" and "Page" at the top.
* Inner back cover has a a pre-ruled timetable for you to fill!

A: 2 Available
B: 2 Available
C: 1 Available
D: 2 Available
E: 1 Available
F: 1 Available
$1.50USD each

Cowboy Bebop: Knockin on Heaven's Door Movie Guide


Gosh, I love this movie to bits! The entire book is in Japanese and in full colour except the last 30ish pages. 142 pages in total. Comes with Dust Cover! The bottom on dust cover is slightly wrinkled and scratched. (well, it did its job! xD)
$10USD or best offer!

Gundam Wing: Ground Zero!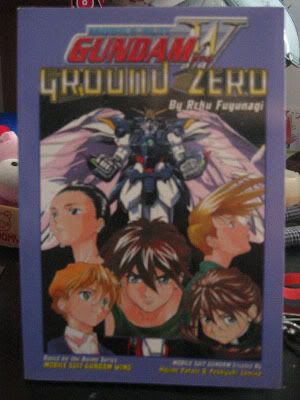 Ground Zero is one version of the events taking place in the interim between the series and Endless Waltz, and explores a question important to Gundam Wing: When the war is over, what then?
Fantastic condition! In english!
$7 USD

Gundam Wing: Episode Zero


Episode Zero unveils the events that led up to Operation Meteor and the beginning of Gundam Wing. Awesome! Shows the past of all the pilots and Relena. Fantasic condition!
$10USD In english!

Junk Mizuno's Hansel & Gretel SOLD TO
garagesaleleann

Really cute graphic novel put out by Viz. Includes all the stickers inside! Although its called Hansel and Gretel, it's nothing like the fairytale we're used to hearing!
$10USD or best offer if there's more than one person interested.
Err, slight nudity warning? But it's cute nudity!! =D
In english!


I am shipping from Australia- please ask for a shipping quote!
Thanks!
Paypal Only please!!
Sorry for my crappy camera...>.<
Ah, feedback is under chicken_zombies on Ebay!
NOTE: IF YOU ARE GOING TO PAY VIA CC-PAYPAL, PLEASE ADD AN EXTRA $1.00USD TO THE TOTAL PRICE. THANK YOU!