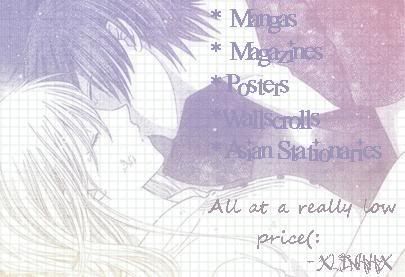 I am selling off a lot of my stuff at a really good price .
Prices range from $1.50 ~ $12
Most of my stuff are in really good condition .
I accept paypal , moneyorder , concealed cash , &checks .
Shipping would tend to be $2 for mangas .


Mangas
Crossroad, Doubt!!, Kare Kano, Full Moon, Fushigi Yugi, Meru Puri, &much more .

Magazines
Shojo Beat January 2008
Tokyopop Magazines

Wallscrolls &Posters
FFX-2
Inuyasha
Gackt

Asian Stationaries
Notebooks, stickers, Naruto figures, &much more .