Unfortunately I am in a money pinch so this stuff is up for grabs!


Reasonable offers are welcome!!~

Magazines Shoxx are 9$ each Cure are 8$ Posters are not included with magazine, sorry.



Shoxx vol.153 Shoxx vol.161 Shoxx vol.171(SOLD)
Cure vol.27 Cure vol.28(SOLD) Cure vol.29 (SOLD)



Cure vol.30 Cure vol.31 Cure vol.32
Cure vol.33(SOLD) Cure vol.36 Cure vol.37 (SOLD)



Cure vol.38 Cure vol.43/44 Cure vol.46
Cure vol.47(SOLD) Cure vol.48(SOLD) Cure vol.49(SOLD)




Cure vol.50(SOLD) Cure vol.52(HOLD)

Posters are 3$ each



Phantasmagoria, Miyavi(SOLD)
NOIZ




Lareine(SOLD), Undercode
Sendai Kamotsu(SOLD)

Jrock CDs: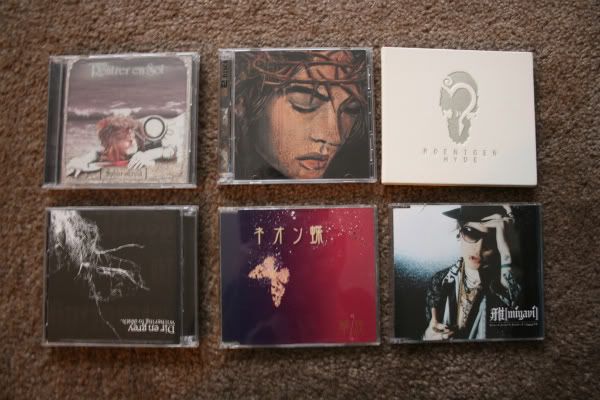 Top Row:
Renter en Soi - Sphire Croid Askig 15$
HYDE- Faith US version Asking 8$
HYDE - Roentgen Limited press. Asking 22$
Bottom Row:
Dir en Grey - Withering to Death US version. Asking 5$
Kazoku single. Neon Chou Asking 8$
Miyavi single. Senor Senora Senorita. (SOLD)



Ayabie - EquAL pRayer 2aLL Asking (SOLD)
Ayabie - Low Res Japanese Caramel Town single. 2-disk with PV. (SOLD)
Ayabie photo set. Asking 10$


Manga and books are priced below:


Manga Techniques vol. 5 (small rip in book sleeve) Asking 4$
How to Draw Anime and Game Characters vol. 1 Asking 5$
Japanese Complete Course book (includes CDs) Asking 10$ (HOLD)



Host Club vol. 4 Asking 3$ (HOLD)
Cross Vol. 1 Asking 3$ (HOLD)
Devil May Cry vol. 1 Asking 3$(HOLD)
Princess Princess vol. 1 Asking 4$(HOLD)
Japanese School Girl Inferno (SOLD)

Clothing: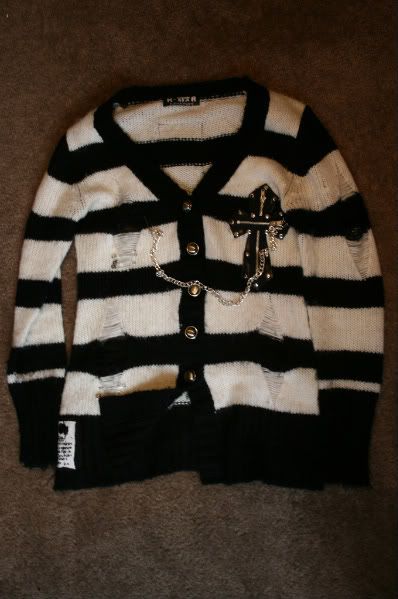 Kstar Sweater. Max bust up to 40 in. maybe more (very stretchy) Asking 35$ + Shipping



EGA Black & Red Skirt. Size XXL. Never worn, it has 2 spots on the red fabric that were there when I bought it. Max Waist 40 in. Asking 13$ + Shipping



Non Brand Light pink loli-able top. Max Bust 40in & Max Waist 36in. Asking 5$ + shipping

BJD Clothes (All are SD Sized):


Sunny's World Waist Coat. Only tried on. Asking 20$



Sunny's World Cardigan. Only tried on. Asking 18$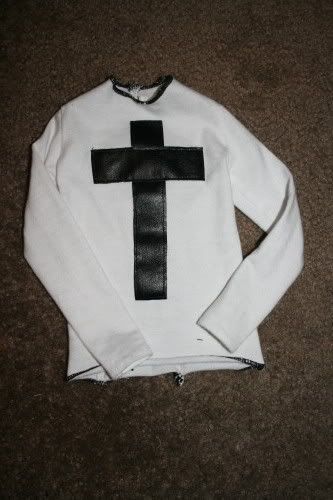 Dollmore Cross Shirt. Has been taken in in the back for a tighter fit. Asking 12$




Shipping is $5+ for Magazines (depends how many), 3-5$ for books & CDs, 2$ for posters & 4-8$ for clothing. Within the US.
I'd highly prefer to ship within the US for the heavier items unless you want to pay for the expensive shipping.
Paypal only please.