Four-for-three promotion!!!
Buy any three items from any of the following categories, and get the fourth (lowest priced item) FREE!
Choose from...
artbooks/manga
binsen
bromides/trading cards
CDs/DVDs
shitajiki

You can mix-n'-match with two bromides, a sheet of binsen, and a CD (get the binsen free, as it is probably cheapest), or mix-n'-match other selected items @
kitsunegarisale
***The only categories not included in the four-for-three promo are doujinshi, yaoi goods, auction items, and the "non-anime related" items.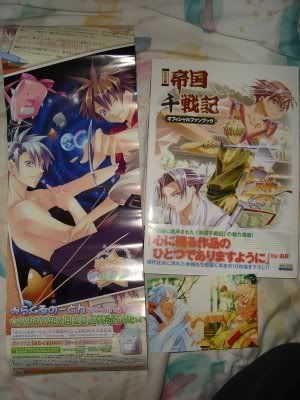 On that note, a few more yaoi-goods added, including more postcards (Libre, BIBLOS Fair, etc.) and a Yura goods pack (artbook, postcard, and poster). Click the photo to find out more!

Also, new freebies up for grabs, so check those out, and thank you for reading! ♥!