[SALE] Newly added items!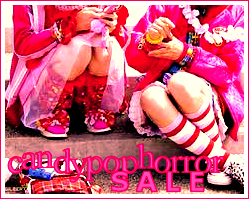 More items added and a lot of prices are lowered! Please have a look!

☆ VK FLYERS ◆LM.C/PHANTASMAGORIA/GAZETTE/VIORED/GUY'S FAMILY/KRA and many more◆ & MAGAZINES

BUY 10. GET ONE FREE. (etc)


☆ VK/PUNK/ROCK CLOTHING. All items are from Japan! ◆Sexpot Revenge/h.Naoto/Putumayo/Algonquins◆

☆ JROCK MERCHANDISE INCL. ◆LM.C Promo poster/Ancafe CD's/Photobooks/DVD's (Calmando Qual/UnsraW)/ Danger*Gang◆

☆ RANDOM THINGS ◆Gothic&Lolita book◆


Thank you!