[SALE] Newly added items!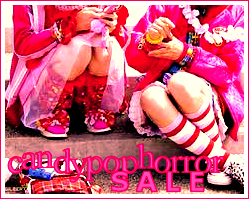 More items added and a lot of prices are lowered! Please have a look!

☆ VK FLYERS ◆LM.C/PHANTASMAGORIA/GAZETTE/VIORED/GUY'S FAMILY/KRA and many more◆ & MAGAZINES

BUY 10. GET ONE FREE. (etc)


☆ VK/PUNK/ROCK CLOTHING. All items are from Japan! ◆Sexpot Revenge/h.Naoto/Putumayo/Algonquins◆

☆ JROCK MERCHANDISE INCL. ◆LM.C Promo poster/Ancafe CD's/Photobooks/DVD's (Calmando Qual/UnsraW)/ Danger*Gang◆

☆ RANDOM THINGS ◆Gothic&Lolita book◆


Thank you!
Check out my bonanza shop for random goodies! http://www.bonanza.com/booths/miraworks

Hello! I'm selling some of my CD and manga collection! I'm located in Canada and I'm willing to ship worldwide. I accept Paypal. I can…

I'm looking for volumes 5 and 9 of the manga series Kaze Hikaru and volume 4 of One Pound Gospel if anyone is selling them?