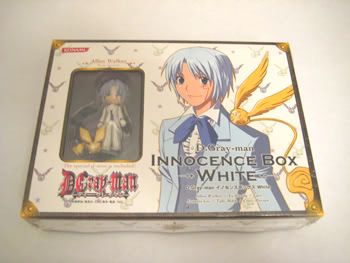 Selling D.Gray-man Innocence Box White / Allen Walker figure.
Even if I really don't want to. ;_;
I will ship internationally.
DESCRIPTION: D.Gray-man Innocence Box White / Allen Walker figure.
Completely brand new and factory sealed.
This is a limited edition figure produced by Konami.
It has long been sold out at many locations.
Figure stands at approximately 6.5 cm tall.
Pretty detailed paint quality.
The Innocence Box White includes the following:
- Special Bromide x 6
- Trading Card x 1
- Bromide Stand x 1
- J-Mini (Allen Walker Party Ver.) x 1
Because I have never opened this, I can't give any details about the bromides other than the pictures located in the back of the box.
ADDITIONAL IMAGES: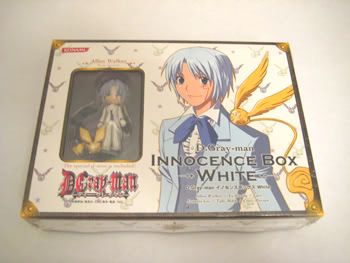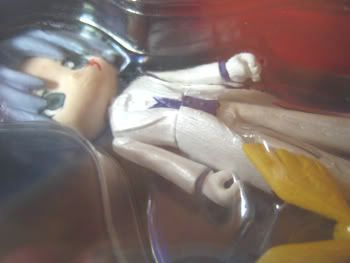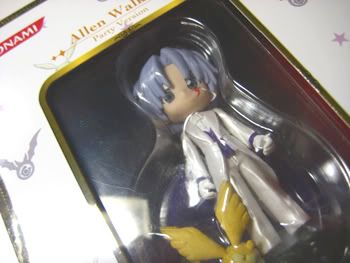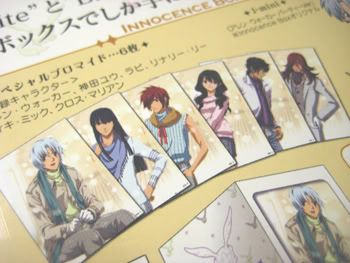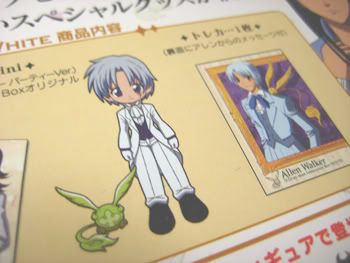 PRICE:
Sigh. I don't really want to sell this figure, but I have to.
It's really difficult to part since I probably won't ever be able to get this again since it's sold out everywhere.
I have yet to see this figure on Ebay.
The only one I've seen is Kanda's Innocence Box Black, and it was sold for $48, without shipping.
And including EMS, shipping, it's a lot.
I'm asking for
$45
.
I don't really want to open this up for negoatioation right now, but feel free to offer.
SHIPPING OPTIONS:
Shipping depends on weight and distance.
Shipped in an envelope, shipping shouldn't be more than $3.25 within the US, using the cheapest form of shipping.
Items will be shipped in a bubble envelope, wrapped in bubble wrap,
unless you request for a box
.
Boxes weigh more, so it will add to the shipping.
I will ship internationally.
And I do combine shipping (if you plan on ordering anything else from my shop @
miserycandy
)!
Remember shipping depends on the weight though.
I'm sorry, but please wait for your shipping quote before you send your payment.
Thank you! :D
This is because I need to know a couple of things before I give you your shipping total. xp
01) Location
02) Do you want delivery confirmation/tracking?
This is an additional $0.75.
Insurance is $1.65.
If not, I will send it through First-Class Mail package, cheapest form of shipping.





FORMS OF PAYMENT:
Prices are listed in US Dollars.
Acceptable forms of payment include non-credit card Paypal, credit-card Paypal (including fee, please look below), money order, checks, and concealed cash at your own risk.
Payments can be sent to brenji [at] gmail [dot] com for non-cc Paypal only.

Please note, credit card Paypal is also acceptable, but there will be a 2.9% + $0.35 charge, unfortunately. :C
Because I want to keep fees as low as possible, I set up a different account for CC-Paypal.
If you would like to pay through credit card, please sent payment to deadcandy [at] gmail [dot] com.

Please also note that sometimes Paypal charges me a cross border payment (outside of the US), which can range from 1% to 4%.
This is why I must also know your location.


Please let me know what form of payment you will be using so I can give you your grand total. Thank you!




HOLDS:
I'll be holding items for a week for those who want holds.
For those who are sending me money orders, checks, concealed cash, try and send it to me as soon as possible.
I will wait 10 days for those.





FEEDBACK:
My journal has some feedback.
Please let me know if you would like my ebay feedback as well.




Thank you for taking the time to go through this post!!
Much appreciated!!